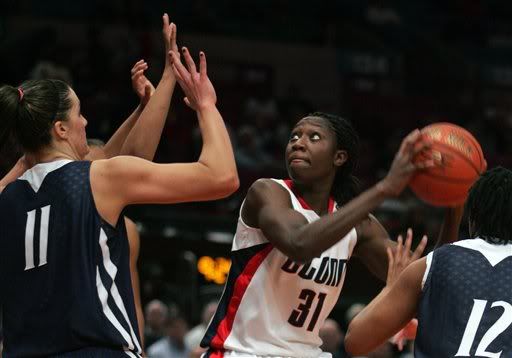 It was expected that the No. 1 UConn Huskies would probably play a little sloppy to start the game. I don't think anyone other than the Penn State Lady Lions expected to give the Huskies a tough game though. But they did as they gave UConn fits on both ends of the court.
But in the end, behind Tina Charles' monster afternoon, the Huskies persevered and earned a 77-63 win over Penn State in the second game of the Maggie Dixon Classic at the world's most famous arena, Madison Square Garden.
This was the first appearance in the Maggie Dixon Classic for both teams. The event honors the memory of Maggie Dixon, the former Head Coach of the Army Women's Basketball team, who passed away of a congenital heart ailment at the age of 28, just weeks after leading Army to their first ever appearance in the NCAA Tournament back in 2006.
Charles' led the way for the Huskies (7-0) with a double-double putting up 29 points and 18 rebounds with 5 blocks in her return to the Big Apple. Maya Moore was excellent as well as she added 21 points, 8 rebounds, 3 assists, 5 steals and 2 blocks. Renee Montgomery chipped in with 13 points and 5 assists. Caroline Doty added 6 points but saw her 10 straight consecutive 3-pointers made streak come to an end.
Penn State (5-5) was led by Tyra Grant's 24 points and 8 rebounds. Mashea Williams had 19 points and 7 rebounds while Brianne O'Rourke added 13 points and 5 assists. Julia Trogele pulled down 8 rebounds as well for the Lady Lions.
Penn State came out ready to play and took a 4 point lead at 7-3. Over the course of the next 10 minutes, both teams exchanged baskets before a Montgomery jumper gave the Huskies the lead for good at 20-19. The Huskies would use a 16-2 run over the final 8 minutes of the half, including that jumper from  Montgomery, to take a 34-21 lead at the break.
The Lady Lions cut the lead down to 7 points early in the second half but the Huskies responded to push the lead back up to 13 points at 47-30. But Penn State wasn't going away. They kept it close eventually getting it back down to 8 points but with 2:36 to play, a Moore layup off a Charles block put UConn back in control for the rest of the afternoon.
The Huskies head to Cancun on Monday morning to get ready for the Caribbean Classic on Thursday afternoon against the Washington Huskies at 4:30 PM. There is no television for that game but you can catch UConn's final two games in beautiful Cancun on CPTV.
Notes and musings:
Penn State Lady Lions vs UConn Huskies 12.14.08 boxscore
The starters were the usual 5 suspects of Renee Montgomery, Caroline Doty, Kalana Greene, Maya Moore and Tina Charles.
Cassie Kerns was in street clothes for the game and Heather Buck was dressed in uniform for the first time this season.
Penn State's Meredith Monroe is a former high school teammate and friend Kaili McLaren. The pair led Our Lady of Good Counsel to the Washington Catholic Athletic Conference championship in their senior season.
The trip to Cancun will mark the first time that Connecticut has ever played a regular-season game in a foreign country.
UConn entered today's game vs. Penn State leading the nation in the following categories:
Scoring Offense – 95.0 ppg (1st)
Scoring Margin – 39.8 ppg (1st)
Field Goal % – 58.8 (1st)
Assists Per Game – 24.5 apg (1st)
Assist/TO Ratio – +1.75 a/to (1st)
UConn enters today's game vs. Penn State having won its first six games of the season by an average of 39.8 points.
UConn entered today's game  vs. Penn State having seen at least five players post double-figure points in five of its first six games this season. Over those five games, UConn has had six players post double-digit points twice.
The Huskies have posted four wins by margins of greater than 40 points over its first six games this season.
Not a great shooting afternoon for the Huskies as they shot just 37.7% (26-of-69). The Lady Lions actually finished with a better shooting percentage at 39.3% (24-of-61).
UConn attempted 30 three-point shots, making just 7 of them.
The Huskies barely won the battle of the boards 45-43.
UConn was 18-of-25 (72.0%) from the charity stripe. I'd like to see that number up around at least 80% as I'm sure Geno Auriemma would as well. Tina Charles, who is not known for her free throw shooting, did make 9-of-11.
Both teams were sloppy as the Huskies committed 19 turnovers and the Lady Lions had 21.