The Raiders Were at full strength along the lines going into last week's game against the Broncos. The Raider may have won the pivotal matchup, but they also may have lost a couple of pivotal starters in the process.
Richard Seymour went down with a Hamstring injury before halftime and has not played all week. If he can't go then the Raiders will rely upon offseason veteran acquistion, John Henderson and second year player Desmond Bryant to fill in for him.
On the other side of the line, starting right tackle, Langston Walker, suffered a concussion in last week's game and has yet to be cleared for the game. If he can't go, former left tackle Mario Henderson will step in for him.
John Henderson was let go by the Jaguars this offseason to open the door for younger players to get playing time. He was injured earlier in the season but when healthy has only played in spot duties. Henderson is a former Pro Bowl defensive tackle and when the Raiders picked him up as a free agent, he was considered a perfect fit as a reserve. His limited role with the Raiders has kept him fresh and should allow him to come in a play at close to the level for which he has been known.
He will likely split duties with Desmond Bryant who has also played as a situational defensive tackle in relief of Seymour. Bryant is lighter than either Seymour or Henderson but he is athletic and usually makes the best of his limited playing time. He is good at getting pressure but is no where near the calibre run defender as Seymour. Henderson plays the run better but with the Colts no-huddle offense, there is little or no time to switch them out as needed.
Mario Henderson was the Raiders starting left tackle the previous two seasons. He started all of 2008 and played quite well, giving up almost no sacks even against some of the fiercest pass rushers. He started 2009 the same way, and didn't give up his first sack of the season until week 8. But that first sack was a sign of things to come as opposing pass rushers seemed to have discovered how to beat him. He became the player formerly known as "Super Mario". To start the 2010 season, he was splitting duties with rookie 3rd round pick Jared Veldheer. But it wasn't long before Veldheer took the starting job outright, relegating Mario to the bench.
Mario filled in for Walker for the final half of the game last week and gave up one sack. But being that he had yet to step on an NFL field as a right tackle, that is not surprising. He is no stranger to right tackle though. He was drafted out of Florida State after starring for the Seminoles at right tackle exclusively. The Raiders will be relying upon him to dust off his old right side skills should Walker not be cleared to play come gametime.
Whomever ends up playing right tackle will have to be on their game facing either of the two Colts defensive end tandem of Dwight Freeney and Robert Mathis. They have a combined 17 sacks on the season and will be licking their chops at the prospects of facing a backup right tackle and a rookie left tackle along the Raiders line.
Richard Seymour and Langston Walker weren't the only two injuries in last week's game. The Raiders also were without punter Shane Lechler for a short time with a hamstring strain in his kicking leg. Sebastian Janikowski was thrust into punting duties for one punt before Lechler returned later in the game. The Raiders were concerned enough with the injury, they signed former UFL punter Danny Baugher to the practice squad in case he isn't ready to go. Although, when asked about Lechler's injury, Tom Cable said "I feel good." (cue James Brown).
Other injuries include the lingering ankle injury that had Nnamdi Asomugha in and out of the game last week. He has seen limited work in practice for weeks but his play has improved steadily each week and he is expected to play.
Jonnie Lee Higgins was inactive for last week's game with his own ankle injury. He has been limited in practice as well. But with Nick Miller back healthy and playing well as punt returner as well as Chaz Schilens returning to the lineup, Higgins may just be inactive again. And if he is suited up, he is not expected to play much, if at all.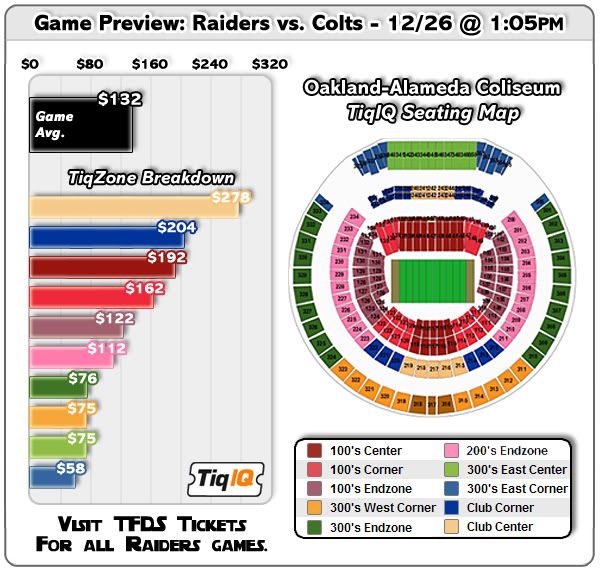 This game is of utmost importance to the Raiders playoff hopes. First the Chiefs must lose to the Titans in the early game. If that happens, the Raiders hopes are still alive. If the Chiefs win, the Raiders are out. If the Raiders win and the Chiefs lose, then the Raiders will need the Chargers to lose one of their final two games to have a shot.
That said, despite the critical importance of this game, and it being the first critical game for the Raiders since at least 2002, the game is blacked out locally for failure to sell out by the noon deadline on Thursday. Many of those tickets have been purchased since then and it looks to be a sellout crowd by Saturday.
If you want to join the crowd and watch the Raiders pave a road to the playoffs, you can get tickets from Dark Side Tickets all the way up to game time. Last I checked there were around 150 eTickets left, which can be printed at home. But just two days ago, there were over 500 so they are going fast. To view the Dark Side Tickets page for the Raiders vs Colts CLICK HERE.
And I hope you have a very Merry Christmas!
Follow Levi on Twitter @LeviDamien or befriend him on Facebook