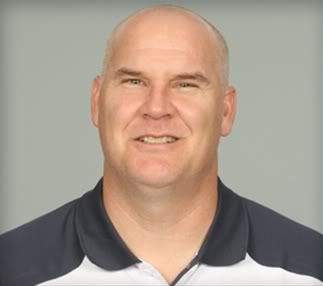 The Raiders have been moving quickly hiring their coaching staff the past few days. The most recent is bringing in Frank Pollack to coach the offensive line as first reported by Foxsports.com. Pollack replaces Bob Wylie who coached the Raiders' offensive line last season. That means out with Wylie's power blocking scheme and in with Pollack's zone blocking scheme.
Pollack worked as the assistant offensive line coach with the Houston Texans. The Texans ran a zone blocking scheme and it now becomes clear that Knapp would like to bring the zone blocking scheme back to the Raiders.
That is unfortunate because of all the coaches the Raiders had last season, the most deserving to return was offensive line coach Bob Wylie and assistant offensive line coach Steve Wisniewski. The offensive line play was the best it had been in many years under Wylie and Wisniewski. But it appears Knapp wants his own guys who fit his scheme.
Knapp ran the zone blocking scheme during his previous two season stint in Oakland from 2007-08. He had marginal success with it as Justin Fargas ran for over 1000 yards in '07 and reached 853 yards rushing with 14 starts in 2008.
Darren McFadden jumped out to a strong start in his second game as a rookie in 2008 when he ran for 164 yards on 21 carries. But he struggled to find his footing under the system after that and was unable to reach 100 yards again over the next two seasons, only going over 50 yards twice.
It wasn't until the team began making a shift back to power blocking in 2010 that McFadden was able to have his first great season. He went over 1157 yards that season and finally looked like the running back the Raiders had hoped he would be coming out of college.
Over the 2009 season McFadden averaged 3.4 yards per carry while Michael Bush averaged 4.8 yards per carry. So it would seem Bush is more suited to the zone blocking scheme than is McFadden. However, McFadden did begin to show a new running style that season, and it is possible that his turn around had as much or more to do with that than the switch out of the zone blocking scheme. Injuries also played a role in McFadden's struggles.
As I detailed when Greg Knapp was hired, the Raiders' line is mostly made up of linemen who are capable of playing zone. Jared Veldheer and Stefen Wisniewski, both of whom were not starters during the previous ZBS days, are smart and agile enough to make the switch. Samson Satele has the athleticism for it and Cooper Carlisle is a veteran of the ZBS since he has been a Raider and during his time with the Broncos before that. Right tackle Khalif Barnes might be the only lineman who would have difficulty with the transition.
This is yet another questionable hire by Reggie McKenzie and Dennis Allen with a few other questionable interviews such as that of former Chargers and 49ers defensive coordinator Greg Manusky.
It is hard to tell what they are thinking from one move to the next but one thing is certain, they want their guys. Thus far, running backs coach Kelly Skipper is the only returning coach from last year's staff.
See the entire list of up-to-date coaching moves with the Raiders coaching staff live blog.
Follow me on Twitter @LeviDamien or befriend me on Facebook.