For this year's draft prep, I wanted to do something a little different and, hopefully, more valuable for you, the readers. With that in mind, I created this – a list of my top players, in order, for the Raiders.
Bear in mind that these are my top players and they are specific for the Raiders. So I don't have any  quarterbacks on my list as the Raiders aren't in the market for a quarterback. If (when) a quarterback (or two) is taken in the top 13, it pushes a higher player on the board down to the Raiders. If for some reason no quarterbacks are taken early, here is who I think the Raiders should take in a worse-case scenario.
Players off my board: I have removed Jaylon Smith, Robert Nkemdiche and Noah Spence from my board due to injury and character concerns.
Jaylon Smith will be getting his medical re-check in Indianapolis over the next week and that will clear up some of the questions about how his leg injury is healing which will clarify his draft picture a bit.
As for Nkemdiche and Spence, it will be team-specific on how they answered questions in interviews and how the teams feel about them. As I have not interviewed them, I am removing them both due to character red flags.
The design of this piece is basically a running checklist on draft day. When a player is taken, I will simple cross that player off the list but like teams themselves, here is my draft board of the top 14 players so I know who I think the Raiders should take at 14 no matter who has been taken before their pick.
I will also be expanding this post in the near future to add players in case the team trades down.
I encourage you to give me your own top 14 in the comments or tweet them to me @AsherMathews.
TFDS Big Board for Raiders
Won't be available at #14:
#1 – Jalen Ramsey – CB/S, Florida State – Potentially the most talented player in the draft, Ramsey is strong and fast. He played multiple positions at FSU including cornerback, safety and STAR (which combines some safety and linebacker responsibilities). Ramsey could also be in the running for the top pick even though corner and safety aren't usually considered valuable enough to spend a top pick – that's how talented he is.
With Sean Smith and Reggie Nelson joining the team, the Raiders aren't hurting in the secondary as much as they were at the start of free agency but the team could still use additional talent back there and Ramsey is a versatile piece that can move around to many positions on the field to make a big impact his rookie year.
#2 – Laremy Tunsil – OT, Ole Miss – The "cleanest" prospect in the draft in that he combines great size, measurable and production at a high-need position. Thus far in the draft process, Tunsil has been the overwhelming favorite to go #1 overall to the Titans. Even if that doesn't happen, he won't drop all the way to #14. Offensive tackle isn't the most immediate need for the Raiders but the draft isn't about the present – it's about setting a framework for the future and the Raiders do need a left tackle for the future.
#3 – Myles Jack – LB, UCLA – Jack is a prototype for what NFL teams need in a linebacker in today's pass-centric game – a coverage linebacker that also has the instincts to be able to get into position in the run game. In today's NFL, it's critical that linebackers are able to hold up in coverage as more and more teams use spread and crossing/stacking concepts to make a defense not only cover the field vertically but also horizontally. The Raiders do have a need at linebacker and Jack would be expected to step right in and start.
#4 – Joey Bosa – DE, Ohio State – Bosa lacks any one exceptional trait but he does everything very well. He uses great core strength to hold offensive lineman at the point of attack and is a force in the run game and he's relentless as a pass rusher. He has good size for the position as well.
With him, the Raiders would have another defensive piece to mix in with Mack, Irvin, and Mario Edwards – and that's before Aldon Smith comes back from his suspension!
Probably won't be available at #14:
#5 – Deforest Buckner  – DT, Oregon – Buckner is huge – standing at 6'7" and almost 290 lbs with great length, Buckner is a nightmare for offensive lines to block out of the play. He has good core strength and can create separation with massive 34 3/8" arms. Even when the play isn't right to him, he's able to extend quite a reach to get into the play. He can play as either a DT or end depending on the down and distance. With the Raiders needing additional skill players on the defensive line, he'd be a great addition for the team.
#6 – Ezekiel Elliott – RB, Ohio State – Elliott is by far the best RB in the 2016 Draft and he boasts a great combination of size, speed, athleticism and elusiveness. He can break for a TD at any point on the field and that ability to give the team a big run on any down is invaluable to teams.
While many people think that running backs should be taken in round one and especially not early in round one, the fact remains that elite running backs are a rarity and even with a shorter-than-NFL-average shelf life, they are frequently worth the investment for NFL teams.
I'm not one who believes that picking a running back in round 1 is taboo. Most of the best running backs in the NFL are still high picks because of their great upside. Additionally, with today's free agency, four to five years is all that NFL teams can expect from their top picks. If a team invests a first round pick and gets five years of service from an elite running back before letting him hit free agency, that is still a definite win for the team.
Possible they'd be available at #14:
#7 – Vernon Hargreaves – CB, Florida – Hargreaves is on the shorter end of what teams would like, measuring  at only 5'10" at the Combine. However, he understands the nuances of the position and has great athleticism. He times his jumps well and has great body control to be able to break up or intercept passes.
If Hargreaves were an inch or two taller, I'd have put him in the Probably won't be there category. Because he lacks ideal height, I think he is one of the top prospects most likely to fall as teams picking high usually value players with prototypical measurable and who also produced in college.
If he does fall to the Raiders, this would be a good pick up for them as he would bolster their still-fairly-weak cornerback position. With David Amerson and Sean Smith likely starting outside, Hargreaves wouldn't be expected to be plugged into a starting role immediately but could get work either as a backup outside or work in as the slot corner.
#8 – Shaq Lawson – DE, Clemson – I love Lawson. He's made his way up draft boards into the top 10 recently but I was on the Lawson bandwagon months ago when I first got a look at him. Lawson has great size for a 4-3 DE and he would provide immediate returns in both the run and pass game.
Like Khalil Mack, Lawson is able to stand up offensive lineman and make tackles if runs come to his side of the field. He's also boasts a variety of pass rush moves and can get to the quarterback when asked to rush.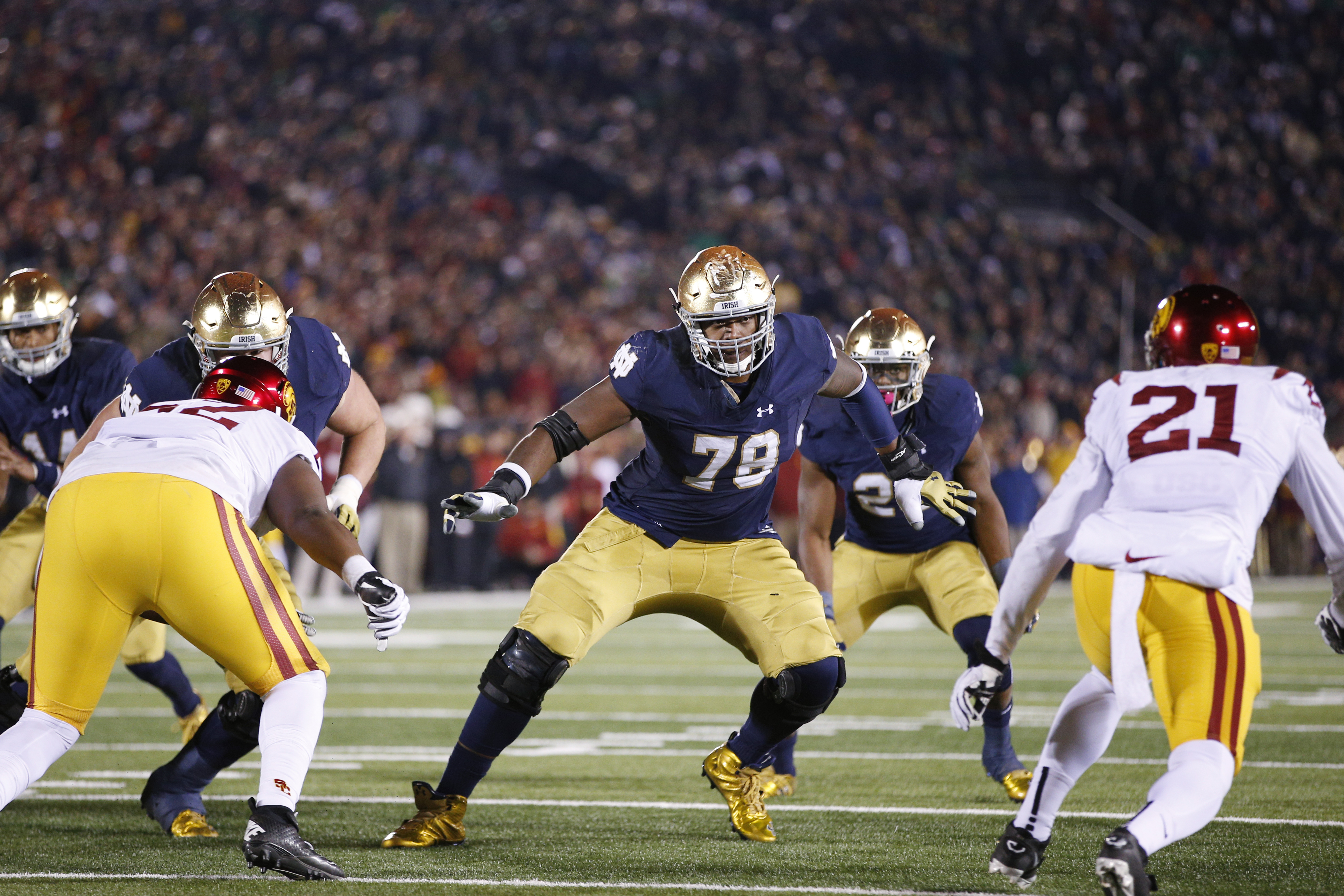 #9 – Ronnie Stanley – OT, Notre Dame – Stanley is the consensus second OT in the draft and, like Tunsil, would help solidify and bolster one of the most important units on the field. There have been some questions floated about his work ethic and passion for football which Reggie McKenzie should focus in on when he interviews Stanley. If there is any hint that this is true, it should drop Stanley out of the conversation at 14.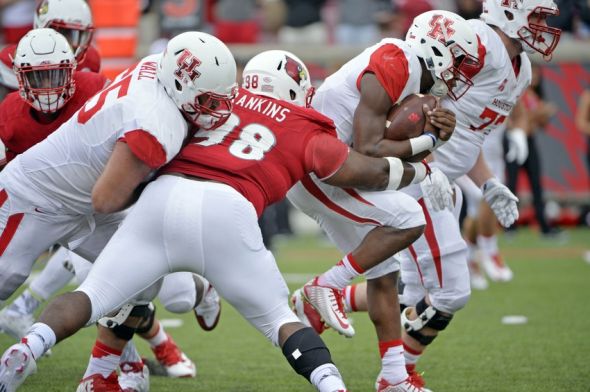 #10 – Sheldon Rankins – DT, Louisville – Rankins lacks the size that I think Del Rio and Norton would like at the DT position but he does offer great versatility and can play snaps at every position on the line.
Rankins is great at getting past 1-on-1 blockers and he understands how to set up blockers by combining speed, power, a great spin move, and active hands so that he can get into the backfield.
Likely to be available at #14:
#11 – Darron Lee – LB, Ohio State – Lee played around 232 lbs at Ohio State, which is too light for the NFL. He has worked on putting some weight on and was reportedly up to 238 recently. The extra weight is probably necessary to get him extra strength that he'll need to disengage from NFL-sized blockers but otherwise, Lee looks like he can be special in the NFL. He has decent size and great speed and athleticism for the position. He didn't have a lot of stats at the college level so this is projecting an improvement as he transitions into the pro game.
#12 – Chris Jones – DT, Mississippi State – Although Jones is huge at 6'6" and 310, he's active and athletic and he consistently penetrates into the backfield. The Raiders could really use a penetrating defensive tackle who can collapse the pocket from the front so that quarterbacks aren't able to step up into the pocket to avoid the pass rush. Jones will be able to use his size and length to clog running lanes but also provides the interior pass rush that the Raiders have lacked for a decade.
#13 – Josh Doctson – WR, TCU – In this scenario, the Raiders would go wide receiver in round one for two years in a row and would boast one of the better receiver corps in the league. Doctson has good size at 6'2" and 202 lbs and boasts almost 10" hands, which is pretty impressive. The Combine highlighted how much of an athlete he is – he tested in the upper percentiles in 20 yard and 60 yard shuttles and the broad and vertical jumps.
He shows elite body control in the air and soft, large hands to come down with the ball. He has some learning to do as his route tree wasn't fully fleshed out at TCU but with Crabtree on the roster ahead of him, he has time to improve before being asked to be an impact player for an entire season.
#14 – Taylor Decker – OT, Ohio State – The fourth Ohio State player in my top 14 – amazing when you think about it. I'm not an Ohio State fan – I casually root for my Alma Mater, Purdue, who loses to them in the Big 10 – but they had a stacked team this year at multiple positions.
Many people like MSU's Jack Conklin as the 3rd OT in the Draft but I'm not one of them. Decker has a great combo of size and strength and he moves pretty well, I think. I don't see him as only being able to play right tackle, either. I think with a little work he can excel at left tackle in the NFL. Decker is also a leader and tone setter on the OL.
Who do you want the Raiders to draft? Send me your top players in order via Twitter or put them in the comments below!