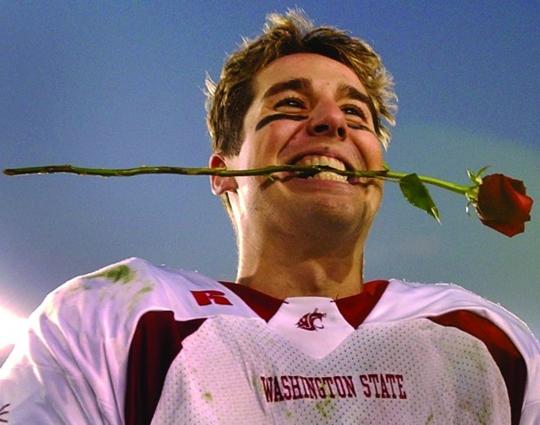 Good morning, Coug nation! As the season draws ever so slowly closer, the Sutra has risen like a soothsayin', jet flyin', roll-tidin', harem ownin', praise garnerin', sonofagun! He has inspired me to awaken from my own blog hibernation. It's a good time to get in, as the Washington State football program has emerged from a decade of futility and is on the verge of possibly something special with some talk of a sleeper run to a -gulp- Rose Bowl (or perhaps a Pac 12 title game at least). That is big talk and it's fun talk, but perhaps most importantly, the Cougs are primed to be consistently competitive in a way that we haven't seen in quite sometime. If we're being honest with ourselves, it could be in a sustainable way the likes of which we have never seen.  There is still time to build on the great Sutra's work to look ahead at what's to come this year and I pinky swear I will try my best to play my part in the WSU online conversation. To pull back the curtain a bit, the biggest challenge in this blog game (aside from it being on top of stuff like work and girlfriends and kids and houses and dogs and families and on and on…) is figuring out what to talk about on a regular basis. As I've been getting the writing itch again, I've been following along as the ESPN Pac-12 Blog has been listing the conference's All-Century teams and I told myself that once they dropped the Cougs article, a follow-up post would be a great way back in. Wouldn't you know, the great folks at ESPN posted the Washington State All-Century team on a Hump Day. This, my friends, is serendipity baby.
If you haven't been following the All-Century posts, the premise is pretty simple. They've been going back to the year 2000 and putting together the best possible lineups on offense and defense comprised of players from that era. My job as a "Washington State Football Expert" and "Online Critic" is to read their post, then list all the reasons why it's bad. All in all, those ESPN fellers did a pretty solid job with the WSU All-Century Team. Sure, they had a slight advantage in that they could more or less ignore everything that happened from 2008-2012, but still there is very little to quibble with in terms of the players they selected. I could go all Stephen A. Smith on them and make up dissenting opinions. Instead, I'll offer an alternative if I did think they get it wrong, I'll add some honorable mentions and I'll throw in some Huddy's Heartstrings selections for guys that I just like for whatever reason. Today, I'll walk through the offense and I'll be back at a yet-to-be determined time with thoughts on the D.
QB – Jason Gesser
Did they get it right? Yep, you'll get no argument from me against the guy who took us to the Rose Bowl this century. It can be easy to forget just how unique and exciting the Gesser era was, but if you happen to catch stuff on Pac 12 Network from 2002, it all comes flooding back. Who would have thought this little Hawaiian dude that – in the interest of full disclosure – I thought was no good early in his career would be such a warrior and ultimately a Cougar legend. I love that he's still a part of the program. Here's to you, Jason Gesser.
Honorable Mention: Alex Brink 
Not Josh Swogger, not Gary Rogers. Nope, the skinny, noodle-armed kid from Oregon that ended up breaking a bunch of school records and until the pass-happy era was one of the most prolific passers in conference history.
Heartstrings: Jeff Tuel
I wanted so badly for Tuel to have some real success in the Wins and Losses column before he left. On the bright side, he seems to be winning at life. Congrats on the wedding, my dude!
Running Back – Jerome Harrison
Did they get it right? Yep! In an otherwise frustrating 2005 season, The Ghost is what I remember. Well, and Trandon Harvey of course. The first play of scrimmage that year was an 80 yard touchdown run and he never slowed down from there.
Honorable Mention: Dwight Tardy, I guess? Throughout the 2000's, there wasn't a ton of continuity at the running back position, with the exception of Tardy leading the team in rushing for 4 straight years. Just don't ask about how many yards he had during some of those years, k? Let's just assume this spot will go to the four-headed monster, Boobie Morrwickston in a couple years.
Heartstrings: There are plenty to be had year. Of course, blog favorite Rickey Galvin needs a shout-out, I always enjoyed Carl Winston because of the Webster vibes and for a 3 TD performance in a victorious Apple Cup. And I thoroughly enjoyed Jermaine Green, especially when he would break off 80 yard touchdowns against the LA schools.  Jonathan Smith also deserves a shout-out because the 2003 Holiday Bowl was dope.
WR – Brandon Gibson and Jason Hill 
Did they get it right? Man, this is a tricky one. I thought maybe on overall career numbers, Gibson would shake out a little better than Marquess Wilson because the latter's career was cut short by…I dunno, crankiness? A case of the sadz? A hissy fit? Whatever it was, it was certainly an inglorious and quick end. That said, Marquess still had better numbers overall and was by far a more dominant player game in and game out. Maybe Marquess was simply dinged for going out in a blaze of turd. Jason Hill was our Cris Carter, a flat-out touchdown machine. Plus, you'd want him on the roster for special teams anyway.
Honorable Mention – The Marquess elephant in the room was already addressed, so let's talk about Gabe Marks instead. If this list is done a year from now, it might look a little different. I love Gabe Marks.
Heartstrings – Mike Bush might be my favorite Washington State athlete of all time. My brother, his buddies, my buddies and I were the Mike Bush Fan Club during the Paul Graham era. Then the dude decided to go out for football and made legit contributions to two dang bowl teams! What a player, what a guy. Jerome Riley was unbelievable at just going up and getting it. Nakoa McElrath was randomly great in 2001. Michael Bumpus let us feel very special on Signing Day once and may be the last Cougar to ever score on a punt return until the sun burns up and earth no longer exists (don't fact check this; it mostly just seems like it). There are too many to mention, so shout-outs go to Jared Karstetter, River Cracraft, Vince Mayle, Isiah Myers, Rickey Galvin again, Scott Lunde, Jeshua Anderson and me, for my intramural performance in 2000.
TE – Troy Bienemann
Did they get it right? Yep! I can still feel the pick he set on me during a basketball game once. He was pretty good at football too.
Honorable Mention – From a production standpoint, Cody Boyd is the one that comes closest. He was also very tall.
Heartstrings – JEDZILLA! Jed Collins, along with Marcus Trufant and Brandon Gibson, is one of only three dudes on ESPN's list who had a sustained NFL career post-Pullman (while Deone Bucannon is clearly at the start of one). That's….something. Also, remember that one time during spring practice that we all that Andrei Lintz was going to be a superstar? That was a weird time, man.
Offensive Line – Calvin Armstrong, Joe Dahl, Kenny Alfred, Derrick Roche, Josh Parrish
Did they get it right? I mean, sure! These guys were all good and got recognized with awards and stuff. I'm probably not the best person to ask, honestly.
Honorable Mention – This part's really hard. There aren't stats to help me and there have been a lot of dudes. I'm gonna say Cole Madison, Riley Sorenson and John Fullington, then cut to the jokes.
Heartstrings – Tyler Hunt and Tyler Hunt's big ass towel. Jake Rodgers and Jake Rodgers's mullet. Sam Lightbody because he was actually quite heavy lol! I enjoyed when we all retroactively appreciated Zack Williams because he got drafted. Feel free to chime in with more, but be very careful. As you try to look into these things, you end up wading through some pretty murky waters.
K – Drew Dunning 
Did they get it right? I say nay! He had some big kicks, but also some big misses. Overall, Andrew Furney was more accurate, had a stronger leg and was much curvier. I'd have gone with Furney.
Honorable Mention – FURNEY!!
Heartstrings – Come on, you all know Furney was everyone's favorite kicker this century. Also, Romeen Abdollmohammadi.
Go Cougs!