We've been here many times before…going into December with a mixed brew of coulda's and shoulda's…but still somehow in the contending mix of teams mathematically eligible to make the NFC playoffs.
Mikey (BirdCrazy) from South Carolina knows the feeling:
"Happy Turkey Day to youse all… As for football, well, we are at that inevitable crossroads of controlling our own destiny or one loss away from oblivion. 4 games out of the 6 left at home… I am Thankful for that, my beautiful daughter, her amazing husband and our perfect grandchild and a pretty good life overall. This is just a game……but if the heavens are listening, a trip to the post season would be the cherry on top."
We're a team in transition, kinda Lost in Space between two galaxies— the Chip Kelly Experiment and the Doug Pederson/Howie Roseman Milky Way…
As Dave Stoessel of Eagles Addict reminds us, there is still a way for this newbie crew to claw its way to the tournament:
"…For all of this team's deficiencies, they can still compete.  I'm not ready to write this season off just yet.  Let's take a look at where things stand and how the Eagles can still make this an exciting season… The way things look right now, there's a decent chance that both wild card spots will go to NFC East teams. Assuming Dallas wins the division, we have to overcome either the Giants or Redskins."
"The Lions and Vikings are tied for the division lead in the North, but we at least have the tie-breaker over Minnesota.  So, we have to hope the Lions end up winning their division. The Bucs are 5-5 but have a tough schedule coming up.  Seattle looks like they're going to run away with their division and the Cardinals seem to be in a downward spiral."
"So, for now, my focus is on how the Eagles can overcome either the Giants or Redskins….First things first, the Eagles have to win at least five of their last six games.  They have to beat the Packers for a conference win and obviously win their three division games. All four of those games are in Philly."
If the Eagles win five of their next six with their only loss to one of the AFC teams they play (Cincinnati or Baltimore), their division record would be 3-3 and conference record would be 7-5.
Here is how the Eagles' remaining schedule sets up:
WEEK 12
Packers at Eagles
Monday, Nov. 28, 8:30 p.m.
TV: ESPN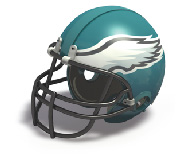 Green Bay, once again, sat out most of free agency. That's how the Packers do. They have more homegrown talent than any team on an annual basis. But they continue to waste away Aaron Rodgers' prime years. The Packers quarterback saw plenty of Jim Schwartz's attacking scheme when the Eagles' new defensive coordinator was with the Lions.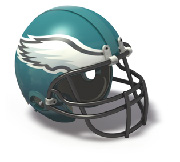 WEEK 13
Eagles at Bengals
Sunday, Dec. 4, 1 p.m.
TV: Fox29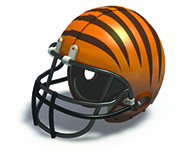 The Bengals have sustained a level of success by reaching the postseason in each of the last five seasons, but they haven't gotten over the hump despite finally winning a playoff game in January. Losing Andy Dalton late in the season was crippling. The Eagles, at this point, would take such a fate.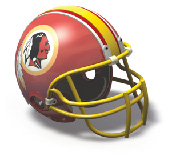 WEEK 14
Redskins at Eagles
Sunday, Dec. 11, 1 p.m.
TV: Fox29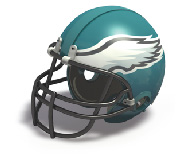 Last season was the dawning of a new day in Washington. The Redskins have won division titles under meddling owner Dan Snyder before, but never with a squad that seemed constructed with purpose. They humiliated the Eagles on their home turf last December and should once again be strong on both lines.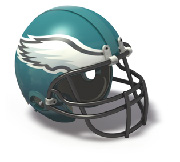 WEEK 15
Eagles at Ravens
Sunday, Dec. 18, 1 p.m.
TV: Fox29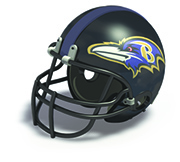 Since winning the Super Bowl four years ago, the Ravens have gone 23-25 and missed the postseason in two of three seasons. John Harbaugh, who went to the playoffs in each of his first five years, isn't on the hot seat, but the coach and quarterback Joe Flacco have something to prove.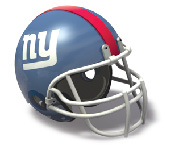 WEEK 16
Giants at Eagles
Thursday, Dec. 22, 8:25 p.m.
TV: NBC/NFL Network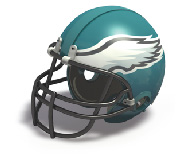 The Giants dug deep into their pockets and spent in free agency, inking defensive end Olivier Vernon and cornerback Janoris Jenkins to mega-contracts. They also retained Jason Pierre-Paul. The Giants had one of the worst defenses in NFL history last season and are hoping the additions will complement an offense that has the explosive Odell Beckham Jr.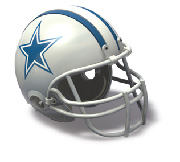 WEEK 17
Cowboys at Eagles
Sunday, Jan. 1, 1 p.m.
TV: Fox29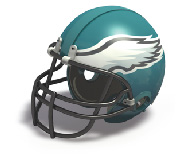 The Eagles get an extra three days to prepare for the season finale. Dak Prescott will probably start at QB for the Cowboys, but could 2016 be the final season the Eagles see Tony Romo in Dallas blue? The 35-year-old quarterback has had enough injuries to make him the new face of the board game Operation. A year ago at the Linc, Jordan Hicks broke Romo's collarbone, but the Eagles lost.
Here is a look at the remaining schedules of the Giants and Redskins…
Giants: Browns, @Steelers, Cowboys, Lions, @Eagles, @Redskins
Redskins: @Cowboys, @Cardinals, @Eagles, Panthers, @Bears, Giants
Dave Stoessel's analysis: "Division and conference records will not come into play when it comes to tie-breakers with the Redskins thanks to their one tie game.  It'll simply be who has the better record and 10-6 beats out 9-6-1. If the Eagles ended up tied at 10-6 with the Giants, we will have to hope that the Giants lose two of their last three division games (obviously one of them being the Eagles).  However, that could possibly leave both teams at 10-6 with 3-3 division records and 7-5 conference records."
"We'd then have to use the next tie-breaker which is record vs. common opponents.  Both teams' common opponents are the NFC North and AFC North.  Right now, the Eagles are 4-1 in those games and the Giants are 3-2."
So you see, if we take care of business against the Packers this Monday night, we're still very much in the algebraic formula of making the playoffs.
I know, it would be a lot more reassuring to our fans to have avoided all this "what if?" theory with just two of our close losses this season going the other way.  7-3 would look really solid right about now.
But what has gone down says we're a 5-5 team—it's up to the coaching staff and players to disprove the current label of mediocrity and they have 6 games left to make their statement.
Step one is beating the Packers at home on Monday night. That outcome is far from a no-brainer, even though the Packers (4-6) are struggling so far.
Aaron Rodgers is still Aaron Rodgers and has been a thorn in the side of the Eagles for many a year now. The Green Bay defense appears to be the weak link right now. In their last two games, the Packers have surrendered 89 points — 47 in a loss to the Titans, and 42 on Sunday night against Washington (in addition to 515 yards of offense). Since a Week 6 loss to Dallas, Green Bay has allowed 30 or more points in five of its past six contests.
But that still means the Eagles have to score more points than Aaron Rodgers and his offense does. The Green Bay offense has been productive. So far in 2016, the Packers are averaging 24.7 points and 362.7 yards per game. In the air, the team is averaging 262.1 yards per outing, which ranks 10th among NFL teams.  Rodgers has thrown 25 touchdown passes, second most of all quarterbacks this season, and has a 96.0 passer rating.
The Packers also have three receivers on the roster with over 500 yards on the year in Jordy Nelson, Davante Adams and Randall Cobb. They have 663, 663 and 517 receiving yards, respectively. Additionally, the trio has combined for 18 of the team's 28 touchdowns this season. Nelson leads the way with nine, which is the most among all receivers in the league.
So it won't be a walk in the park for the Eagles. But they just have to survive the Packers' game cut, and all of a sudden tournament possibilities are alive for them.
*   *   *   *   *   *   *   *   *   *   *   *
BRISUKSEGG Fantasy Football Update:
Recent League Activity:
Week 11 Results:
(3-6-2)

Rodney Vander Veer

82
114

HO

Line:

Top Scorer:

+11.9

HOP

Line:

Top Scorer:

-11.9