Dad took my brother Bill and me to our first Eagles game back in 1958. It was the November 9th game in which we lost to the Steelers, 31-24.  The Eagles had just moved their home games from Connie Mack Stadium (Shibe Park) to Franklin Field on the campus of the U. of Pennsylvania. Buck Shaw had signed on as head coach replacing Hugh Devore. QB Norm Van Brocklin had been acquired from the L.A. Rams in a trade. Attendance at our game was 26,306. The Eagles ended up 2-9-1 that year.
Dad packed us three ham-and-cheese sandwiches in a brown paper bag. Inside the stadium we purchased three soft pretzels (25 cents each), two cokes (25 cents each) and a tall cup of Schmidt's beer for Dad (50 cents).
Nowadays stadium cuisine has become big business.
Menu items at Lincoln Financial Field will run you $12 to $15 on average for the good stuff. The chefs at Aramark (the food concession giant which won the contract at the Linc) have come up with some new treats which have been phased in over the past two seasons. There are new food concepts, new menu items and expanded offerings from local celebrity chef partner, Marc Vetri.
Here's a review of the new cuisine from Food and Beverage Magazine:
A Tribute to Eagles Greats, Quick and Carmichael returns from its 2014 debut:
Eagles Legends Mike Quick and Harold Carmichael were two of the best players in franchise history, and they're sharing their hunger for the game with 'Quick & Carmichael BBQ,' featuring their vision of the perfect barbecue sandwich. Here, fans can choose between The Quick (black cherry smoked pulled pork with house made slaw on a potato roll) or The Carmichael (maple sugar smoked pulled chicken with house made slaw on a potato roll), or if they don't want to play favorites, a combination of the two, The Quick & Carmichael (black cherry smoked pulled pork, maple sugar smoked pulled chicken, topped with house made slaw, on a potato roll). Each sandwich is available with choice of Kansas City Style Barbecue Sauce or Carolina Vinegar Barbecue Sauce.
Located at the Tork Café in the SCA Club and Market in the Panasonic Club… The sandwiches are also available in concessions behind section 134.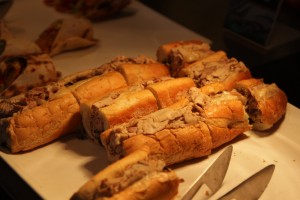 Club Level Improvements:
Fans watching the action from the club level will notice a drastic change if they haven't been here for awhile – a modern new market concept featuring a selection of freshly prepared food offerings from celebrity chef partners, Marc Vetri and Peter McAndrews, and Aramark's culinary team.
Some of the offerings available in The Market include:
·        NEW! Marc Vetri's 'Pizzeria Vetri,' serving fresh-made artisan pizza, fired in a Brick oven. Options include Margherita Taglio, Salsiccia Taglio and Rotolo.
·        Chef Peter McAndrews' Paseano's offers made to order culinary favorites, like The Paesano and Chicken Diavlo.
·        A selection of Grab-n- Go menu items  freshly  prepared to be quick and healthy
·        Exclusive Liberty Bell Brewing Co., offering a variety of  craft beers and seasonal brews, popular domestic beers and wine on tap, a more eco-friendly way to serve wine.
New in Concessions:
Dunkin' Donuts and Rita's Italian Ice will now be available in general concessions. Dunkin' Donuts will now offer their signature coffees, iced coffees and hot chocolate in sections 104, 117, 136, 123, 224, 203, CS20, CS37, while Rita's will offer a variety of popular flavors.
Returning Favorites
·        Tony Luke's Cheesesteaks
·        Chickie's & Pete's Buffalo Chicken Cutlets and Crab Fries
·        The Schmitter from McNally's Tavern
·        Planet Hoagie Roasted Veggie Wrap, Chicken Italiano and assorted hoagies, wraps & salads
·        Bassett's Original Memphis BBQ Smoked Pork, Jambalaya and 3 handed Chili
·        Federal Pretzel Twisted Soft Pretzels
·        Melt Down gourmet grilled cheese, including their new Philly Cheesesteak Melt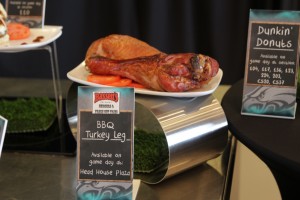 Vegetarian, Gluten-Free & Kosher Options
For the past four years, Lincoln Financial Field has been named the most vegetarian-friendly NFL stadium, for providing numerous dining options for fans with special dietary preferences. This year's menu includes Buffalo falafel, breaded eggplant hoagies, veggie wraps, veggie steak sandwiches, vegetarian hot dogs, black bean burgers, garden burgers, and hummus with carrot and celery sticks. The menu also features gluten-free hot dogs and rolls, snacks, juices and beer, as well as gluten-free baked goods from Sweet Christine's. There's even a kosher food stand, featuring a kosher hot dog and other kosher specialties.
It's a long way from our brown bag picnic in the stands at Franklin Field in 1958. But it's a long way to the top if you want to rock 'n' roll…or eat like a king at the Linc.