Holy fuck that game was incredibly boring. Like, super fucking boring.
If that is what a playoff series will be like then please bring on the Capitals. I'm sure that no Karlsson and no Marchand and an injured Krug didn't help, but none the less, that game was a snoozer.
Let's talk about that Krug injury. Joe Haggerty had this:
To be fair, it is Joe Haggerty and I'm sure he couldn't see Krug as he's lovingly staring at Anton Khudobin, wondering why the Bruins didn't ride the hot hand.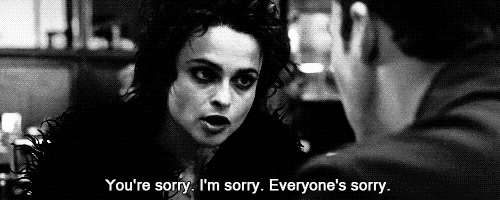 Let's talk about Torey Krug. Krug left the game in the first period and was very quickly ruled out by the Boston Bruins. This could be concerning but the fact that the Bruins won't be playing until Monday at the earliest means that Krug will get some time off to rest up.
This bring the question of Charlie McAvoy.
McAvoy signed an ATO with Boston and I wrote that they would be smart to keep him in Providence. I still believe that. Even if Krug is out for the playoffs, I don't believe that burning a year of McAvoy's eligibility will benefit this team.
Using him in one game burns a year of his ELC and brings him closer to restricted free agency. The Bruins have options in Providence. Hell, they have options in the Level 9 Dougie Hamilton Suite. If I'm Boston, I am calling up Matt Grezlcyk and playing Colin Miller. Colin Miller has played some RD. McAvoy is an LD and you know how the Bruins love their R-L pairs.
I can't stress enough how foolish I think it would be for Boston to burn a year of McAvoy for a handful of games. In the end, though, I think that Cam and Don will stick to their plan. Neely made it known on Felger and Mazz tonight that he won't call McAvoy up to Boston.
This situation is different than, say, Jakob Forsbacka-Karlsson. Forsbacka-Karlsson (JFK from this point on because fuck you spelling that name sucks) signed an Entry Level Contract which means a year of eligibility is gone already. After this season, JFK will only need two full seasons with the Bruins to hit restricted free agency.
This is something that JFK's camp could have negotiated. They could have told Sweeney "ELC or BU" and Sweeney jumped at the chance to get him signed. If you're playing at home, JFK was scratched tonight.
Honestly? I don't really have anything else for you. This game was incredibly boring. If you suffer from insomnia, pray for a Bruins/Senators series because that will surely put you to sleep.
I would apologize for my last regular season recap being shit, but I'm not.
See you dickheads in the playoffs.