Not much has changed in the Drafttek Top 15 simulation since we looked at it last week:
| | | | |
| --- | --- | --- | --- |
| Pick | Team | Player | Psn |
| 1 | Cleveland | Myles Garrett | EDGE |
| 2 | San Francisco | Solomon Thomas | EDGE |
| 3 | Chicago | Marshon Lattimore | CB |
| 4 | Jacksonville | Leonard Fournette | RBF |
| 5 | Tennessee | Jamal Adams | S |
| 6 | NY Jets | Malik Hooker | S |
| 7 | LA Chargers | Jonathan Allen | DL3T |
| 8 | Carolina | O.J. Howard | TE |
| 9 | Cincinnati | Reuben Foster | ILB |
| 10 | Buffalo | Corey Davis | WRF |
| 11 | New Orleans | Derek Barnett | EDGE |
| 12 | Cleveland | Mitch Trubisky | QB |
| 13 | Arizona | DeShone Kizer | QB |
| 14 | Philadelphia | Mike Williams | WRF |
| 15 | Indianapolis | Marlon Humphrey | CB |
If things actually go down like that on April 27th,  Mike Williams still looks like the Best Player Available to the Eagles at #14 overall:
Our "local boy made good" Eagles analyst ~BROZ had this official reaction for Drafttek:
"There certainly isn't a shortage of smoke signals emanating from the Novacare Complex these days. From targeting pass rushers in the first round, to trading for a certain jersey-grabbing cornerback from Seattle…it's hard to get a feel for what the Eagles have planned (and maybe that's the point). Despite all the rumors, I still think the Eagles have a handful of blue-chip players (Reuben Foster, Marshon Lattimore, Solomon Thomas, etc) they will target in RD1 with a small trade-up of perhaps 4 or 5 spots, and that by the end of the 4th round, they will have drafted two potential starting CBs. The Eagles have traded up four times out of the last eight drafts, and have had far greater success moving up than they've had moving back. They should target star-power in RD1, and then wade into the deep CB and RB pools as the draft progresses.
"With that strategy in mind, the Eagles select WR Mike Williams once again this week. Wide Receiver is not the glaring need it was two months ago; however, after the top 13 teams were done picking at this week's selections like vultures on roadkill, Williams was the best player left for the Eagles to take. I won't waste anyone's time rehashing the poor production from our starting outside receivers from last year; however, taking a guy from WR-University that had 98 receptions for 1,361 YDS and 11 TDs last year is probably a pretty solid plan. ~Broz, Eagles Analyst"
~BROZ also is sticking with his previous pick for Round 2, #43 overall—cornerback Tre'Davious White:
"The Eagles' current stable of cornerbacks is shaping up quite nicely (if your name is Dak, Eli, or Kirk). A football team whose top CB is THIS guy, is about as frightening as a cardiac unit whose top heart surgeon is this guy. Jim Schwartz LOVES him some Jalen Mills because of the confidence and swagger he plays with. Brozer LOVES him some Tre'Davious White because he can, you know, cover people. A four-year starter with 47 games of experience in the NFL's junior varsity league (the SEC), the All-American corner is about as battle tested as a rookie can be. With all the injury concerns surrounding so many prospects this year, White (who wore the vaunted LSU #18) has only missed one game in his entire four year career. Totaling 14 pass breakups in 2016, 6 career INTs, and 3 punt returns for TDs, White would fill a couple of needs on the Eagles' squad, as well as represent the best-available player at this spot. ~Broz, Eagles Analyst"
NFL Films analyst Greg Cosell agrees with ~BROZ that the Eagles would be well advised to draft a BPA-quality wide receiver in the 1st Round:
"Look, Alshon Jeffery is here on a one-year deal, and Torrey Smith is looking to bounce back after a couple of down years in San Francisco. It makes sense now and for the future to get a Mike Williams, or a Corey Davis or a John Ross."
If you frequent mock drafts, the consensus top three wide receivers are Ross, Corey Davis, and Mike Williams in no particular order. Who would be fourth and fifth on Cosell's list? JuJu Smith-Schuster and Ishmael Zamora:
"I know Zamora's had some off-the-field stuff. He's a one-year player at Baylor in an offensive scheme that is really troubling when you project guys to the NFL," Cosell said. "But it's hard to overlook 6-3 1/2, 224 (pounds), 4.49 (seconds in the 40-yard dash). I mean physical with the ball in his hands. Moves really well. I really like the kid on tape. Now, you've got to do your due diligence. If he was a totally clean player, I would think he would be talked about as a first-round pick."
Cosell added that John Ross is a "way better prospect" than Will Fuller last year. Fuller was selected No. 21 overall by the Houston Texans.
John Ross' medical history (torn ACL, torn meniscus, labrum tear) and smaller frame might scare off some teams, but Cosell doesn't think a team would need the wide receiver to be a full-time player:
"I think the league has evolved in such a way that you can have a player like John Ross, who doesn't play 70 snaps a game. He can play 40 or 45 snaps and be valuable in multiple ways," Cosell said. "He's more than that as a receiver. He actually has a pretty good sense of how to run routes. He's very good with his understanding of how to set corners up on his vertical routes. You can use him on jet sweeps. You can use him in any number of ways. He's a multidimensional player that provides that vertical element."
What if tight end/occasional wide-out O.J. Howard is considered the BPA when/if the Eagles are picking at #14 overall? Howard was never the focal point of the offense at Alabama, but Cosell expects him to be an instant contributor for the team that selects him:
"I think he'll have an impact because of the way the league has evolved. O.J. Howard is the kind of receiver who can line up split from the formation. That's the way tight ends are being used more and more in the pass game."
You can catch a lot more draft-related commentary from Cosell by clicking onto his "Journey To The Draft" podcast here.
Looking down the line at some Day Two and Day Three prospects:
The 2017 NFL Draft is officially less than two weeks away and soon enough, the Philadelphia Eagles will be on the clock with the 14th overall pick. No one really knows what the Eagles will do in the first round as they can go in many directions. However, if they do not draft a running back on Day 1 or Day 2, they could have their eyes set on a small school stud out of the MEAC on Day 3.
On Tuesday night, Alex Marvez of the Sporting News reported that North Carolina A&T running back Tarik Cohen has had private workouts with the Eagles and Green Bay Packers. Marvez also mentioned that Cohen has visited the New York Jets, Chicago Bears, and Denver Broncos.
It does not come as a surprise that the Eagles worked out Cohen because they do need another running back with the impending release of veteran Ryan Mathews. Also, Cohen fits the Eagles' mold when it comes to running backs. If you are an Eagles running back, you need to run the ball well and be a factor in the receiving game.
Cohen, who is 5-foot-6 and 179 pounds, does those two things very well. At North Carolina A&T, Cohen left his mark on the school and in the MEAC.
Over his four-year career, Cohen had 5,619 rushing yards and 56 touchdowns. The 5,619 rushing yards made Cohen the all-time leading rusher in MEAC history, which is pretty good considering all of the great players who have played in that conference.
This past season, Cohen had a career-year with 1,588 yards on 212 carries and 18 touchdowns, to go along with 37 receptions for 339 yards and a touchdown. Despite his stature, Cohen showed he could carry the load and proved to be a matchup nightmare for opposing teams' on a weekly basis.
If you were a defensive coordinator in the MEAC, you did not want to give Cohen any breathing room. Any time he touches the ball, he has a chance to make a big play.
If the Eagles want to draft Cohen, they could get him between rounds 4-7 and slowly usher him into the role that Darren Sproles has played. Although Sproles is getting up there in age, he is still proving father time wrong with every down of football he plays. However, the Eagles need to find Sproles' replacement, who better than Cohen to be that guy.
If you have not seen Cohen play yet, check out the video below. He is an exciting player, who could be another great player to come out of the FCS.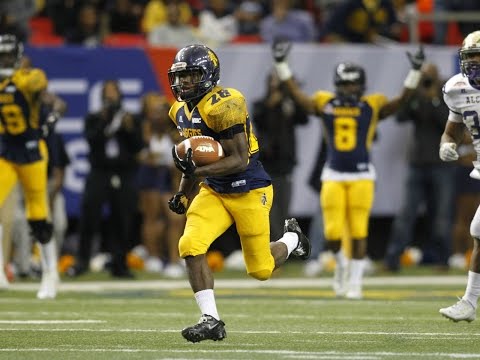 Other Eagles workout news: