Contributor: Nolan Howell
25 seasons and multiple international reincarnations later, The Ultimate Fighter keeps chugging along despite the conductors jumping the train anywhere from ten to fifteen seasons ago.
For this anniversary season, the show goes back to a redemption concept we previously saw in season 4 as former Ultimate Fighter contestants compete at welterweight for a series-high prize money total of $250,000 (in however many fights under contract, we don't know). Fighters will also be paid $10,000 a fight with $5,000 for finishes. A wild card fight will bring two losers from the preliminary round back into tournament.
The coaches rivalry sees a bit more spark this year as UFC Bantamweight Champion Cody Garbrandt and Team Alpha Male pick against former Alpha Male disciple and champion TJ Dillashaw and his Team Duane "Bang" Ludwig (former Alpha Male striking coach) staff.
The teams selections featured Dillashaw drafting James Krause (TUF 15), Jesse Taylor (TUF 7), Ramsey Nijem (TUF 13), Dhiego Lima (TUF 19), Joe Stevenson (TUF 2), Tom Gallicchio (TUF 22), and Gilbert Smith (TUF 17). Garbrandt drafted Seth Baczynski (TUF 11), Mehdi Baghdad (TUF 22), Eddie Gordon (TUF 19), Hector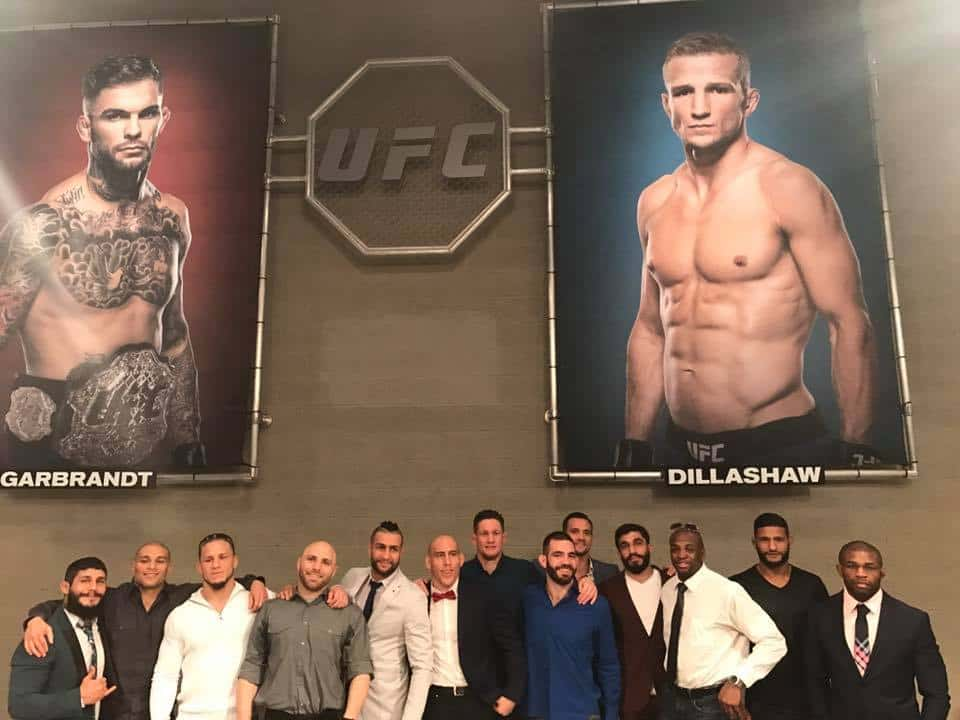 Urbina (TUF 19), Hayder Hassan (TUF 21), Julian Lane (TUF 16), and Justin Edwards (TUF 13). Garbrandt selected the first fight with his first pick Baczynski taking on Dillashaw's "Mr. Irrelevant" Gilbert Smith, while Dillashaw selected his first pick James Krause to take on Garbrandt's Hector Urbina.
For those interested in purely results, Hector Urbina was sent home before the fight because he was unable to get down past 185 pounds to the 170 pound limit. Garbrandt drafted TUF 22's Johnny Nunez as a replacement and he gets the fight with Krause down the road, despite Dillashaw's protests on losing his fight pick.
Gilbert Smith got into it with Team Garbrandt over his pick position and being selected first to fight during weight cutting at the house and nearly got into it with Baczynski at the training center. This boiled over to the coaches prior to weigh-ins. Garbrandt grabbed Dillashaw by the throat after calling him a fake and getting Dillashaw to step and tell him to get out of his face.
The fight itself didn't live up to the hype, but wasn't bad either. Baczynski did not fight his height and Smith timed him extending on his strikes to come in and land one or two each time he missed. Smith rode the back of Baczynski after a first-round takedown and never let up the rest of the round with choke attempts and punches. Body kicks led to another Smith takedown in round two and Baczynski had no answer as Smith took home a unanimous decision.
Garbrandt and Dillashaw got into another altercation as they announced Tom Gallicchio vs. Eddie Gordon, with Garbrandt seeming to chomp at the bit to get into Dillashaw's face for any reason.
The premise of the show remains the same in the first episode of this season, with a few new touches. Figher profiles and training montages are explained while getting an added sort of "Where Are They Now?" segment. This segment features some home video and a recap of the competitor's time on a previous season.
While the expanded profiles are a nice touch, they fall flat in a sense because none of these fighters are particularly interesting. They were not standouts skill or
personality-wise on their own seasons (save for perhaps Julian Lane, who is mostly notable for his "Let Me Bang, Bro" meme) and there is no reason to expect them to do anything of note this time around in the UFC.
The upped production values are either a blessing or a curse, depending on how you look at it. Older seasons had a more raw, fly-on-the-wall feel. The new production feels like a highly polished turd as little seems to change season to season. Even the juvenile antics of old, a trashy reality TV staple, would be a welcome addition to just a generally dead fish feeling the show has.
With no house personalities, paper-skinned coaches trading barbs as sharp as bendy straws, and a collection of mediocre has-beens and never-weres, you can't expect anything new from this Teflon walking corpse of a show.
-Nolan can be reached @undercardnolan or at nth993@gmail.com