What was considered the culmination of a near 50-year rivalry took place in South Bend on the evening of September 6th, 2014. Notre Dame and Michigan, one of the most historic annual rivalries in college football was coming to an end with one final matchup under the lights.
Of course, this designation ended up lasting less than two years, and it was eventually announced that Notre Dame and Michigan were putting each other back on the schedule. The Michigan hiring of Jim Harbaugh makes the mat chup too lucrative to miss out on, and both programs took advantage. So the Irish and Wolverines will once again, face off at Notre Dame in 2018.
A highly anticipated match up each year had reached its peak, fueled not only by the hatred generated over the years between these two programs, but by an extra layer of bitterness this time around courtesy of comments made months before the 'final' game by then Michigan Head Coach, Brady Hoke. When it was announced they were discontinuing the annual Michigan game each year, Coach Hoke publicly stated that Notre Dame was 'chickening out' for taking the Wolverines off the schedule. As if Notre Dame – Michigan needed any more hype, this brought it to an entirely new level.
The champion of this final contest was afforded the opportunity to throw the last punch in a rivalry series that held immense historic value. And the Fighting Irish came out swinging.
Notre Dame executed a near perfect game in all facets. Everett Golson led the Irish to three offensive touchdowns in the first half, allowing ND to take a 21-0 lead into the locker room. The second half offered more of the same. Brian VanGorder's stifling defense persevered through the latter 30 minutes of play, forcing multiple turnovers and defensive stops.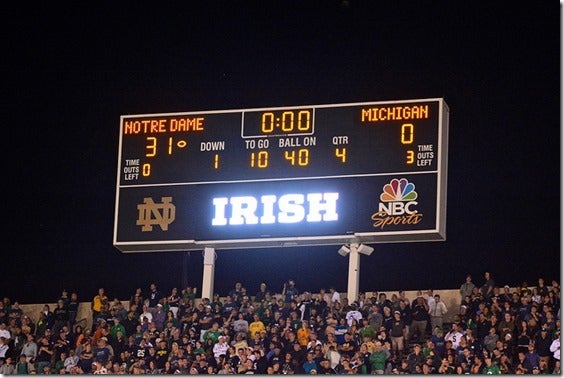 The shutout was capped of in the most satisfying way for Notre Dame fans. The last play of the game, ending on an interception thrown by Michigan QB Devin Gardner, returned for a touchdown for the Irish. Sadly, for Notre Dame, an unnecessary illegal block on the interception return negated the pick-six, so it was settled as a 31-0 victory against the Michigan Wolverines.