Contributor: Nolan Howell
This week on The Ultimate Fighter 25: Redemption, Team Dillashaw's Jesse Taylor gets his chance at his own redemption when he takes on Team Garbrandt's Mehdi Baghdad.
The show kicks off with Baghdad's fight preparation, where he reveals that he previously trained with Taylor at Team Quest. Cody Garbrandt says that Baghdad is the best technical striker on the team and the fight preparation focuses on defensive grappling to keep the fight on the feet.
Back at the house, Jesse Taylor talks about his experience on season seven of the show, flashing back to him running roughshod over the house and peeing his pants in a reminder of the more entertaining days of the show. Taylor described himself as a monkey out of control during the show and it gets to the heart of his redemption story as it shows how he was kicked out of the TUF Finale for busting a limousine window and raising hell at the Palace Station casino. Taylor says he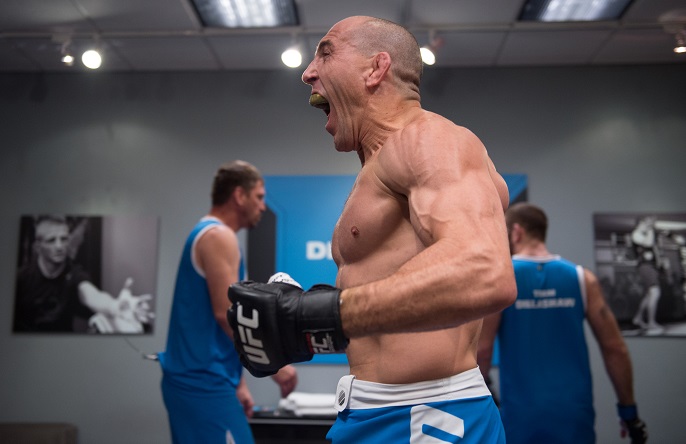 has fought 42 times trying to get back to the UFC (his record begs to differ at 36) and he wants one last shot at the UFC before he's done in what is the most intriguing redemption story of the season thus far.
Baghdad talks at the house about his experience training with Taylor and recaps his experience on TUF 22, defeating Artem Lobov by decision before dropping a decision to Julian Erosa. Baghdad says lightweight made him too skinny and we go into the home video recap. Baghdad left his friends and family in France to pursue MMA in America ten years ago. He lives on a boat with his "American dad" and says his life consists of training, training, and training.
Taylor's fight prep focuses on some striking entries to help him survive and take Baghdad down. Back at the house, Taylor talks about his family problems post-TUF as he fights for the custody of his kids with his ex-wife. Taylor's home video focuses on his return to Poway, California, where he lived before his TUF season seven. Taylor focuses on playing football with his kids and talks about his newfound identity as a role model…before going on to run naked in the backyard after finishing his weight cut.
Weigh-ins and pre-fight prep go off without a hitch and we go to the fight. Taylor gets a takedown five seconds into the fight and it is curtains on the round for Baghdad. Taylor remains active with ground and pound and takes the back where he looks for a choke. Baghdad reverses with two minutes to go and gets the fight back to the feet, but another Taylor takedown yields the same results. Baghdad clips Taylor with a left hook coming in and it puts Taylor on his butt to start the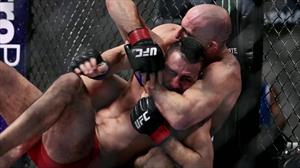 second round, but Taylor charges forward for another takedown and it is wash, rinse, repeat from the first round as Taylor stays active with transitions and ground and pound to the final bell. Taylor takes the decision and Garbrandt tells his team that whoever touches Taylor's chin next fight will put him out.
Garbrandt starts the trash talk before fight announcements and talks about Dillashaw's fight with Dominick Cruz. Garbrandt's assistant coach Justin Buchholz actually tells Dillashaw he thinks he won that fight too, but hard to tell if his tongue was in his cheek. Dillashaw snipes at Garbrandt's fight IQ, which Garbrandt says his fight IQ is in his right hand. Dillashaw tells Garbrandt to focus on his team, but Garbrandt is more focused on Dillashaw. Dillashaw announces Johnny Nunez vs. James Krause for next week.
The meat of the show this week was fight-related, which is a positive or negative depending on what you expect. That also applies to a little less conversation between Dillashaw and Garbrandt, who probably need to store away their best middle school jabs for later in the season.
-Nolan  can be reached @undercardnolan or at nth993@gmail.com