164.5 Catchweight Bout: Julio Cesar Chavez Jr. (50-2-1) vs. Saul Alvarez (48-1-1)
Luke Irwin: This is an abomination. De La Hoya and Canelo can keep taking fights away from Gennady Golovkin and promoting them as big deals, but it's becoming more and more obvious and pathetic. Chavez should not be main-evening a PPV at all. Alvarez via R6 TKO.
Nolan Howell: This fight depends on Chavez Jr. showing up in shape and on weight. If that is the case, then Chavez has a chance given his size and he could perhaps test Canelo's chin if that's the case. However, counting on Chavez to show up motivated to fight is a fool's game. Add to that the consideration that Canelo is the much more technical fighter, it is hard to imagine a scenario where Canelo can blow this one. Chavez will need to step to a level we haven't seen before and it couldn't get more unlikely than that. Saul "Canelo" Alvarez by unanimous decision.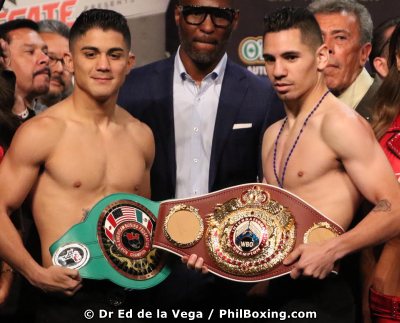 NABF Featherweight Championship: Joseph Diaz (c) (23-0) vs. Manuel Avila (22-0)
Luke: Two of the best featherweight prospects in the world locking up on a big stage, here. This is the most evenly-matched bout on the card by far, but I just like more of what I've seen from Diaz, and think he has more tools in his toolbox. Diaz via UD.
Nolan: Diaz seems to have the higher ceiling and Avila is just a notch or two below that pedigree. Joseph Diaz by unanimous decision.
Welterweight Bout: Emmanuel Taylor (20-4) vs. Lucas Matthysse (37-4)
Luke: This should be tons of fun. Matthysse needs to rebound after his Postol KO loss, and Taylor is the kind of punching live dog who can challenge him and drag him into a scrap. Taylor hasn't faced anyone close to Matthysse in terms of power, and if the likes of Karim Mayfield and Victor Manuel Cayo can put him on his wallet, I think Matthysse hands him his first stoppage. Matthysse via R7 TKO.
Nolan: This is Matthysse's opportunity to come back and prove that the Postol loss was just what many expect it was: a legitimate loss to a talent that proved himself that night. Matthysse comes out and does it in impressive fashion. Lucas Matthysse by fourth-round KO.
Middleweight Bout: David Lemieux (37-3) vs. Marcos Reyes (35-4)
Luke: If Golden Boy and De La Hoya are *sigh* prepping Lemieux as Canelo's next opponent, then you know how this is going to go. Lemieux via R4 KO.
Nolan: This one is academic. David Lemieux by fifth-round TKO.