WBC World Junior Lightweight Championship: Miguel Berchelt (c) (31-1) vs. Takashi Miura (31-3-2)
Nolan: Miura can trouble anyone in the world if he draws them into a war and Berchelt is more than willing to get into a firefight. That said, Miura also doesn't have the power that Berchelt has and is more about durability to outlast that sort of onslaught. Berchelt is the much younger fighter and could be tricked against a now aging Miura, but the safe bet would be that Miura relies on his chin a little too much and it costs him late. Miguel Berchelt by eighth-round TKO.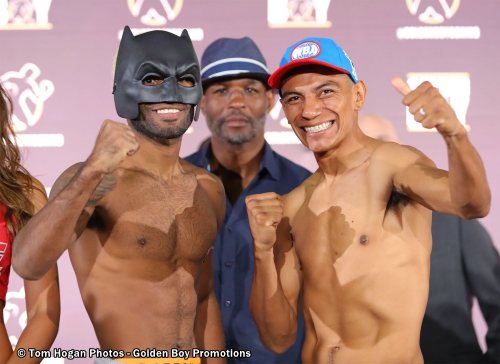 WBA Super World Junior Lightweight Championship: Jezreel Corrales (c) (21-1) vs. Robinson Castellanos (24-12)
Nolan: Corrales is on the rise, Castellanos is on the decline. Should be a simple sacrificial veteran test for Corrales here. Jezreel Corrales by unanimous decision.
WBC International Light Heavyweight Championship: Joe Smith Jr. (c) (23-1) vs. Sullivan Barrera (19-1)
Nolan: This should be a test of Smith Jr.'s perceived "overachiever" status. The Fonfara and Hopkins wins are signature victories despite the lack of substance behind the style of Hopkins's name these days and Barrera is aging, but also in a career revival at 35. When in doubt, take the younger fighter. Joe Smith Jr. by sixth-round TKO.