Remember that time the Flyers had a 3-1 lead against the Penguins with just 20 minutes to play?
Remember that time the Flyers blew a 3-1 lead against the Penguins with just 20 minutes to play to lose their 8th straight game?
For as irrelevant as the Flyers are and have been, wins like this always feel sweet.  That fanbase was one loss like this away from skinning one another and eating each others' feet for sport.
Exhibit A:
There is just so, so, so much to love about every single layer of that tweet.  Let's break it down.
"Fuck Crosby." Okay, fine.  That's innocuous.  "Fuck Jake Voracek" appears a little bit down the line in this space.
"Fuck Pittsburgh."  I mean, have you been to Philly? We don't worship a fictitious boxer.
"fuck that entire filthy ass gross city." Trash literally (literally) makes up 90% of the sidewalks in Philadelphia.  Fun fact: The Trashman was based on every single person born and raised in Philly.
"Fuck Malkin."  See #1.
"Fuck the EGO accounts." Buddy, we have something we agree on here.  You may have some redeeming qualities after all.
"Fuck fat Phil Kessel." JK.  Do not blaspheme about your lord and savior.
"Fuck Matt Murray." See #1.
"Fuck every single 'fan' of that useless team." Lol, real fans take their beatings and don't delete their Twitter, bro.
"I hope trump builds a fucking wall around your pathetic ass city."  I am very much here for this take.  The logistics and topography alone make it about as useful as the eastern Pennsylvania tradition of eating your own shit.
To be fair to Adam and the rest of the hyenas out east, being so jammed up that you drop 9 fuck bombs in a single tweet is both impressive and not unjustified.  The Penguins were ripe for the picking last night.  They were without one of their 2 best players for the 4th straight game.  They healthy scratched their best penalty killer for the third straight game (by the time you read this post, Ian Cole may have been traded), despite traditionally being ripped apart by the Flyers PP.  And they lost their starting goaltender in the 2nd frame.
And, after all of that, the Flyers still managed to gift away a 3-1 lead.  'Tis the season or whatever.
So as much as we tend to bitch and moan about the "Penguins struggles" in November or that HCMS isn't playing your favorite player or icing your preferred lineup, just stop and think for a second about how things could always be worse.
You could be a Flyers fan.
---
FIRST PERIOD
Despite the Pens notching 17 shots on goal in the first period, it felt like an absolute snoozefest until late on.  But with 3:57 left on the clock, the good guys would open the scoring.  Murr helped Jultz out on a dump in to stop it up and allow him to get a head of steam on a rush and break into the neutral zone.  As he hit the red line, he made a deft little chip off the boards to a streaking Guentzel coming across in support, asking if he should snipe before he even picked up the buck.  Bake gained the O-zone with more speed than a redneck biker gang, burning up the right wing wall and wiring one past Brian Elliot. 1-0
https://twitter.com/G_Off817/status/935313454382174208
SECOND PERIOD
Early in the middle frame, Murr had to be sharp and turn away a couple of looks as the Flyers looked to pour it on. Then a minute or two later, Dumoulin and Maatta both went off for hooking 39 seconds apart to give the Flyers a long 5v3.  Philly made short work of the first PP with Gostisbeherehaasdfh slamming a bomb of a 1T through Kuhnhackl to even the score.  Less than no chance for Money.  1-1
That'd be the only damage the Flyers would do to the Pens on that powerplay exchange because it isn't 2012 anymore.  Some people are unaware of this fact.
The Pens would end up heading to the PP about 5 minutes later, but nothing doing there as the Flyers started to tilt the ice back in their favor.  Then with 4:55 left, they'd manage to break the deadlock.  They got a bit of a lucky bounce after absolutely working the Pens on the cycle, eventually getting it up to Manning for a point shot that deflected off Konecny in front and meandered its way through Murray and finding a way to roll across the line.  2-1
Just 30 seconds later, Voracek got himself free behind the D with the first chance to make it 3-1, powering through to Murray before losing his edge and slamming into Murr, forcing the back of his knee into the post.  He'd leave the game and Jarry would step into the fire.  Fuck Jake Voracek with a rusty spoon.
Jarry was called to action early and often, making a couple of saves bigger than your 2nd grade English teacher.  But with about half a minute left in the period, the Flyers top line forced Ruhwedel to piss the puck away up the wall with a decent forecheck and set up a Provorov/Giroux combination and feed Couturier to bury a bullet and notch his 14th of the season.   3-1
THIRD PERIOD
As of course is tradition, the Flyers had to do something to fuck this all up.  Thank Jeebus for Andrew MacDonald, who got himself on the scoresheet for something other than being a traffic cone by tripping up Hornqvist 40 seconds into the 3rd.  Just 27 seconds into the PP, Hornqvist willed himself a goal because he's a goddamn treasure.  First, he plowed his way up the right wing wall with the puck to gain the zone before leaving it for Crosby and getting to the crease.  Jake found the soft little area to take the 87 pass and throw it on goal for Hornqvist to go to work in his kitchen, chipping the puck no less than 18093 times before getting it to go.  The refs reviewed it, confirmed it was a goal.  Hakstol challenged for goaltender interference because he didn't want his timeout anyway.  3-2
And just like that, 39 seconds later, this bastard would be all even at 3s.  Bryan fucking Rust would block Gazorpazorp's point shot and smoke everyone with that Pascal Dupuis Speed to get himself a breakaway.  Elliott made the initial save, but Rust left his shaft dangling in Elliott's face to bang home the airborne biscuit.  Unreal play. 3-3
Both teams would trade off another set of PP chances, and just when it looked like the Pens had a stranglehold on this game, a won offensive zone draw turned into Raffl stripping Hunwick of the puck at the point, holding off a Phil check, and dipping around Jarry's pokecheck on a quick power move to net what should have been the winner with 3:41 to play. 4-3
The great thing about the Flyers is that they're from Philly, which means that leads to them are like STDs.  They just have to give them away.  With Jarry pulled for the extra skater, a little over a minute to play, and a point shot form Jultz, the Pens would tie it up again.  Has to be a nightmare to deal with Hornqvist and Guentzel both hanging around the blue paint for goalies and, though, Elliott made the save on Schultz' shot, he blockered it right into Guentzel for the equalizer.  4-4
OVERTIME
The Pens kept their collective foot on the Flyers throat after the game tying goal, earning a PP after Voracek threw it over the glass with 15 seconds left in the 3rd to carry over into OT.  Hornqvist-Crosby-Kessel-Schultz was the unit to open on the OT PP.  But after the first clearance, Letang replaced Jultz and it was too much for the Flyers.  They set up, the fans screamed shoot for 45 straight seconds, and just as the penalty expired, Letang obliged them by firing a shot-pass on Crosby's blade for the buck nasty just the tip winner.  Just stupid how sick that is.  5-4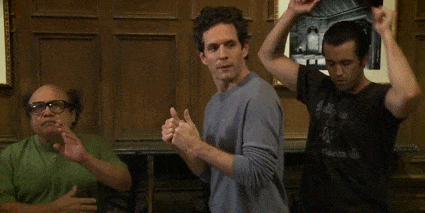 Game.
NOTES
Pens get a nice break in the schedule the rest of this week before a home and home series with the Sabres on Friday and Saturday.  Go Pens.