PITTSBURGH PENGUINS VS  DETROIT RED WINGS
LITTLE CAESERS ARENA – DETROIT, MI
7:00 PM EST. AT&T SN PITTSBURGH
Tonight marks the end of 2017, a year where a lot of stuff happened, including the Pittsburgh Penguins becoming back to back Stanley Cup Champions.
As we stare out the window tonight and at our TV's this evening let us not forget what an incredible year it was to be a Pens fan. Things absolutely suck ass right now, but just know every other franchise would give their collective left nut to be where the Pens stood just a few short months ago.
Now, a story.
It somehow became a NYE tradition a few years ago, five or six maybe, to go over to a family friends house after a late dinner. We would usually get there around 10pm and this is just as the real festivities were just ramping up.
You see this family friend makes homemade fireworks. Big ones.
Now, I know what you're thinking, you're picturing a drunken, irresponsible 25 year oldish person, no, this man is conservatively 70 years old. He lives in a beautiful log cabin out in the woods where the county police don't patrol and I'm pretty sure he is both G-Off and Ron Swanson's favorite person.
As he's gotten older though, the fireworks have gotten sketchier…
Last year everyone was outside lined up for the big grand finale, probably around 35-40 people in attendance. As the fuse was lit I noticed it looked like something was going wrong. The long angular tube he fired the works from was tilting slowly, falling to one side as the fuse burned down.
Then everyone had to dive the fuck out of the way.
About 8 or 9 explosives were shot directly into the crowd sending people scattering. Old women were diving into beds of pinecones, children scurried under cars, middle-aged men yelped and dove behind the massive oak trees lining the yard. Myself was face down in the pavement, my girlfriend screaming running up the steps of the house.
Outside of a few singed hairs and burnt clothing no one was hurt. A couple small fires started in the woods that we were able to quickly dispatch of.
I tell you this story because it's the best way I can describe the 2017-2018 version of the Pittsburgh Penguins. You're standing there celebrating, feeling really great about what's about to happen, what you're about to get to witness, and a crazy old man accidentally opens fire on you sending you diving into a pile of cold, unforgiving pavement.
Lines:
Guentzel-Crosby-Hornqvist
Hagelin-Malkin-Kessel
Sheary-Sheahan-Sprong
Kuhnhackl-Rowney-Reaves
Dumoulin-Hunwick
Maatta-Corrado
Cole-Penny's brother
Jarry-Desmith
Detroit:
Nyquist-Zetterberg-Bertuzzi
Tatar-Larkin-Athanasiou
Helm-Neilsen-Abdelkader
Witkoski-Booth-Frk
Ericsson-Daley
Dekeyser-Green
Kronwall-Jensen
Howard-Mrazek
Couple more quick thoughts.
That Pens bottom 6 wooooooooooooooof.
Sprong is up. I don't care. Hopefully he scores goals or something.
I hope you all have a happy and safe New Years Eve. May fun, family, and an Olli Maatta hangover be in your future.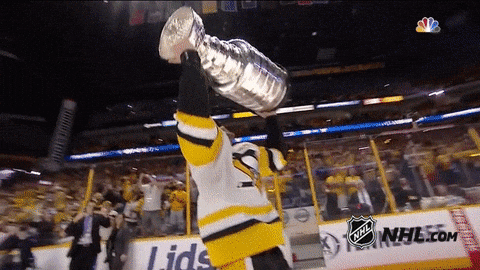 Goodbye 2017. Go Pens