Pacers 98
Wizards 95
March 4, 2018 | Capital One Arena | Washington, D.C.
With the Indiana Pacers in town, the Washington Wizards had the opportunity to win the season-series for the playoff tiebreak that would have given them a decent cushion for the No. 4 seed. Unfortunately, the home team could not take care of business against the potential first round opponent. The Wizards were able to claw their way back from a 15-point fourth quarter deficit, but late-game execution cost them and led to their first three-game losing streak of the season.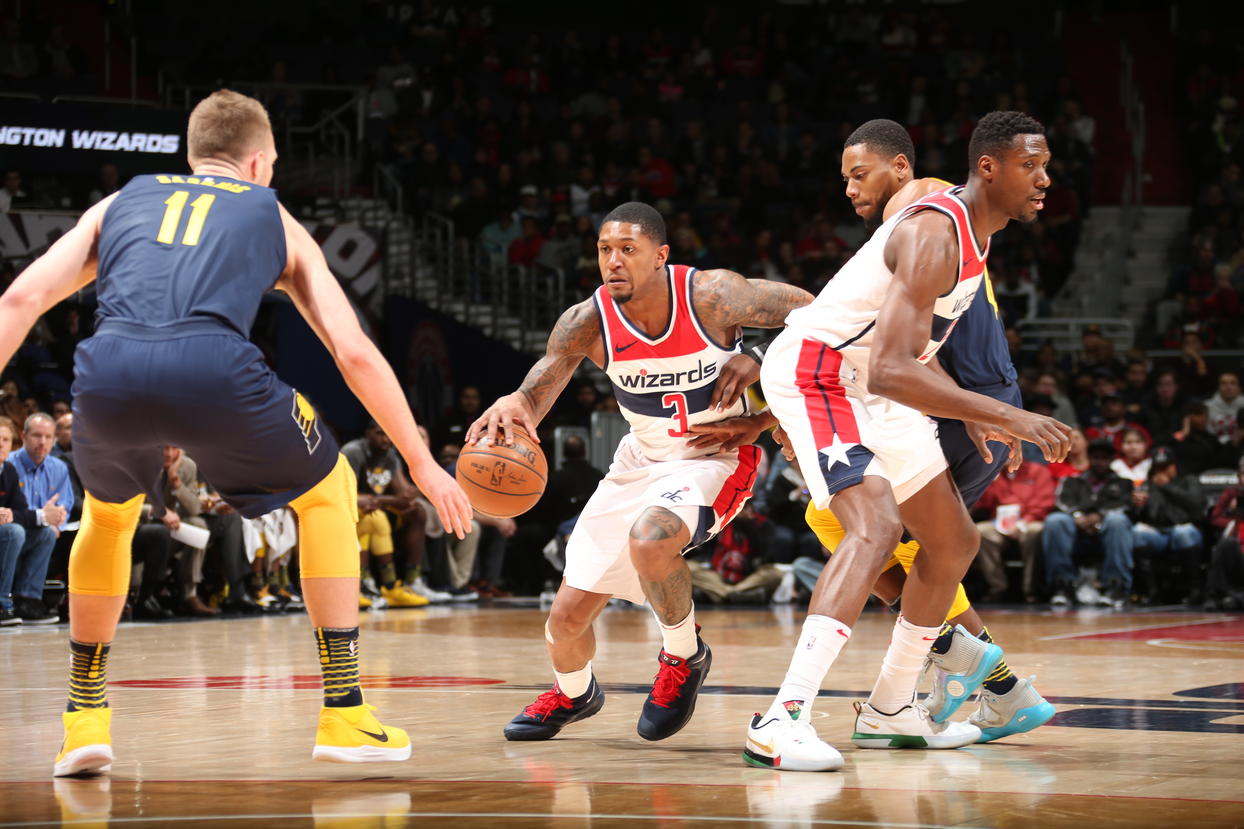 (Photo: Ned Dishman via Getty Images)
Slow Start Digs Deep Hole
After the first quarter, Washington already found themselves down 30-20 as they shot a mere 9-of-27 (33.3 percent) from the field, while Indiana was 11-of-20 (55 percent). Markieff Morris had 10 points on 4-of-4 shooting, but the Pacers rallied for an 8-0 run late in the quarter to take control. Head coach Scott Brooks was infuriated late in the first quarter when Beal was clearly fouled by Victor Oladipo on the fast break, but the Washington guard was not rewarded. In the first half, Bradley Beal was 2-of-10 from the field and Otto Porter was 1-of-7 from the field.
"It seemed like we couldn't get over the hump, but I think that came from being down so much in the third quarter," Jodie Meeks explained. "We can't put that much pressure on ourselves to try to dig an uphill battle in the fourth. It was definitely frustrating, [we] couldn't get over the hump."
Bench Lineup Finishes Game
Jodie Meeks, Mike Scott, and Ian Mahinmi finished the game instead of Tomas Satoransky, Markieff Morris, and Marcin Gortat during a game that Kelly Oubre Jr. did not dress because of a sore left foot injury. The trio that finished the game on the court instead of the bench combined for a +/- of 28. I am still puzzled by the fact that Brooks ended the game without a point guard for the final eight minutes. Meeks was 1-of-6 from the field including 1-of-5 from beyond the arc in 26 minutes that could have been much better spent by Satoransky. "I have to do a better job of knocking them down for him. If I had hit a couple of my threes we would have won," Meeks said.
"They gave us energy," Brooks said. "The other lineup, we were down a big number and they gave us energy. We came from behind with that lineup, and I was going to roll the dice. I thought they deserved the chance to win the game. I thought Ian [Mahinmi] was good in the second half protecting the paint and rolling to the basket and might get some big shots. I thought [Markieff] was good but Mike [Scott] at that point–Mike was… the momentum changed for us. We were down 17 and we had a chance to take the lead with 18 seconds with that group."
Bradley Beal Was Bad, Good, and Bad Again
After starting the game 3-of-15, Beal finished the third quarter with a driving layup after Indiana had a game-high 17-point lead. The All-Star shooting guard then went on to make five of his next seven field goals including a three-pointer with 3:06 to play to cut the deficit to three. Beal would then go cold and miss his final five shots of the game. His penultimate miss was a layup in transition that he short armed and did not get a foul call, while his final miss was a three-point attempt from the left slot that would have tied the game. Beal had a career-high 11 assists, but also had a crucial stretch with back-to-back turnovers that turned a two-point deficit into six in less than 30 seconds.
"He has to continue to trust what we do, and I think he will," Brooks said about Beal's late game play. "I thought the layup, he could have easily gotten two free throws off of that. He had some good, clean looks. The turnovers… the one early when I think he threw it to Ian on the left side, that's the one that we wish we could take that one back. We just got to keep looking for good shots, and he's going to continue to put himself in those positions, and this team's going to continue to trust him and his coach is going to continue to trust him making those decisions and those positions that he's in. He's going to have to keep working through it all."
"They gave us opportunities, we fought and clawed back into the game," Beal said. "We knew we had the momentum. I felt like I had a great shot in the paint. My guy kinda clipped me a little bit. I still should have made that shot. I had another opportunity for a three at the end, they ran out. It was an easy pump-fake, just a three I should have just hit, plain and simple. Great plays that coach drew up."
Victor Oladipo Homecoming
In the first matchup between these two teams in Indiana, Oladipo was sidelined with an illness and the Wizards wish he was on Sunday night in D.C. The DeMatha product dropped 33 points on 11-of-20 shooting to go along with seven rebounds and three assists in 39 minutes of play. In a two-minute stretch with less than four minutes to play, Oladipo hit a midrange jump shot, running dunk in transition, and crucial three-pointer. Although Indiana does not necessarily scare me in a potential first round matchup, Oladipo is certainly an All-Star threat that will be difficult to deal with on both ends of the floor as he also tallied three steals.
"Well, you know, it's good to see him," Pacers head coach Nate McMillan said. "It looked like he had his legs tonight. He was back getting out in transition, had lift on his jump shot, made some plays getting to the basket. That's the Vic that we've seen all season long and he established that pace for us when he's playing like that."
Beal's Minutes Will Be Costly In Playoffs
It is not a good sign when playing nearly 43 minutes in a regulation game is only the eighth most minutes you have played all season. For the 15th time this season, Beal has eclipsed 40 minutes in a game and that is still with 18 games last on the season of which at least half will be without John Wall. Last season, both members of the Wizards starting backcourt accumulated tons of minutes during the regular and post-season, which cost them in Game 7 in Boston. Brooks has to play his cards right in order to earn a good enough seed, but not sacrifice his stars availability in the playoffs.
"It's not excuse, man," Beal responded when asked about fatigue playing a factor. "I gotta hit those shots. It's plain and simple. I was tired, but you can't half ass carry a team. You gotta go all out. I gotta make those shots."
"He was exhausted," Oladipo observed. "He played the whole fourth quarter as well too. He played really well. He played hard, did whatever he could to help his team try to win, so he played a great game. He is a great player. He just keeps getting better. Special talent so wish him all the best. We will see him again in two weeks."
Next Game: Washington's homestand will come to an end on Tuesday when they host another potential first round, the Miami Heat.