Regular Season Game 66
Wizards (37-28) at Pelicans (38-26)
March 9, 2018 at 8:00 PM Smoothie King Center | New Orleans, LA
TV: NBATV, NBCSW
Radio: 1500 AM
Odds: WSH – 3.0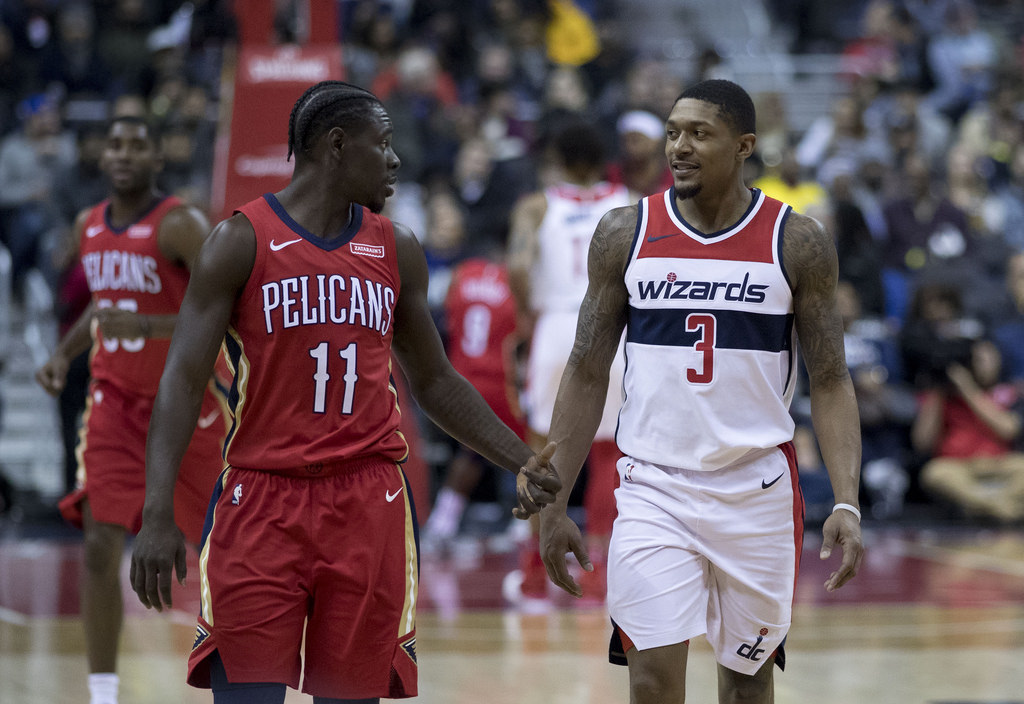 (Photo: Keith Allison)
What to Watch:
Pelicans' Deceiving Win Streak
The Washington Wizards knew coming into the second-half of the season that their schedule was challenging. On Friday night, they will face-off against the fourth seeded New Orleans Pelicans. The Pelicans have the second-longest winning streak in the NBA. They have won their last ten games, but have only played four opponents that are currently in the playoffs. Nevertheless, Washington must play all 48 minutes of basketball, or this road back-to-back trip will start off on the wrong note. New Orleans is already without center DeMarcus Cousins and are currently listing MVP candidate Anthony Davis as doubtful with a left ankle sprain.
Key Matchup:
Bradley Beal vs. Jrue Holiday
Holiday is playing at a high-level this season and his name is being thrown around as a possible candidate for Most Improved Player. This season he is averaging a career-high 19.4 points per game. Over the last ten games, coinciding with the Pelicans' winning streak, he is averaging 24.9 points on 52.1 percent shooting to go along with 8.5 assists. Beal must come prepared and well-rested because this game will eventually come down to guard play. Whoever can lead their team during the entire course of the game will come away victorious.
X-Factor:
Nikola Mirotic
Since leaving Chicago, Mirotic has found his role playing in New Orleans. In three games in March, Mirotic is averaging 21 points on a whopping 56.4 percent (22-of-39) shooting from the field including 50 percent (13-of-26) from beyond the arc. He is the life of the Pelicans' second-unit. His offensive production must be either matched or contained by the Wizards. He is the player that may not be on the scouting report, but can be the deciding factor as to which team leaves with a victory Friday night.
Fun Factor:
Wave Papi Homecoming
Recently,
Kelly Oubre Jr. spoke to NBC Sports Washington about his own battles with anxiety and depression
after the likes of DeMar DeRozan and Kevin Love did. On Friday night, he will return home to New Orleans playing in front of family and friends. It will be interesting as Oubre returns to his old stomping grounds and seeing him reflect on the city that made him who he is today. New Orleans is a place he cherishes, but the dark memories of Hurricane Katrina are still there for Oubre. Him opening this conversation as he goes back home will allow for great insights as to who he is as a person both on and off the court.
Prediction:
If there is one thing that remains true about the Washington Wizards, it is that they play when they need to. Yes, they have had some ugly losses this season; however, they play up to their competition and Friday night against New Orleans will be no different. Washington will come out and play start to finish basketball in route to a win against New Orleans. The Wizards understand they must set the tone and they can start by derailing the Pelicans' winning streak.