Every morning, we compile the links of the day and dump them here… highlighting the big story line. Because there's nothing quite as satisfying as a good morning dump.
Boston left for the two-game trip in second place in the Eastern Conference two games behind the Raptors with six games to play in the regular season.

"I feel like we're the No. 1 team and the No. 1 seed would be fitting," Jaylen Brown declared prior to Monday's practice. "There are a lot of teams that think otherwise. Toronto is one of those guys. Milwaukee is probably one of them too. We're playing those two guys and we've got to go out and show [we are No. 1]."

Brown said that while he believes "we can get it, for sure" when it comes to the No. 1 seed, the bigger focus is to "not beat ourselves" when it comes to the shorthanded playoff push.
So the Celtics are on the road for a back-to-back that, in other, healthier, conditions would be kind of a referendum on where the team was heading into the playoffs against a team that has been underachieving in the regular season (Bucks) and a team that underachieves in the playoffs (Toronto). (Shut up, Toronto fans, because (1) you know in your heart of hearts that I'm telling the truth here, and (2) it's a Celtics blog, so you're only reading this to get angry about something, and I'm just making it easy for you to get mad).
Instead, these two games are basically extra point questions at the end of a test. Boston is locked into the 2 seed, at least, and is missing basically a third of their team and half of their rotation (Larkin, Hayward, Smart, Theis and Irving are all out).
And, frankly, I think that's why we, as fans, have been having so much fun with these games. I mean, yeah, part of it is because Weird Celtics Twitter is a thing, and an awesome thing at that, but part of it is because even if the Celtics lose, there aren't any real consequences. These are literally win-win games. Even if the C's lose, we're going to have fun watching a bunch of guys having fun playing basketball.
Page 2: Revisiting the 2013 draft
That's the way things played out, and the C's had the Mavericks take Olynyk for them. Three picks later, the Celts selected Lucas Nogueira, whom Dallas moved with Mike Muscala and Jared Cunningham to Atlanta for Shane Larkin, the 18th pick that year, and cash.

While all this was going on, Milwaukee piped up in the 15th position and selected Antetokounmpo, a thin and athletic project still more than five months shy of his 19th birthday.
So, Danny missing on Giannis is something that used to come up all the time as "proof" that he was terrible at drafting (subsequent results have tended to silence that argument).
This article — you really should read all of it — puts a lot of context around that. Not the least of which is the extent to which guessing Giannis' future in 2013 was just this side of reading tea leaves. He wasn't even 18. I mean, guys aren't even done growing at that point. He was playing in Greece's B league. I mean, that's gotta be what? The equivalent of NAIA ball? Given a language barrier, limited opportunity to scout, etc., the C's didn't have a lot of opportunity to 'scoop' the competition by investigating his background & spending quality one-on-one time with him and getting a sense of his dedication to basketball and his ability to adapt to life in the US as a millionaire (again, as a seventeen year old).
Taking Olynyk was 'safe', taking Giannis was a 'risk'. The results bore that out.
Also, I included the section above because, take a look at it: Danny came out of that draft in way better shape than Dallas and Atlanta. Atlanta went into the draft with a pick and came out of it with money and roster-filler. Dallas got a guy who is now playing for the Celtics (well, not at the moment, thanks to the flu).
Finally: We welcome our USA Today overlords
Red's Army is now part of the USA Today network.
For your humble chronicler, sitting in an armchair in downtown Sioux Falls, this is a bit of 'coming full circle.'
You see, Al Neuharth, the guy who started USA Today was born in South Dakota (near what is now a Jack Links jerky factory), and his first foray into newspaper publishing was not far from my lair in a liquor store that–as part of my day job–I helped list on the National Historic Register.
That first newspaper? SoDak Sports.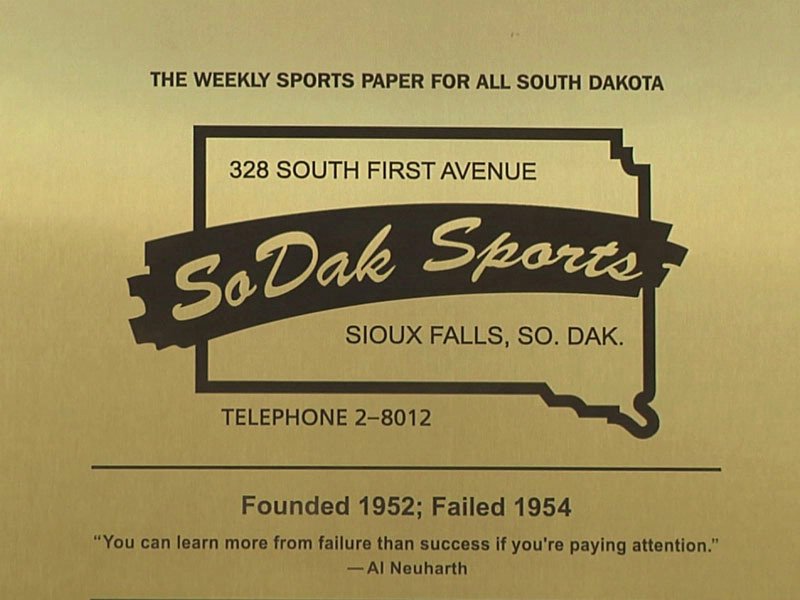 Several concepts in SoDak Sports found their way into Neuharth's other papers, and eventually the USA Today.
Bonus:
Weird Celtics Twitter is now part of Weird Celtics Flickr
The rest of the links:
MassLive: Boston Celtics news: Jaylen Brown believes young Celtics are ready for playoffs, No. 1 seed would be 'fitting' | Jaylen Brown: Boston Celtics coach Brad Stevens is Coach of the Year after roster turnover, improved record | Boston Celtics injuries: Terry Rozier questionable, Shane Larkin out vs. Milwaukee Bucks
ProJo: Celtics aim to finish strong " and healthy
Boston Herald: Bulpett: Aron Baynes' surprising 3-pointers show his evolving game
NBC Sports: Is it worth chasing?