"There's always the motivation of wanting to win. Everybody has that. But a champion needs, in his attitude, a motivation above and beyond winning."
– Pat Riley
Pat Riley.
R.C. Buford.
Donnie Nelson.
Danny Ainge.
Ernie Grunfeld.
Those five General Managers are the longest active tenured NBA executives in the NBA. Those five roster builders and player-personnel gurus are responsible for Nine (9) NBA Championships, eleven (11) conference titles,  thirty-two (32) division titles, forty (40) 50-win seasons, 3962 regular season victories and a combined 58% win percentage.
Impressive numbers on the surface but they don't really tell a full story. At least not for the fans of the Washington Wizards.
Out of all that winning, Ernie Grunfeld's contribution to those totals are significantly less than those of his counterparts. The Grunfeld-led Wizards are responsible for one (1) of those division titles. If you're keeping count at home, that's zero Larry O'Brien trophies, zero regular season conference titles, zero 50-win seasons.
To add to that, over the last 15 years of the Grunfeld Dynasty, the Wizards have missed the playoffs seven times and lost 678 of the 1,214 games they've played in the regular season. That's a winning percentage of 44 percent. If you want to add injury to insult, then add the playoffs into the discussion. The last time Bullets fever advanced past the second round of the playoffs the O'Jays 'Use Ta Be My Girl' was on top of the charts.
Clearly, we can't blame all 40 years of playoff futility on Ernie but he does get the last 5000+ days worth of (dis)credit.
But it's not just the losses that Wizards fans take issue with. It's the fact that for every Gilbert Arenas signing, every Kwame trade or John Wall and Bradley Beal draft, there have been two or three disasters to counter them. Enter Peter John Ramos, Vladamir Veremeenko, Olesksiy Pecherov, Dominic McGuire, Bill Walker, Jermaine Taylor, Nemanja Bjelica, Lazar Hayward, Chris Singleton, Jan Vesely to name a few.
On the surface, you could look at that list of draft picks and say, 'hey, everyone misses on a few.' That's when I present you with 21 players the Wizards have passed over in some form over the last 15 years. A list that includes Rajon Rondo, Kyle Lowry, Paul Milsap, Serge Ibaka, Nicolas Batum, DeAndre Jordan, Goran Dragic, Steph Curry (yea, that one), DeMar DeRozan, Jrue Holiday, Jeff Teague, Kemba Walker, Klay Thompson, Kawhi Leonard, Tobias Harris, Kenneth Faried, Jimmy Butler, Draymond Green, Giannis Antetokounmpo, or Jordan Clarkson who was traded for cash considerations.
That's not just missing on a couple. Those are franchise-altering misses. That's two rosters worth of All-Stars or All-Star caliber players at the very least. 
We could go on and on with missteps of the last decade and a half but there is no need to re-write what has been written over and over and over and over again.
Instead, I'd like to turn our attention to the blog post Wizards fans received the day after the team was eliminated from the playoffs. A game which included a chorus of boos from the home crowd and eight (8) 4th quarter offensive rebounds by a hungrier Toronto Raptors team.
A Raptors team built from homegrown talent, mid to late first round picks, 2nd round picks, smart free agent signings and a great trade that landed them a bonafide 3rd difference maker in Serge Ibaka.
In that blog post, Wizards team owner Ted Leonsis says:
"Our singular goal in everything we do is to win a championship…It remains our first and only priority and I think our team showed this year that we have the pieces to make it happen. "
followed up by,
We didn't reach our goal this year, which was to do better than last year.
ending with a thank you to the fans and this…
the TV ratings for Game 5 of this series against Toronto made it the highest-rated Wizards game in 10 years.
TV ratings? We're talking about TV ratings?!?!
A sports franchise can't have it both ways. It's easy to say 'we want to win championships'…everyone wants to win championships. All of us Wizards fans have dreamed of a parade down Pennsylvania Avenue.  But, how can you expect the fans to buy in when you're selling them the resume of a General Manager with a win percentage of 44 percent over 15 years.
That's not championship basketball, it's not even winning basketball.
In addition to that, championship teams don't send out messages to their fans patting their players on the backs for competing, for persevering through an 82 game season, for overcoming injuries, and most certainly not to brag about the TV ratings of a game you had to win.
Championship teams win games. Lots of them. And when they don't, they don't make excuses.
Championship teams judge their front offices and team personnel by what matters most – the number of games they win.
Championship teams draft well and develop their players, they attract free agents, and they don't throw away first and second round picks like a t-shirt toss during a timeout.
Believe it or not, I'm far from a pessimist but I don't know how you can honestly look at the roster makeup of the Wizards and believe it's on par with what the Raptors have put together, what the Celtics and Sixers have built, or with the Pacers rebuilt roster.
With all due respect to Marcin Gortat who has been nothing but phenomenal to my team at Hoop District, Ernie has $29,000,000 dollars locked up in two centers who are the exact opposite of what would work best for Wall.
John Wall is right, the Wizards do have to overhaul their roster and they have very little in terms of assets and cap space with which to do it. Where's does the accountability for that lie?
We'll even agree that some of Wall's critics are right, too. He does have to improve his game but you'd think after eight years the organization would have found a way to pair their super-fast, athletic and dynamic superstar point guard with a supporting cast of big, fast, athletic, and reliable three-point shooting teammates.
Creating a culture is a reflection of the people that are invovled…too often today we don't have the shared values that then can set the expectations of, 'here's who we are going to be, and here's what the expectaitions are.' Here's the accountabiity structure of how that's going to happen. — R.C. Buford, Spurs GM
It's not that I don't believe that Ernie can somehow figure it out in year 16, but…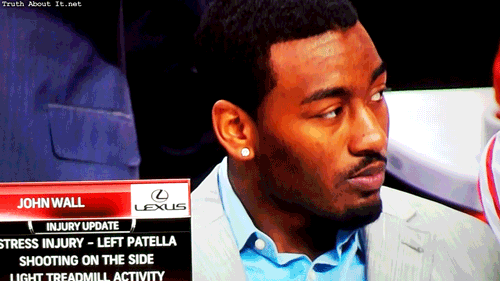 Having said that, if the Wizards do pull off some crazy deal this summer, and re-work the roster into a real championship contender then I'll be the first person to write a mia culpa.
Fact is I don't know what's about to happen this offseason and, frankly, anyone who tells you they do is lying. What I do know is that there are only four other NBA executives who have been in their jobs as long or longer than Ernie Grunfeld. And if the Wizards want to convince me or their fanbase that the goal is a championship or bust then on behalf of the #DCFamily I'd ask that they start holding their front office to the same standards of the colleagues and champions Ernie Grunfeld keeps job tenure with.
This slideshow requires JavaScript.
Here's how you get to a 44% win percentage over 15 years (h/t Baskeball Reference):
Some other things of Wizardry I found along the way…
And I'm sure if Ernie ever got around to reading this he'd want to tell me to…