Three games into the series, we're starting to see the various agendas and narratives take form.  They range from things like "This Is The Caps Year" to "Murray's Glove Hand" to "Where is Phil Kessel?" to "Barry Trotz Looks Like The Dad Dinosaur From the Show 'Dinosaurs.'"
With last night, another transcended the series: Tom Wilson.
Once again, he made himself the story.  That piss-guzzling cheapshot artist's antics have officially overshadowed some key things, namely that the Penguins have not been at their best and now trail in this series.
But that shitstick has brought about a new brand of hate, one typically reserved only for cheating exes and Glassjaw songs.  The biggest trick Tom Wilson ever pulled was convincing the hockey community that he was a real hockey boy for even a minute.
So while that trash boat chickenshit cowers from reporters and still dominates the story, let's circle back to the Penguins shooting their own dicks off.
For the 3rd straight game in this series, they were far from their best.  They failed to put together a complete 60 minute, mistake-free effort and it cost them.  This is an undeniable truth.
This is the NHL playoffs, fam.  If you're making mistakes, and especially making more mistakes than your opposition, you're going to get punished.  Turns out, all the Caps needed were 2 egregious turnovers to turn this game from a 4-2 loss into a 4-3 win.
File that one away under "not fucking great."
---
LINEUP
After not finishing Game 2 because of the first of two Tom Wilson piss-induced headshot in this series, Brian Dumoulin was able to return to play G3 without restrictions.  Malkin was re-inserted back in the lineup as well (between Simon and Rust), presumably because the meaningful games are ramping up, while Phil! found himself alongside Sheahan and ZAR as one of the two third lines.  The second of which was anchored by Brassard, flanked by Tom Kat and Sheary.  Murr vs. Holtby between the 4x6s.
GOALS
WSH – 2nd Pd./0:48 – PPG – Carlson; A: Backstrom, Ov – 1-0
After a first period that was mostly controlled by the Penguins, included some PP chances on both sides and a Run the Jultz post clanger, the Penguanos had to deal with a late penalty kill with Malkin in the box for tripping up Riskanen, of which 50 seconds carried over into the 2nd period.
The Caps top unit needed almost all of the remaining powerplay time to break the deadlock and even then, the Pens still nearly got the kill.  But nearly killing something and actually killing something are markedly different things abd when you get the puck to the net, good things are going to happen.  Despite Letang breaking up the forced feed from Kuznetsov to Ovechkin, a scrum ensued to latch on to the grenade and somehow Ovi was able to knock the puck out of the air back to Backstrom in the far faceoff circle.  With the Pens reeling, he put it on a platter for Carlson to step into a bomb and even so, needed a deflection off Rust's twig to beat Murr.
Not a whole lot you can do there.  With the puck bouncing around the way that it was in front of the net, Rust just got himself pulled over and out of the shooting lane just enough that he couldn't get fully in front of the shot.
PIT – 2nd Pd./4:33 – Guentzel; A: Jultz, Crosby – 1-1
But about 4 minutes later, the Pens were level and it was all because Justin Schultz was out here saying Everybody Stay Calm.  Cleaning up his own zone, he started the breakout with a little help from 87.  Sid drew Eller over into a board battle, allowing the Big Rig to release into the neutral zone, dance a Cap, and swing into the offensive zone.  From there, he got a some help with some board work from Horny and work it back to RTJ at the point to walk the line, combine with 87 before whipping a shot that found Jake's stick in front.
Exactly how you draw it up.
PIT – 2nd Pd./6:49 – PPG – Hornqvist; A: Malkin, Phil! – 2-1
In typical Brooks Orpik fashion, he played right into the Pens getting back into the game by hooking up Hornqvist to put the Pens back on the PP.  The Pens first unit did what they had to, scoring on consecutive shots.  As they worked the perimeter, Phil! walked around in the corner enough to pull Carlson over to him, giving Geno enough space to give Neil Tyson a half chub, working some magic to drive at the net and get a Hornqvist deflection in behind Holtby
WSH – 2nd Pd./11:04 – Stephenson; A: Oshie, Backstrom – 2-2
A few minutes later, Tom Wilson was back at it again, getting that sweet, sweet piss into his gullet, throwing another chickenshit headshot for the second game in a row, this time on ZAR.  Doesn't matter what the principle point of contact is (it was the head), this is still charging.  Naturally, no penalty on the play.  Still awaiting word on supplemental discipline that won't come.
So of course, the Caps responded by scoring a goal on a simple dump in in which Oleksiak shit on himself instead of moving the puck, getting overwhelmed by both the shit on himself and the pressure from Oshie and Backstrom.  Stephenson the beneficiary of the first immediate turnover-to-goal of the game.
PIT – 2nd Pd./16:27 – Crosby; A: Guentzel, Letang – 3-2
Neither team wanted to be particularly disciplined, particularly after Tom Wilson's attempted manslaughter.  He was the center of attention once more with 6:45 left in the 2nd, getting a matching minor with Oleksiak after Ovi got rung up for crosschecking Crosby from behind.  Malkin nearly scored one of his approximately 100 almost-goals of the game only to see Niskanen get in behind Holtby to deny it trickling over the line.
But just seconds after the penalty expired, Kempny would hook up Kuhnhackl, who would also hold his stick to give us some more 4v4 hockey.  Folks, that is when the Jake and Sid Show begins (with a cameo from Kris Letang).
Letang-Crosby-Guentzel combo city to open Guentzel up 1v1 on Orlov and feed the Kid on the back post.  Give an assist to Ovi for his defensive work here, turning it into a 3v3 instead.
Get.  The fuck.  Real.  If you watch closely, you can see Orlov's jock get ground clearance for take off into goddamn orbit.
WSH – 3rd Pd./5:06 – Niskanen; A: Orlov, Wilson – 3-3
But once again, the Pens had to kill off a carry over penalty heading into the 3rd period, this time a little under a minute for too many men.  They did just that and Gene nearly put the Pens up 2, only to find the pipe behind Holtby.  As you'd expect, the Caps damn near immediately went down the ice and found an equalizer of their own.
After dickless Tom Wilson helped win a board battle, Orlov lurked at the point to collect the freed biscuit and move it to Riskanen at the opposite point for a blast. With Dumo catching Kuzya all alone in front at the last minute, it meant that he rushed over there to defend him.  What it also meant is that hed cut right in front of Murr's line of sight as the shot was being taken.  Money very clearly caught it late, seeing it go in off his pad.  Tough, tough goal to give up all around.
WSH – 3rd Pd./18:53 – Ovechkin; A: Backstrom – 4-3
As the game started opening up, mostly in the Caps favor, you just knew it was going to be next goal wins.  And in the last minute or so, the Guentzel-Crosby-Hornqvist line looked dead set on doing that exact thing.  With a little point support from Maatta and Letang, the 5some put on a damn clininc in the offensive zone, burying the Caps in their own end for a solid minute plus.  Both teams were gassed by the end of it, which always leads to exactly one mistake.
And that's all it took.
Crosby, despite getting dumped in the corner, was able to keep doing his thing, shrugging it off enough to keep control and find Maatta at the point.  Instead of going right back down low to Crosby (the high percentage play) with Wilson coming in for the kill, he instead tried to force a pass to Hornqvist in the slot, allowing Backstrom to read it as Wilson kicked Maatta's skate out from under him.  A penalty?  Absolutely.  A horrid fucking pass?  Also absolutely.  No excuse for either, but it set up Backstrom to take off on a 2v1 with Ovi on Letang.  Letang went down, forced Backstrom wide enough that Hornqvist nearly got back into the play, but not enough to keep Ovi from hitting the post and banging home the winner out of midair.
Let's clarify something here: Maatta, even if he didn't get tripped, wasn't getting back into this play.  For starters, he's not fast enough to catch Backstrom even if he wasn't out on the ice for a full 55 seconds.  Secondly, if that's any other player than Tom Wilson, they finish their check on Maatta and plant him into the glass, effectively taking him out of the play anyway.  Only facts here.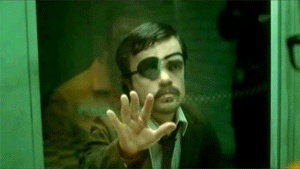 Game.
NOTES
Game 4 Thursday night at PPG.  Pens need it and you can bet your ass they're gonna bring it.  Bury them.  LGP.