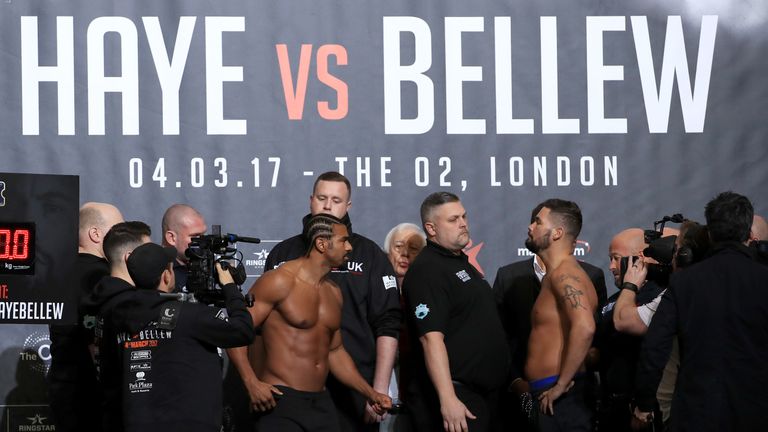 Heavyweight Bout: David Haye (28-3) vs. Tony Bellew (29-2-1)
Nolan Howell: It is hard to say after their last fight what will go down here. Haye is the more accomplished fighter by far and should have beat Bellew last time out, but early indications showed that Haye was slow a step and not necessarily fighting at his peak, despite splitting up the first half of the fight. Then, the Achilles injury happened and Bellew's pressure took its toll, but Haye managed to sneak a round or two while fighting on one leg before being finished. It was a storybook fight really, with Haye mustering the effort after the injury to fight well on the retreat and against the ropes to hang in with the fighter pushing him to the end.
That all said, an Achilles injury is a tough one to come back from for any professional athlete and Haye may be a step slower overall. But, if he fights without underestimating Bellew this time, it should still be enough, no matter how worn Haye could be. Haye says he is done if he can't beat Bellew and that should well be the case, but I think he patiently carves him up. David Haye by ninth-round TKO.
IBO/IBF/WBA/WBC World Middleweight Championships: Gennady Golovkin (c) (37-0-1) vs. Vanes Martirosyan (36-3-1)
Nolan Howell: Martirosyan is perhaps an underrated fighter. Few people are going to hang in there with Erislandy Lara at a competitive level after all. That said, it is Gennady Golovkin he is facing and being underrated while being a pretty good fighter is not really enough when you are facing perhaps the best fighter in the world today. On short-notice, expect Martirosyan to either come out guns blazing and trying to match fire with fire to catch Golovkin or a really cautious approach to befuddle GGG. Either way, it shouldn't take but a round or two for Golovkin to figure it out, if that, and earn some highlight reel footage. Gennady Golovkin by fourth-round KO.
IBO/IBF/WBO/WBA/WBC World Female Middleweight Championship: Cecilia Braekhus (c) (32-0) vs. Kali Reis (13-6-1)
Nolan: Braekhus should lap this one, but it is really excellent to see a women's fight getting put on a high-profile fighter's card in the co-main event, even if by replacement. Braekhus will perhaps open a few eyes in the process, as she has had a dominant career. Cecilia Braekhus by unanimous decision.