By Glen McKee, Staff Writer
Baseball is a game of lines: stat lines, foul lines, lines for the bathroom at the stadium if you're a woman.  Some of the lines are very fine, and no exception to that is my line for if the Angels had a good week.  For last week, it came down to one game.  One game made the difference between having a good week and a bad week.  It was actually two games, the two losses to Houston.  Had the Angels won either of those (and they could have) it would have been a good week, relative to the what we're throwing out there every night.  However, they lost both of those games, one of them in a typically dispiriting manner and therefore we're looking at another bad week.  How bad?  I'm glad you didn't rhetorically ask.
The Team.  The Angels went 2-4 last week, 1-2 against both the Dipotos and the Astros.  Yep.  Despite that, and while sitting at 16-17, they're still in second place in the AL West.  We're #2!  We're #2!  To celebrate our tenuous hold on the deuce spot, here's Vanessa Hudgens showing what place we're in:
In the scariest news possible for an Angels fan, Mike Trout sat out the last two games due to hamstring tightness, but according to rotoworld he's expected back tonight.  If he was a pitcher that would mean he's going on the 60-day DL, but since he's Mike Trout, demigod, I expect he'll be back out there.
One other item of note: the Angels won another 2-1 game this week.  I'm too lazy to look it up but I would imagine they lead the league in 2-1 victories.  So they have that going for them, which is good, I guess.
The bad.  Last week Danny Espinosa went 0-14 with 5 Ks.  I think we need a stronger word than "bad" to describe that performance.  Andrelton Simmons (still love you on the D) (yeah, I know, but I'm leaving it there anyways, you perverts) went 3-23.  Matt Shoemaker, who I'm reluctant to criticize, had two stats with 11.1 IP total, 8 ER, 7 BB and 9 strikeouts.  Jefry Marte, who had a short chance to prove something with CJ Cron being injured, went 1-8.  Here's a recent picture from the Marte party:
The Good.  There was some good, right?  Of course there was.  Yunel Escobar finally got woke AF (did I use that correctly?  Ah, shut up.) and went 11-27 with two HR and four RBI.  Escobar has the second-highest OPS on the team which both shows how well he is doing and how bad everybody else on the team whose name doesn't rhyme with "Bike Shrout" is hitting.  Yunel has become the new Aybar for me, and there are two reasons that sum up why: he wears the number 0, and this recent pic of him: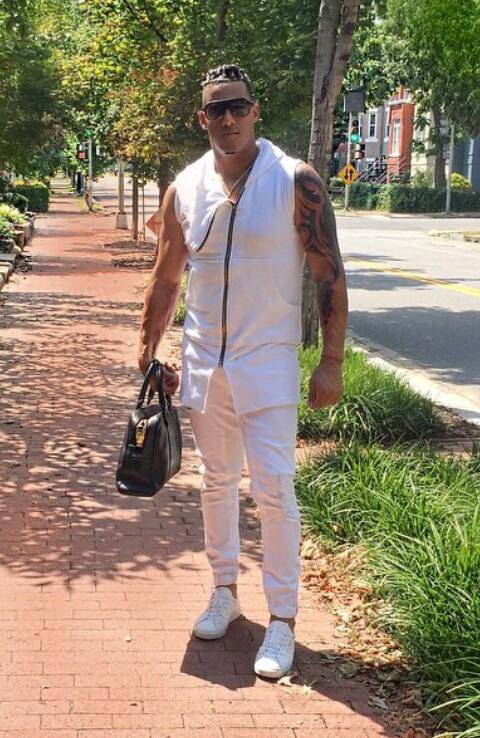 I can't say anything that's on my mind about that pic without possibly offending at least three different groups of people, but I will say that I love it.  Damn, it takes some stones to not only go out like that but to brag about it by posting the photo.  This guy is a f*****g boss.
JC Ramirez gave us our one win against the Astros with a 6 IP, 1 ER performance.  3.74 ERA for the season, and he might be a clean peanut.  Martin Maldonado continues to do better than expected with the bat, hitting .294 last week.  Luis Valbuena made his Angels debut this week and went 4-14 for a .286 average.  That's sustainable, right?  Right?
The rest.  I went to my first game this year Friday night, against the Astros.  My wife sorta wanted to leave in the middle of the ninth but I told her "let's hang around.  It's baseball, you never know what will happen."  So we did, and the Angels did their thing: they got us excited with a four-run rally in the bottom of the ninth to tie the game, and then lost it in the 10th.  Indeed, you never know what will happen in baseball, but if you're an Angels fan, you have a good idea of what to expect.  But hey, free maracas!  My record attending games this year is 0-1.  I'll update that as the season progresses.
The week ahead.  Three games in that cesspool (sometimes literally) of a stadium in Oakland against the As, and four games at home versus the Tigers.  Did you know that Tigers' pitcher Justin Verlander is engaged to Kate Upton?  If you don't know who Kate is, here's a picture of her doing something patriotic:
Predictions.  I didn't nail it last week, 4-2 predicted versus 2-4 actual.  I could claim dyslexia but no, I was that optimistic.  Realism has set in, but even with that in mind there's no reason the Angels can't take the series from the As.  2-1 versus the As, and 2-2 versus the equally mediocre Tigers.  Post your predictions below.  See ya in seven.