The NFL Draft is a bigger part of my life than it should be. Let me explain.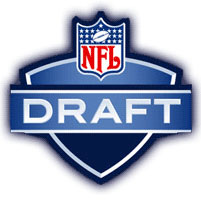 I love pro-football. I'm the guy that's still happy as hell to go to a STL Rams game, even when they're the worse than AIDS.
Since 1995 I've probably been to 65 to 70 NFL games and win or lose there really isn't another pro sports environment that's on par.
EVERYTHING is cut throat.
The players are on edge for their jobs. The coaches more so. The fans expect to win, the owners demand it. A phalanx of ravenous reporters are watching these guys 24/7 365 for any slight fuck up. And to top it off, there are only 8 chances for your fan base to come out and see this all play out in a tight 3 hours.
If baseball is weed, the NFL is crack.
For the past 7 years the same group of friends, give or take a couple new guys here or there, have taken a trip somewhere to watch the NFL Draft. The past couple of years it's been a cabin deep in the woods of rural Kentucky, but we've been to Tampa Bay and some other pretty cool places too.
The trip is still taking place this year… but it sucks, because now the NFL Draft is on a Thursday night in prime time. KSK's Drew Magary made a good point- that by next year we won't even remember when it WASN'T a primetime event and in a couple of years the thought of having this marquee event on a Saturday morning will seem downright quaint. Like .99$ gas- yeah, it happened, and it was fun- but it ain't coming back.
Ever.
Selfishly, I know that this probably means the end of a pretty sweet tradition we've got going. Soon these guy's wives and future wives and future ex-wives and future ex-girlfriends will figure out that their man doesn't need to take a trip to see David Vabora get drafted in the seventh round. And soon one guy is going to be all "why don't we just move the weekend, it's not like we have to even watch the draft anymore, right?" And soon the whole fucking thing will probably fall apart.
Fuck.
Guess it's time to start figuring out a new tradition. Kentucky Derby? Meh, too old to get that drunk. Masters? Meh, not rich enough. College World Series? Hmm- I've always wanted to go see that. Maybe the College World Series.
I've also had a tradition on this site of picking the STL Rams first round pick. Last year, I got Jason Smith. But that was the first time I was right since 2005 when the Rams took Alex Barron in the second half of the draft and made me look like a freaking genius to a guy my dad used to work with.
In 2010, the deal is pretty much done, right? I mean the Rams would get murdered if they didn't take a QB with the first overall pick. And even though you could make the case, I refuse to believe they are that stupid to get pilloried on national TV for 3 hours tonight by going Suh or McCoy.
So, with the number 1 pick- shocking absolutely no one, the rams select SAM BRADFORD (QB – Oklahoma)
Here's the scouting report: A- arm strength. Good size. Very athletic… but here's the big UH OH- he never read defenses at Oklahoma. Meaning he looked to the sideline after every college defense was set to see whether to run the play or check out of it. When people say Jimmy Claussen is 'Pro-Ready' it's because he read defenses at ND and had to re-calibrate the offense to that on the fly. Bradford didn't.
In the NFL that's 49% of the battle. Another reason why he probably won't start the season in the huddle, but on the bench.
My gut is worried. Maybe it's just been countless terrible Sunday's that are making me nervous about anything the Rams are doing, but I'm worried.
I hope it's all in vein come 2012.