The Indianapolis Colts have traditionally required a great deal out of their safeties. In years past the safeties played a key role in the run defense, often with Bob Sanders or Melvin Bullitt sneaking up close to the line of scrimmage to act as a fourth linebacker.
Last year, in defensive coordinator Larry Coyer's first season, the safeties returned to more of a traditional role generally, staying deep to provide support in pass coverage, sometimes coming up to blitz rather than in pure run support. This year promises to potentially change things even more.
For the first time since the playoffs in 2006, the Colts interior defensive line is beginning to take legitimate form. Antonio Johnson, Daniel Muir, Eric Foster, and Fili Moala promise to present a solid front along the interior against the run. It is expected that Moala will show real progress this year and the Colts have added other positive potential players to boost that depth in Mitch King and Ricardo Mathews.
Ultimately, this should help Coyer keep the safeties in a more traditional capacity, covering passing lanes, possibly in blitz packages, and as third level run defenders instead of as make-shift linebackers.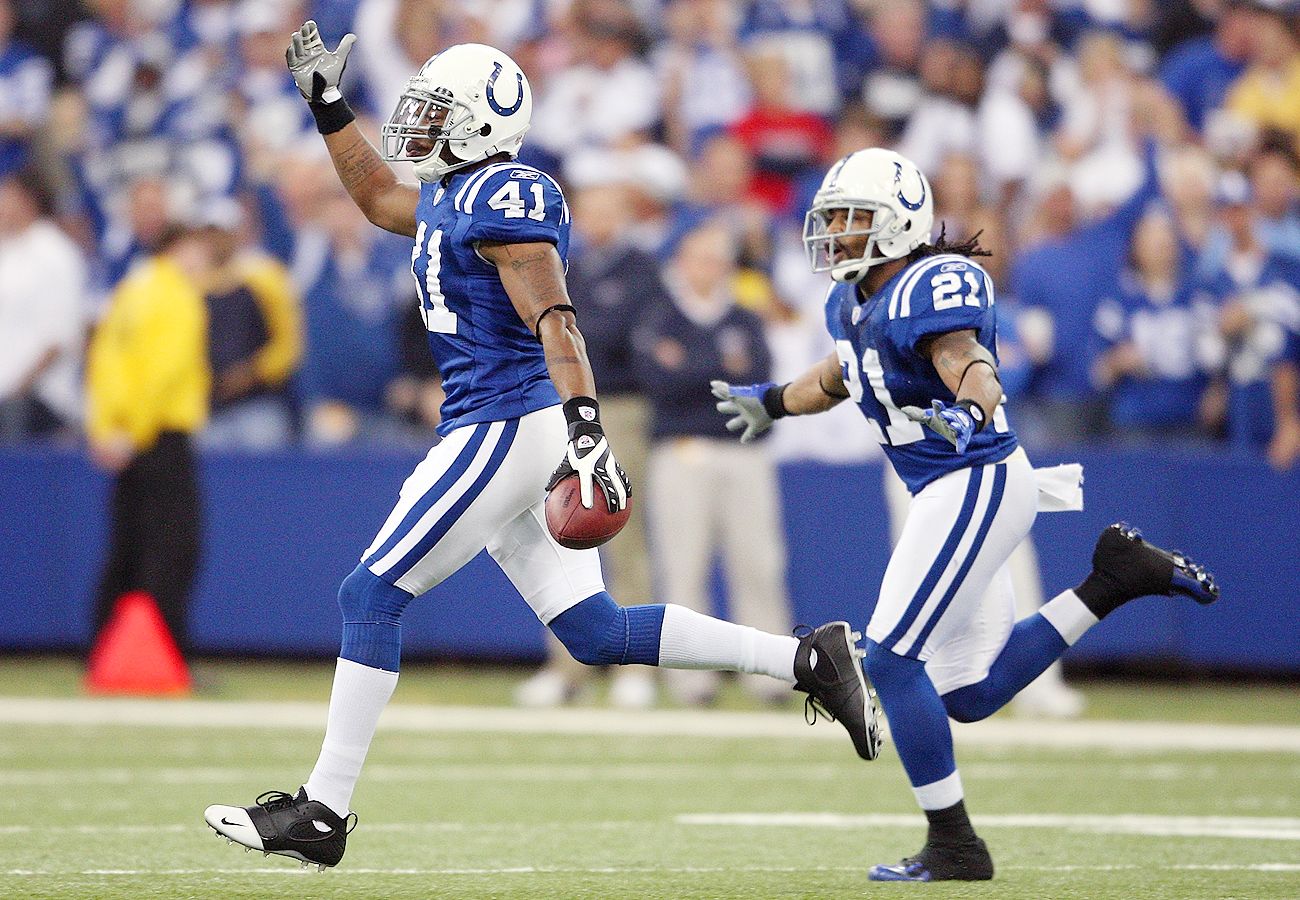 For the majority of the 2006, 2007, and 2008 seasons, the Colts lined up with two defensive tackles, two defensive ends, three linebackers, two cornerbacks, and two safeties. Traditionally, in this defensive set the defensive line and linebackers would carry the responsibility of run defense. For the Colts, however, for different reasons, Bob Sanders, Melvin Bullitt, or Antoine Bethea were often asked to come up to the line of scrimmage to assist.
In 2006, Gilbert Gardner struggled much of the season, and was eventually replaced by Rob Morris for the Colts playoffs run and Super Bowl victory. Safeties were asked to come up to aid Gardner and solidify the Colts defense against opponent ground games. While this was somewhat effective in 2006, with Sanders making some pretty big stops in this run-focused role, including causing a fumble in the Super Bowl when he stuffed Cedric Benson before he could get to the line of scrimmage, it kept Sanders out of many regular season contests due to injuries that certainly were not aided by having the 5-foot 8-inch, 206 pound defensive back regularly collide with offensive linemen.
In 2007 and 2008, the Colts relied upon undersized interior defensive linemen like Raheem Brock and Keyunta Dawson more than they would have liked and had to continue this bandage-like practice. While Sanders managed to stay healthy for the bulk of the 2007 season and won NFL Defensive Player of the Year honors for his critical role, it did not last into 2008. Sanders spent time on the sidelines more than on the field in 2008, and his effectiveness dropped once offenses had more time to adjust.
Finally, in 2009, the Colts sported defensive tackles who were built to hold down the interior line, plug inside rushing lanes, and carried four linebackers who were all capable of starting and were able to successfully hold down their assigned gaps to limit opponents on the ground. Unfortunately, Sanders was unable to get onto the field much of the year but Bullitt and Bethea were allowed to play a far more traditional role, aiding the Colts defense on outside runs, playing with space and superior vision to be more dynamic in both phases of the defense.
There is promise this year that Sanders could return to the field healthy, joining Bullitt and Bethea as the most talented group of healthy safeties in the most ideal defensive roles that the Colts have had the luxury of fielding. Not only will this build on a very dynamic situation for the Colts, it will generate a new possibility where the Colts can use all three safeties in a "big nickel" package.
In the big nickel, the Colts would use Bullitt in place of a linebacker or cornerback. Traditionally, nickel packages replace one of the linebackers with a cornerback to provide a greater focus on pass defense. With all three of the Colts talented safeties healthy, and with a reduced need for the safeties to focus on stopping the ground game, Bullitt could come in a large nickel package in a variety of potential roles. Bullitt could be asked to blitz, could come up and bluff at the line to drop into a short zone to help the linebackers limit quick passes, or could stay deep to free up Sanders or Bethea to do the same.
The Colts would also be able to field a pass centered large nickel approach with only one linebacker, bringing in rookie defensive end Jerry Hughes in a "joker" role. Hughes could increase pressure on opposing quarterbacks while Bullitt, Sanders, and Bethea combine to batter and abuse any short passes, dump-offs, or delayed runs.
All of these options are on top of the traditional use of safeties, which is to play over the top of cornerbacks to keep wide receivers in front of them and stop opponents from generating big plays. Sanders' return should help the safeties stay fresh, allow for more rotations, and add to the defense's deep speed to provide this support.
The role of safeties in the Colts defense is evolving. Health willing, the Colts will now have three safeties who can play in a variety of roles that will give Coyer maximum flexibility and keep opposing offenses off-balance. The evolution of Colts safeties should become very clear in 2010.