There is just something incredible about going to the State Tournament, the excitement of your school, perhaps your classmates participating in the ultimate contest for any high school athlete. When you toss in a raucous student section and a little media buzz you have the makings for a true event. But what is it like when you don't have that crowd? Case in point, this weekend was the Wisconsin State Boys' Hockey Tournament held at Madison's Alliant Energy Center. Alliant Energy Center just seats just over 10,000 compared to the Xcel's 18,000+ potential but as the pictures below will tell you, that the Wisconsin State Tournament did not nearly need that many seats to watch Eau Claire Memorial defeat Verona 6-1 for the state title. To quote JPerpich from Twitter, "Not much beyond parents and girlfriends." The lack of a crowd made for a stale environment that matched the pedestrian-level of play both teams had. For anyone that has been fortunate to have attended the State Tournament in St. Paul whether at Xcel Energy Center or its predecessor the St. Paul Civic Center and its infamous clear boards the high level of play and energy of the crowd adds to the drama of it all. Even if you don't have any direct connection to the teams playing its tough not to get caught up in that atmosphere.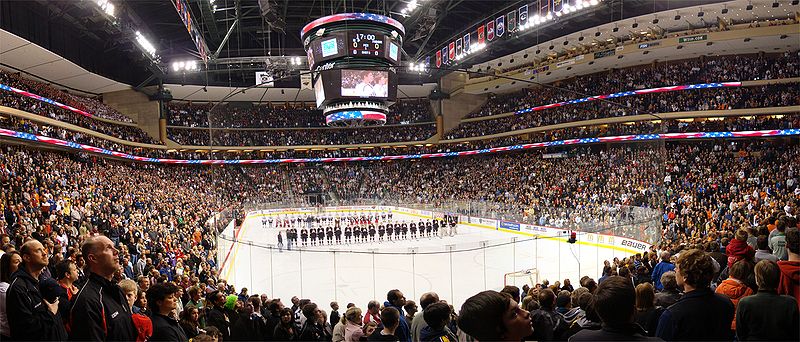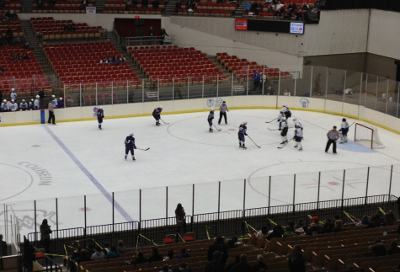 (top to bottom) Minnesota State Tournament & Wisconsin State Tournament
16 schools are vying for the ultimate prize of a State Championship and only two of them will accomplish that goal. There are lots of familiar faces in this year's tournament but as usual they are a few newcomers. We are guaranteed to see a new Class AA Champion as defending champ Benilde-St. Margaret's was eliminated in section play. While at the Class A level, defending champ St. Thomas Academy hopes to bring its school one last championship at that level before moving up to Class AA next year. Who will come out on top?
Click on "Continue Reading" for the rest of the article….
As has been a tradition at the State of Hockey News, we try to provide a full preview of all of the Quarterfinal games for the Boys Tournament. After each game preview we provide our prediction as to who will win each game as well as who will ultimately win each tourney. We very possibly could be wrong, and if you have your own predictions you'd like to share feel free to do so in our comment section below! Either way, enjoy the best high school hockey in the world in what is sure to be a tremendously exciting week!
Class A Tournament (Tournament Bracket)
#1 St. Thomas Academy (24-2-2) vs. St. Cloud Apollo (18-10-0) ~ I don't envy just about any team that had to draw St. Thomas Academy in either Class A or AA for that matter. The defending State Champions are clearly the favorite again after winning their section in a hard-fought 3-0 victory over Totino-Grace. The Cadets beat a number of top Class AA schools and have tremendous depth and balance as they can roll 4 lines that make them more than handful for anyone. Big guns up front in Tom Novak (25 goals), Christiano Versich (12 goals), Alex Johnson (14 goals), and Henry Hart (15 goals) along with talented defenseman Tony Bretzman (24 points) and Jack Dougherty (24 points) the Cadets have the offense and skill to overpower anyone. Trying to counter this outstanding depth is St. Cloud Apollo, the Eagles will be leaning on their top line led by scoring ace Jared Christen whose 36 goals and 73 points is amongst the best in the state. Jared Kenny (24 goals) and sophomore Jason Omann (16 goals) round out the line and it was Omann who led the team in playoff scoring with 13 points in 3 games. After that the scoring drops off considerably for the Eagles with no player registering more than 7 goals. The Eagles surprised many by earning a 6-3 win over Little Falls. If the Eagles are going to have a chance they are going to have to have stellar play from Nick Althaus who gave up just 6 goals spread out over 3 games in the playoffs. St. Thomas Academy will lean on David Zevnik who was absolutely perfect in the post-season, not giving up a single goal through section play.
Prediction: Unless you really love to gamble I think this will be a clearcut victory for the Cadets. In fact, as often ist he case when St. Thomas Academy plays someone in the Quarterfinals this has the makings of a game that could get ugly in a hurry. No offense to St. Cloud Apollo but the Cadets are far more battle tested, and their superior depth should be more than enough to overpower the Eagles' one trick pony attack.
#2 Breck (24-3-1) vs. Marshall (14-10-1) ~ Back in 2003, the Minnesota Wild, who were an improbable playoff team in their 3rd year existance played another 'Cinderella' team in the 8th seeded Anaheim Ducks in the Western Conference Finals. One Cinderella had to go and that was the Wild. The Marshall Tigers were a low seeded team in a section that is considered the 'weakest' in the state, and they managed to knock off an up and coming team in Luverne in the 3A semifinals and then got some help from section 3A bottom feeder in Hutchinson before earning a 3-2 victory. The Marshall Tigers are making their first State Tournament appearance with a 1st year head coach in Dave Coudert. Opposing the tournament's 'Cinderella' team is a perennially strong program in Breck. The Mustangs have been rated #2 almost all season long, led by a powerful well-balanced attack led by Matt Colford (30 goals), Thomas Lindstrom (26 goals), Jack O'Connor (12 goals), and Mark Sharp (14 goals) testify to that firepower. Hoping to stem this offensive landslide is Marshall's far more modest offense that is not nearly as stastically impressive led by Quinn Horvath (18 goals) and Beau Mikel (14 goals). An interesting little side note is that Marshall won their 3A section title almost a full week before just about every other section in the state where I have little doubt they have been practicing all that they can to try to figure out a way to slow down the Mustang's might offense. The Tigers will have to have a goaltending performance for the ages from Mason Campion who split duties this season but carried the mail in the playoffs. Marshall will then try to solve Breck's Henry Johnson but likely only when they're not busy chasing the Mustangs around their own zone.
Prediction: 1st time qualifiers for state often do not do well when they play a perennial power house. The jitters of playing on the big stage of the state tournament often leads to hesitant play and if Marshall does that this game will become a blowout. I think Breck will prevail in convincing fashion, as Marshall will try to keep it a low-scoring affair for as long as they can.
#3 Hermantown (23-4-1) vs. Duluth Marshall (16-12-0) ~ This game features two schools from the same conference who are very familiar with one another as Hermantown faces its rival that is just a few miles down the road. Duluth Marshall has had an up and down season but its experience paid off as it outlasted a talented St. Cloud Cathedral squad in the section finals. While Hermantown is hoping to break its streak of near championship finishes with a well seasoned team that is both high speed and high scoring. Head Coach Bruce Plante brought his team to the metro area to play in the St. Paul Premier this tournament hoping to give his team some experience against bigger and stronger opponents. The Hawks' top line of Bo Gronseth (23 goals), Chris Benson (26 goals), Travis Koepke (23 goals) and do it all defenseman Jake Zeleznikar (11 goals) can give any team a run for their money and they have great balanced throughout the rest of their lineup. Duluth Marshall will be hard pressed to slow down the Hawks but in their only game against each other they lost 4-3. The Hilltoppers use a more attack by committee approach and Jeremy Lopez (11 goals), Kris McKinzie (18 goals), Matthew Klassen (13 goals), and Connor Flaherty (10 goals). Duluth Marshall will have to get a big game from goaltender Caden Flaherty while trying to solve Hermantown's Adam Smith.
Prediction: I think this is one of the most intriguing 1st round match ups as it features two clubs that know each other so well. This is a place where I think Hermantown's superior scoring depth will make the difference. Expect Zeleznikar and Hermantown's top line to make their presence felt early as the Hawks prevail.
#4 East Grand Forks (23-3-3) vs. Rochester Lourdes (20-8-0) ~ This is another game that has a lot of potential to be one of the more wide open games of the 1st round. East Grand Forks plays in the always tough Mariucci Conference which has a mix of Class A and AA schools and they dominated. While Rochester Lourdes took plenty of opportunities to play tougher metro area schools to ready itself for a post-season run. The Green Wave is led by a powerful trio of Tommy Hajicek (17 goals), Dixon Bowen (15 goals) and Tanner Tweten (16 goals) where they will have to try to control one of the more explosive combinations in the state in the Eagles' Jason Samuelson (25 goals) and Alex Funk (30 goals). This could make for some firewagon hockey. Between the pipes, Lourdes has a two-headed monster between the pipes Jack Burkel and Andrew Ellingson. East Grand Forks will lean on Tanner Lindstrom who is one of the better goaltenders in the state.
Prediction: I think this one is going to be a great game. Samuelson and Funk are a great 1-2 punch and if they can find ways to get their opportunities against EGF I think they could pull off the mild upset. But Lidstrom might be the X-factor and if EGF wins watch out they bring a lot of energy each and every game. Flip of the coin, and Lourdes win this one in a thriller.
Class A Tournament Prediction: My heart is really pulling for Hermantown after having been so close so many times but I think this the year where Breck spoils St. Thomas Academy's party instead. I think the Mustangs are the only team that has the balanced scoring to really compete against the Cadets. Yet I'd expect to see the Cadets in the Class AA tournament next year.
Class AA Tournament (Tournament Bracket)
#1 Hill-Murray (25-2-1) vs. Eastview (18-9-1) ~ Hill-Murray is the lone private school representative in Class AA this season but its hard not to consider them the tournament favorite. Meanwhile Eastview arrives to the state tournament for the first time since 2001, after earning an upset victory over cross-town rival Eagan. Hill- Murray Head Coach Bill Lechner has created another winning machine with this year's group. A big reason to that success is the depth and balance of the Pioneers offensive attack as they roll 4 lines that all have the potential to light the lamp making them extremely difficult to match up against. The Pioneers are led by the powerful duo of Mitch Slattery (23 goals) and Zach LaValle (22 goals) but beyond them is really the secret to Hill-Murray's success as their bottom 9 feature a bunch of players with at least 7-8 goals to their credit. The Lightning will try to ambush the Pioneers they way they did Eagan by playing good defense and hoping their far more modest offense led by Ryan McNamara (21 goals) and Nate McGlocklin (13 goals) can provide just enough boost to get a victory. Eastview's defensive style really puts an emphasis on the goaltending and they have one of the best ones in the tournament in Zach Driscoll who was stellar in section play allowing just one goal in 3 games. However, the Lightning's offense will have to find a way to solve one of the best goaltenders in the state in John Dugas who totes a hefty .943% save percentage and a ridiculous 1.36GAA.
Prediction: I think Driscoll will keep it close for a while, but eventually the Pioneers will wear down Eastview and I think Hill-Murray cruises to a fairly uneventful victory.
#2 Duluth East (24-4-0) vs. Moorhead (14-11-2) ~ Mike Randolph must schedule this week off every year because he and the Duluth East Greyhounds are making it to state after a holding off a strong challenge by Grand Rapids in the Section 7AA finals. On the other side of this quarterfinal game is Moorhead, Western Minnesota's hockey powerhouse who surprised some by earning a Section 8AA victory over Brainerd. The Greyhounds did their best to prepare themselves for the State Tournament playing numerous games against the metro area's best teams and using a physical brand of play to overwhelm their opponents but that's not to say Duluth East doesn't have any skill, because they have that too. Duluth East is led by a strong foursome of Jack Forbort (19 goals), Alex Toscano (18 goals), Meirs Moore (17 goals) and Ryan Lundgren (17 goals). The Spuds, led by 1st year head coach Pete Cullen (brother of the Wild's Matt Cullen) employ a defensive style that keep games close where they hope to frustrate the opposition and then counter punch with its top line of Tony Uglem (17 goals), Aaron Herdt (19 goals) and Thomas Carey (16 goals). The two clubs did play against one another this season with Duluth East earning a convincing 5-1 victory over the Spuds. So the Spuds will be leaning heavily on Jack Dittmer who will try to channel his inner Michael Bitzer. The Greyhounds feel confident that Dylan Parker can make the necessary stops to beat anyone else in the tournament.
Prediction: I think Duluth East makes a statement with a big time rout of Moorhead. The Spuds will try to slow the game down as much as they can but I don't think Dittmer can steal games the way Bitzer did and that's really what they would need to have a chance in this one.
#3 Edina (22-6-0) vs. Lakeville North (11-16-1) ~ One of the most tradition and hated teams in the state goes back the tourney again as Edina won a nailbiter against a pesky and persistent Burnsville squad in the section finals. While on the other side is the cat that doesn't seem to go away in Lakeville North out of the section people love to tease, section 1AA. Edina plays in perhaps the toughest conference in the state and their non-confererence schedule always features the state's elite so it goes without saying that the Hornets are about as battle-tested as you can hope to get. The Hornets are led by the dynamic trio of Connor Hurley (15 goals), Dylan Malmquist (18 goals) and Andy Jordahl (15 goals). While their numbers seem pretty pedestrian you have to consider the fact the Hornets play almost no games against any opponents you'd call 'weak' which is often where elite scorers really pile up the points. The Panthers will again try to match Edina's crucible-tested offense with more of a pop-gun attack led by Tristen Hazlett (9 goals), Jack Dierks (12 goals), Jack Poehling (10 goals) and Conner Hyden (10 goals). The obvious strategy with such a modest offense as the Panthers have is to try to keep the game close and hope for a few lucky bounces. Lakeville North will put their hopes on Will Dupont and he will be tested early and often by Edina. While the Hornets hope Willie Benjamin can shut the door on the Panthers.
Prediction: As much as I'd love to see Minnesota's favorite cake eaters lose, its not going to happen against Lakeville North. The Panthers will battle hard but I just don't think they have nearly enough firepower to overcome Edina. If there is a silver lining for Lakeville North is that they're a fairly young team so this will give them some valuable experience.
#4 Wayzata (21-7-0) vs. Centennial (22-4-2) ~ I think the #4/#5 game naturally has the best chance of being the best game of the quarterfinals and this year is no different as it pits two programs with very different styles of play. Wayzata is another school out of the super tough Lake conference and while they may not have the star power of fellow conference foe Edina they are a team that has proven it can play and beat the state's elite having beaten #1 ranked Hill-Murray, #2 Duluth East as well as state qualifier Moorhead. Yet, they were beaten twice by Edina and they never really had many blowouts although part of that is because of the conference they play in yet results like a 3-2 win over Rosemount make you wonder sometimes. Centennial should not be dismissed all that easily either; while it stayed confined to mostly playing teams from the Northwest Suburban Conference, the Cougars did beat #2 Duluth East 5-2 back in December. The Trojans' offense will not scare anyone as they are led by Zach Freytag (20 goals), Maxwell Zimmer (14 goals) and Chase Haller (11 goals). Yet they had enough offense to beat those elite teams so you can't just ignore it altogether, but their defensive style and strong goaltending from one of the state's best in Aaron Dingmann means they don't need a lot of goals to win games. The Cougars will try to counter with a more explosive attack, led by brothers Ryner Gorowsky (18 goals) and Hans Gorowsky (11 goals) along with Kenny Sinna (12 goals) and Andrew Bertrand (15 goals). The Cougars depth of scoring will hope to overwhelm the Trojans, but what really carried Centennial through the section playoffs was the strong play of its netminder, Patrick Munson.
Prediction: I think this game may remind people of the Minnesota Wild (low scoring, defensive style) versus the Chicago Blackhawks (dynamic, high powered offense) and will come down to who best capitalizes on their opportunities. I think Wayzata will prevail because I think they'll win but it will be a close one.
Class AA Tournament Prediction: I think Duluth East's combination of grit and skill will prove to be very effective and the Greyhounds will bring back another state title. It won't be a lot of pretty plays, but lots of ugly goals near the blue paint yet it won't take away when they're hoisting the trophy in the end.