 Its really the gold rush aspect of the draft.  The thrill of the hunt where a well calculated gamble that could pay off big time.  The want to find that player that can be the diamond in the rough that will be a pivotal part of an organization for years to come.  Not every pick pans out, and the chances of a player succeeding at the next level continues to get smaller the later they are selected in the draft.  Yet every selection represents an opportunity, both for the team and the player that is fortunate enough to have their name announced on draft day.  Even if you're the last player selected in the draft like Detroit Jonathan Ericsson was back in 2002, players have the opportunity to prove their value and earn a spot on an NHL franchise.  In fact, if any team seems to have struck late-round goal more than the rest its the Detroit Red Wings.  Its a big reason that Detroit General Manager Ken Holland and the scouting staff of the Red Wings including Hakan Andersson have an almost legendary reputation at the draft.  Afterall this is the team that found Pavel Datsyuk in the 6th round 171st Overall in 1998, and Henrik Zetterberg in the 7th round at 210th Overall, but they don't feel any reason to brag.  The results speak for themselves.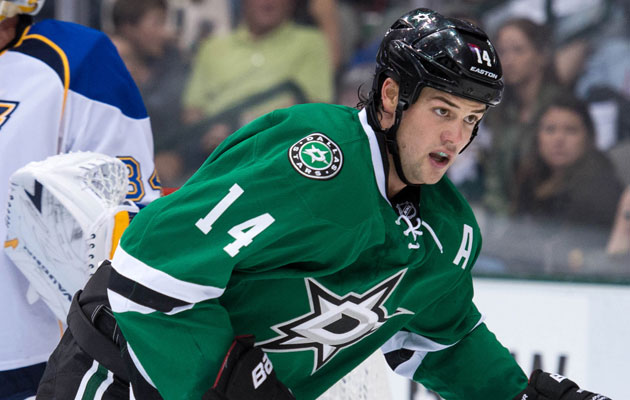 Yet that success now may have moved south so to speak.  Former Detroit Assistant GM Jim Nill is now wearing the big GM shoes in Dallas and while its more than a reach to say he's responsible for Stars' resurgence he certainly has instilled a sense of confidence that was not there under the previous regime.  The solid drafting of the Stars yielded an 2014 AHL championship for their affiliate in Austin, the Texas Stars.   At the exact opposite spectrum was the performance of the Iowa Wild.  Iowa was the worst team in the AHL, with the weakest offense in the league.  They would certainly appreciate the Wild finding some late-round magic of their own.
Minnesota has been steadily better in the draft since the arrival of Chuck Fletcher as GM and Brent Flahr as assistant GM.  The team has had some late-round successes more recently as 7th round pick Erik Haula was a revelation as the team's 3rd and 4th line center and delivered clutch play in the post-season.  Sixth round pick (161st Overall) Darcy Kuemper helped save the Wild's season when he stepped up in the absence of Niklas Backstrom and Josh Harding.  However the Wild certainly could use some more late-draft finds to maintain their organizational depth when injuries do become an issue.  Perhaps its been the lack of late round gems that the Wild have been more active in signing undrafted free agents like Brady Brassart, Zack Mitchell, Christian Folin and Guillaume Gelinas.  Can they find a few more diamonds in the rough?
Currently the Wild have the 18th, 79th, 109th, 139th, 160th, 167th, 169th, and 199th selections in the 2014 NHL Entry Draft at their disposal.  Don't believe me, check for yourself here.
So what do the Wild need?  Here are the 3 biggest needs as I see them.
1.  The Wild need a fast, goal-scoring forward to be a major contributor on its top 6.  The team has tried the free agent route as well as trades here to limited success, now its time the team select a player to be that guy.  The team played its best hockey by utilizing its speed and as an organization they really lack players who are noted for their ability to finish their chances.
2.  The Wild need to draft a blue-chip goaltending prospect to really challenge for that starting role in the future.  No offense to Darcy Kuemper, Johan Gustafsson or even Ilya Bryzgalov but the situation with Josh Harding's battle with Multiple Sclerosis and Niklas Backstrom's aging body make it necessary for the team to seriously address its goaltending depth.  There are notable free agent goalies available though.
3.  The Wild need to draft a big, mean defenseman who can punish opponents with a strong, physical game.  Watching the Chicago series, the Wild started off pretty well because the team was playing a physical brand of hockey and taking every opportunity to hit the Blackhawks.  Yet as the Wild got beat up, their lack of physical defenseman started to become a problem as Chicago's bigger forwards could camp out in front of the Wild crease without much difficulty because the team's defense simply lacked the size and snarl to move them out of the way.  The Wild have to be tired of being labeled as 'soft' and drafting some ornery, big defenseman can help remove that label to a certain degree.
So with the three biggest needs in mind, I am writing articles that focus on these specific needs and identifying players who I think fit those organization holes perfectly.  I have watched many of these players play (admittedly mostly online) as well as read many articles as well as checked out scouting guides such as the International Scouting Service 2014 Draft Guide, the Hockey News as well as the NHL's Central Scouting List to get an idea on the trajectory of these players which you can see here.
I try to focus on players who I think will help boost the club's organizational depth and provide them with players who have the potential to become sleepers or steals to eventually being important parts of the Wild in the future.  I will try to have video for all 8 of these players, and while they're highlights (so they're all going to look pretty good) they at least going to give you an idea of the talent they possess.
Just in case you want to see what I felt the Wild needed in previous drafts here's who I thought the team should select in 2012 and 2013.
1. RW – Hunter Smith (Oshawa, OHL)
Height: 6'6.5″  Weight:  208lbs  Shoots: Right
2013-14 Stats:  64GP  16G 24A = 40pts  100 PIM's
ISS: 39th Central Scouting: 39th (NA)  The Hockey News: 49th
Talent Analysis:  Smith is kid with interesting potential and huge frame to build it around.  He has rocketed up the draft rankings moving up from 140th in NHL Central Scouting's mid-term assessment.  His huge jump will likely mean he will probably not have to wait long in the 2nd round to hear his name called.  Smith loves to crash the net and has decent hands from in close.  Unlike some players who are still figuring out how to use their big body, Smith already uses his size effectively to protect the puck or deny time and space.  Smith is a physical player and while I wouldn't characterize him as a mean player he was not afraid to drop the gloves when challenged.  He still could stand to add more muscle to his frame and his skating could use some work.  The Generals effectively used Smith as a screening forward on its power play and he certainly fits that same profile at the next level.
Why should the Wild draft him?  If he Wild want to get bigger and tougher, Hunter Smith is a great way to do just that.  The only caveat with Smith is that unless the Wild can acquire a 2nd round pick it probably won't have a chance at him by the time they go to make a selection in the 3rd.  Smith's game is reminiscent of the Rangers' Brian Boyle, but he still needs to improve his skating to be an effective NHL in a bottom 6 role and power play screener.
2.  LW – Arkhip Nekolenko (Moscow, MHL)
Height:  6'3.5″  Weight:  185lbs  Shoots: Right
2013-14 Stats:  19GP  2G 5A = 7pts  16 PIM's
ISS: 76th  Central Scouting: 68th (European)  The Hockey News: #99
Talent Analysis:  Tall, fast and skilled are all adjectives that could be used to describe Nekolenko's game.  He has sort of slipped through the cracks after battling a serious bout of pneumo-thorex that kept him sidelined much of the season which now makes him a classic draft sleeper pick.  Nekolenko can really get going in a hurry and uses that speed effectively on the forecheck to create turnovers in the offensive zone.  He will go to the tough areas of the ice, using his strong frame to protect the puck and then has a quick, accurate shot.  While he occasionally uses his big body to deliver hits, he's not just a finesse player.  He is usually more assertive in the physical game in the offensive zone than he is in the defensive zone.  Defensively he's just average, where he maintains reasonable position but doesn't do a whole heckuva lot of chasing around the ice.  Nekolenko can dangle the puck pretty effectively, especially in traffic and his soft hands are especially evident here.  While he did not get a whole lot of time to develop this season, his physical gifts and talents make him a very intriguing prospect who could turn out to be a late round steal.
Why the Wild should draft him?  Nekolenko has the size, speed, and skill you normally try to get in the 1st round but he'll likely be available beyond the 4th round.  He may not be the most inspired defender, but he's got outstanding potential as a big winger with the size and speed any team would crave.  Minnesota has avoided drafting Russians in the past, this would be an ideal kind of player to take a chance on.  He is also a right handed shot which is something the Wild would be wise to consider as well.
3.  RD – Christian Jaros (Lulea, Swe. Jr.)
Height: 6'4″  Weight:  205lbs  Shoots: Right
2013-14 Stats:  18GP  7G 6A = 13pts  24 PIM's
ISS: 90th  Central Scouting: 119th (European)  The Hockey News: N/A
Talent Analysis:  Jaros is an intriguing two-way defenseman who has a decent physical aspect to his game.  While he hones his game mostly in Sweden, the Slovakian-born player was a standout for his national team at the U18 World Championships.  He plays a smart game where he plays his angles well to deny opposing forwards time and space, but also can use his big body to separate forwards from pucks effectively.  Jaros could stand to improve his skating a little to stay with some of the smaller, more swift forwards but has learned how to neutralize such players by having good body position and leverage to mitigate that disadvantage.  He makes a great first pass out of the zone and has a decent shot he can unleash from the point.  It is unlikely he'll be a big offensive producer at the professional level, but the fact he's a right-handed shot should also increase his value.  He communicates well with his defensive partner and exhibits leadership both from the bench and on the ice.
Why should the Wild draft him?  This is a kid with good size and strength who plays with an assertive physical game, who can not only help start the rush with a good first pass but also shutdown opposing teams best players.  He may not be all that flashy, but he's big, strong and plays with a veteran-like presence despite being just 18 years old.  His game reminds me a lot of Michael Roszival.  
4.  LD – Nick Wolff (Eagan, USHS-MN)
Height: 6'3.5″  Weight: 197lbs  Shoots: Left
2013-14 Stats: 23G 8G 12A = 20pts  46 PIM's
ISS: 95th  NHL Central Scouting: 89th (NA)  The Hockey News: N/A
Talent Analysis:  I have been watching Nick play for the last 3 years at Eagan High School.  He has steadily filled out his frame over the years and was physically dominant as a senior last season for the Wildcats.  At Eagan, he played in all situations and was even used a bit as a screening forward on the power play.  Wolff had a very strong State Tournament for Eagan, where he was a physical force as he used his frame to try to neutralize opponents with a solid effective body checks.  He moves reasonably well for a player who is a shade shorter than 6'4″ and uses his reach to take away even more time and space from opposing forwards.  At the holiday tournament I saw him play in, he at times made some questionable decisions with the puck but I didn't see those same decisions made later at the State Tournament.  Wolff will probably not be a big a big offensive producer at the next level but he does have a rocket of a slap shot if given the opportunity.  After being a Mr. Hockey candidate this season He committed to play at the University of Minnesota-Duluth in 2015 after spending a season with Des Moines of the USHL.  After the conclusion of his senior season he went to Des Moines where he showed a willingness to drop the gloves too as you can see below.  Wolff could stand to improve his lateral quickness to better account for the greater speed at the next level.
Why should the Wild draft him?   The Wild do not have a lot of defenseman with snarl to their game and Wolff brings that element with a large dose of athleticism too.  He is certainly a long-term project, but one who brings size, nastiness and good potential to the fold.
5.  C – Shane Gersich (USNDP, USHL)
Height: 5'11"  Weight:  175lbs  Shoots: Left
2013-14 Stats: 61GP 16G 16A = 32pts  18 PIM's
ISS: 132nd  Central Scouting: 132nd (NA)  The Hockey News: N/A
Talent Analysis:  While some may think I picked Gersich because of the fact he's from Minnesota, I didn't realize that was true until after I picked him for my Sleeper & Steals article.  Where Gersich really jumped out at me initially was his tremendous showing at this year's NHL Combine.  As a person who is a high school coach, anyone knows that measuring athletes can be tricky.  The best player may not necessarily be the best performer in the categories you'd expect but if you see a player dominate multiple categories the way Gersich did then you really begin to take notice of them.  He had the best hand-eye coordination, longest standing long jump (118 inches), best vertical jump (35.5 inches), 3rd best right leg peak power, and 8th best mean power input on the bike.  This is all about explosiveness and that translates to Gersich's speed  and quickness on the ice.  Gersich also thinks the game very well and his work ethic is absolutely tremendous.  He has decent enough hands and can finish effectively in and around the net.  The Chaska-native can make plays with the puck at high speed and can release shots quickly that are both heavy and accurate.  He is a natural on the forecheck, but he must make efforts to improve his play in the defensive zone.  Gersich is not overly physical and must add some more muscle to his frame so he's tougher to knock off the puck.
Why the Wild should draft him?  The nephew of Neal Broten would be a great compliment on the 3rd line and the North Dakota recruit's quickness and speed translate well to the way Minnesota wants to play.
6.  G – Ivan Nalimov (SKA St. Petersburg, Rus. Jr.)
Height: 6'4″  Weight:  213lbs  Catches:  Left
2013-14 Stats:  12GP (5-7)  2.84GAA  .894%SP
ISS: 9th  Central Scouting: N/A  The Hockey News:  N/A
Talent Analysis:  Nalimov is a big Russian goaltender in the mold of Ilya Bryzgalov and Semyon Varlamov.  He has gone undrafted the last two years, but after a strong performance in the CHL Subway series where he seriously frustrated all star squads from the WHL and OHL that raised some eyebrows among NHL scouts.  His big frame gives shooters very little to shoot at and he has terrific rebound control.  While he has a reputation for being a bit streaky, when he's on he's a complete wall.  Nalimov has a super calm and cerebral demeanor, and even when he gives up a bad goal he doesn't let it carry over into other mistakes or shaky play.  He recovers well for a big goaltender and plays with an almost eerie level of focus.  When he's on the ice, its all business.
Why the Wild should draft him?  Nalimov has prototypical NHL goalie size, and seems to have steadily improved to being one of the more promising goaltenders not currently in the NHL.  He could prove to be a huge steal to any team that takes him.  
7.  C – Christopher Brown (Cranbrook HS, USHS-MA)
Height: 6′  Weight:  176lbs  Shoots: Right
2013-14 Stats:  31GP  23G 27A = 50pts  6 PIM's
ISS: 122nd  Central Scouting: 138th (NA)  The Hockey News: N/A
Talent Analysis:  A slightly undersized player with outstanding speed and skating ability, Brown is a gifted skilled forward who is a great finisher.  While he certainly needs to add strength to his slight frame, he is already committed to play for Boston College, a proven NHL-talent pipeline.  Brown is a terrific puckhandler and can dangle around defenders in 1-on-1 situations.  He finds open space in the offensive zone and has the touch to finish in just about any position as he is blessed with great hands.  He is a shoot-first player, but his excellent hockey sense for anticipating scoring opportunities often leads to him setting up linemates in the process.  The one glaring knock to his game is his lack of want for the physical parts of the game.  He is not the kind of player who wants to get into battles along the boards and does not want to get hit.  It will be interesting to see how Brown will handle the increase in physical play in the USHL when he plays for Green Bay next season.
Why the Wild should draft him?  Another long-term project as a pure finisher.  Brown is a superb skater with tremendous offensive instincts, and if he can figure out how to either adapt or at least be more comfortable in the physical parts of the game he could be a real steal of a pick later in the draft.
8.  LW – Alex Sharov (Moscow, MHL)
Height: 6'2″  Weight:  189lbs  Shoots: Left
2013-14 Stats: 41GP  17G 17A = 34pts  38 PIM's
ISS: 111th  Central Scouting: 34th (European)  The Hockey News: N/A
Talent Analysis:  Another big and fast Russian winger who has the ability to light the lamp in abundance.  Why is a player with this kind of skill set a sleeper pick?  Because among some scouts they question his desire as he is a player not prone to displays of emotion or outward energy.  Some of this does translate to his play; particularly to the defensive zone where he's known to be a bit too relaxed.  However in the offensive zone his speed and his shiftiness make him a very difficult player to contain.  He is also a versatile player who can also play center effectively if need be.  Sharov has a quick, heavy and accurate shot which he can unleash on the fly which makes him a scoring threat every shift.  He has proven he can bury goals but he will have to round out the rest of his game if he wants to play in the NHL.  The potential is certainly there, he just needs to live up to it.  Getting stronger and adding more muscle to his 6'2″ frame would certainly be a good start.
Why should the Wild draft him?   Its tough to pass up a player with his size, speed and skill.  Sharov has all the tools to be a very dangerous top 6 NHL forward, but he must find the drive within to be more committed defensively and add the strength necessary to be effective at both ends of the ice.  If he puts it all together, he could be the kind of steal an organization can really hang its hat on ala Datsyuk and Zetterberg have been for Detroit.