As I think about the end of the 1st round of the NHL Entry Draft, pondering some of the surprises. For instance, the deals the Pittsburgh Penguins made by dealing Jordan Staal and Zbynek Michalek to the Carolina Hurricanes and Phoenix Coyotes respectively in exchange for Brandon Sutter, promising prospect Brian Dumolin, and the 8th Overall pick (Derrick Pouliot). The New York Islanders tried to make a splash by adding Lubomir Visnovsky in exchange for 2nd round pick. The Dallas Stars parted ways with the always shifty Mike Ribeiro (not to mention a shootout ace) for promising Washington Capitals' prospect Cody Eakin. Have the Wild started a trend on making big draft night splashes as the draft host as Minnesota involved itself in some wheeling and dealing last season. Did Pittsburgh feel pressure to deliver their fans some excitement too? However, the first day of the draft is not all excitement. Sure, for the 30 fortunate players to have their names called its one of the seminal moments of their lives. Its that first step towards a career in the NHL. Yet, but what was it like for the many players who showed up but no one called their name? It has be pretty deflating. It has to leave a person incredibly anxious and I doubt any of those that really hoped and thought they'd hear their name Friday night were able to get much sleep. Honestly, would you be able to sleep when your heart is feeling that heavy? Please remember, these are young men that for probably their whole lives they were always amongst the first picked and very few of them know the heartbreak of being passed over.
Anton Zlobin knows how it feels to be passed over in a draft
Shawinigan Cataractes forward and 2012 Draft hopeful Anton Zlobin knows all too well how it feels. He was passed over in the draft in 2011. Its not likely to happen again, but his experience can give all young players a little bit of pause before they try to convince themselves that they will for sure hear their name called on Day 2. Day 2 may be even tougher mentally than the 1st round is. The names are announced at a quicker pace and you can imagine its got to be tough to remain hopeful as the chances steadily start to disappear. Not all NHL players, even ones that go on to become stars are every drafted. Martin St. Louis was never drafted and I think he's had a pretty decent NHL career wouldn't you say? Those stories are the exception and not the rule. Day 2 is really where the team's scouts really earn their pay. Its where all of those lonely trips to far off hockey rinks across North America and Europe turn into late round selections and if those players can develop into role players or better yet, star calibre talent then this can vault these scouts into legend. Detroit's Hakan Andersson, a former fishing guide became a legend for his assistance in identifying some players that became the source of the Red Wings' strength for over a decade. After discovering gems like Henrik Zetterberg (210th Overall), Pavel Datsyuk (171st Overall), Johan Franzen (97th Overall), and Jonathan Ericsson (291st Overall) he is now the Red Wings' Director of European Scouting, go figure?!?! The Wild are showing improvement in this regard with some late round gems with some good potential of their own in Johan Gustafsson (159th Overall) and Erik Haula (182nd Overall). So will the Wild discover some more late round gold this year?
Click on "Read More" for the rest of the article…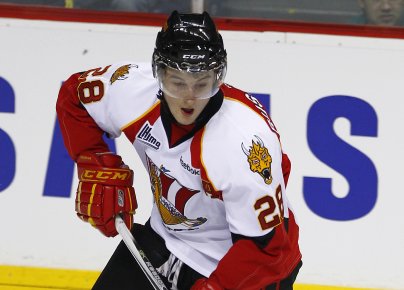 2nd Round (46th Overall) Left Wing – Raphael Bussieres ~ Baie-Comeau (QMJHL)
Height: 6'1″ Weight: 195lbs Shoots: Left
NHL Central Scouting's ranking: 129th (North American) The Hockey News' ranking: #83 ISS' ranking: #99
2011-12 Stats: 56GP 21G 23A = 44pts 60 PIM's -2
Talent Analysis: Bussieres is a kid who combines good speed, reasonable grit as well as some good offensive skills in 6'1″ frame. The Drakkar were not a high powered team, but Bussieres was tremendously reliable and was noted for his terrific hustle in his shifts. International Scouting Services rated Bussieres the 3rd toughest player available in this draft, but he was not a goon but it was not for a lack of willingness to drop the gloves. Players recognized his solid strength and didn't want to end up getting KO'd by him. Interestingly enough, in the CHL Top Prospects game he fought against Wild 1st rounder Matt Dumba and Bussieres more than held his own. You can see the fight right between Bussieres and Dumba right here.
Here is another highlight video of Bussieres.
He isn't afraid to go to the tough areas of the ice and pay the price necessary to get the puck along the boards. He's made steps to improve his first step and with his solid off-ice commitment to hit the weights he's added more speed as well. The Longueuil, Quebec-native has a good, heavy shot and is continuing the development of the offensive side of his game. He had a fairly strong playoffs before the Drakkar faced the QMJHL champion Saint John in the 2nd round and were swept. He's a player who kind of plays on the edge but must learn to control himself a bit more so as not to hinder his team with bad penalties. Either way, Bussieres has lots of potential and could become a very effective power forward in the future.
What I think: This is a player who I've been watching a while now. The Baie-Comeau have had it pretty rough the last few years, and Bussieres has been through all of the tough times and as the Drakkar have started to build themselves back into a respectable team the 6'1″ forward has been at the foundation of that resurgence. I think he is a player who could be a quality role player on the 3rd or 4th lines someday. He has a sort of Ryan Kesler element to his game. I like this pick, although I wonder a little if he would've been available later in the draft. I think it will be very interesting to see how he plays next year in the "Q" and I would think the Wild will hope he explores his offensive game a bit more, while keeping his blue collar style of play.
3rd Round (68th Overall) Defenseman – John Draeger ~ Shattuck-St.Mary's (USHS-MN)
Height: 6'2″ Weight: 186lbs Shoots: Right
NHL Central Scouting's ranking: 106th (North American) The Hockey News' ranking: N/A ISS' ranking: #153
2011-12 Stats: 57GP 11G 30A = 41pts 36 PIM's
Talent Analysis: John Draeger is a two-way defenseman with good size and skills. Draeger is committed to playing for Michigan State, a quality CCHA program that will be a good place for him to develop his game. He has a good shot that he keeps low to the ice which creates rebounds for teammates to pounce on. The Edina, Minnesota-native is a decent skater who knows how to pick his spots of when he should jump in the play. He has a high hockey IQ and this makes him versatile enough to be effective both on the power play and on the penalty kill. His lateral quickness could use a little work, but his solid positional play has allowed him to overcome this issue to some degree. Draeger is not overly physical player but he does use his body effectively to seal off opposing forwards from the puck along the boards. Being a player destined for college, he's a more of a long-term project but he has lots of good talents to build upon.
What I think: This kid sounds like an intriguing project. When he was asked by the Minneapolis Star Tribune's Michael Russo what kind of player he is he said he is a defensive defenseman. That response seemed kind of interesting considering he did show some offensive ability for Shattuck-St.Mary's. He has the size and mobility the Wild covet and I really like to hear that he keeps his shots low to the ice. I think this is a skill too many defenseman ignore these days as too many defenseman get caught up with the chance to score a highlight goal by blistering a point shot just underneath the crossbar that too many times they just end up blasting shots high and wide. While low lying shots don't find the back of the net as often, they usually create rebounds and those kinds of opportunities often have a better chance of lighting the lamp than the initial shot from the point. Lateral quickness is a skill that can be improved upon and I am sure he'll take the steps necessary to make that adjustment. I think this is another pick where the Wild probably could've waited (perhaps as far as the 4th or 5th round) and still landed him.
4th Round (98th Overall) Center / Right Wing – Adam Gilmour ~ Nobles (USHS-MA)
Height: 6'2″ Weight: 194lbs Shoots: Right
NHL Central Scouting's ranking: 101st (North American) The Hockey News' ranking: N/A ISS' ranking: 195th
2011-12 Stats: 28GP 26G 30A = 56pts
Talent Analysis: Gilmour is a versatile forward who can play either center or right wing who combines both size and speed. Gilmour was a former teammate of current Wild prospect Charlie Coyle. Unlike Coyle, Gilmour is committed to playing his college hockey for 2012 National Champion Boston College, a team noted for the way they prize both speed and skill. He loves to take the puck to the net and he has the hands to finish. The Albany, New York-native provides an upbeat energetic style to his team. If there are any glaring weaknesses to his game is his play away from the puck, as well as his commitment (or the lack thereof) to playing defense. Those are things that he will likely spend a lot of time working on at Boston College and he will be given plenty of time to develop this part of his game.
What I think: Gilmour is an intriguing player who I think has a lot of offensive potential. Boston College is about as good of a program as you can get, and you know they love recruiting speedy players who play the game at high speed. I think this kid should have an excellent opportunity to join Boston College and contribute to a nice core of players including Bill Arnold, Kevin Hayes and Johnny Gaudreau. He sounds like to me he's sort of a Top 6 or bust kind of player; especially if defense and his play away from the puck is not that good. But its impossible not to like a guy with great speed who has good hands in a 6'2″ frame. Lots and lots of potential. Decent selection.
5th Round (128th Overall) Defenseman – Daniel Gunnarsson ~ Lulea (Swe)
Height: 6'4″ Weight: 191lbs Shoots: Right
NHL Central Scouting's ranking: N/A The Hockey News' ranking: N/A ISS' ranking: N/A
2011-12 Stats: 46GP 3G 4A = 7pts 8 PIM's +7
Talent Analysis: Gunnarsson is a big, mobile defenseman who has some excellent offensive instincts to his game. In the defensive zone, he keeps things pretty simple; where he opts to chip the puck out of the zone using the boards and glass effectively. In the offensive zone he isn't the kind of guy that will dangle around people but he does have a big shot that he loves to let fly when given the opportunity. Overall he is very raw player whose game could use some refinement. He's not a physical player, but he uses his reach well to deny time and space from opposing forwards. In some ways his skillset seems reminiscent of Kurtis Foster, but he seems to have some solid potential.
I have found some more information from the 2010 ISS Draft Guide about Gunnarsson, whom ISS had ranked 119th. "Gunnarsson is another name in the increasingly popular trend of big, mobile Swedish defenders with very strong pro potential. Gunnarsson is a good skater who can keep up with just about anybody, handles the puck quickly and effectively and can provide explosive bursts of offense at times. He is disciplined and calculating but needs to get more physically strong and more aggressive to meet his potential."
What I think: This was an off-the-board selection to take Gunnarsson who I believe was passed over in last year's draft. He has great size, mobility and a big shot you want in a defenseman but the trick will be to add more strength and to improve his defensive game. I am sure he'll stay in Sweden this season and play for Lulea, where he'll have good competition. I think this was an attempt by the Wild to hit a bit of a home run where you take a guy with a lot of good basic physical characteristics and you hope he figures it out and becomes something much more than what you originally drafted. I like this pick.
6th Round (158th Overall) Center / Right Wing – Christoph Bertschy ~ Bern (Swiss)
Height: 5'10" Weight: 170lbs Shoots: Right
NHL Central Scouting's ranking: 35th (European) The Hockey News' ranking: N/A ISS' ranking: N/A
2011-12 Stats: 31GP 8G 8A = 16pts 10 PIM's +4
Talent Analysis: Another intriguing pick as the Wild take another forward who has the versatility to play center or right wing. Bertschy is a speedy, skilled forward who can dangle and has a good finishing touch. Bertschy played well for Switzerland at the World Junior Championships this winter registering 2 goals and 4 points in 6 games. He plays an up-tempo game and is very comfortable passing and shooting off the rush. Bertschy is very shifty and has a good nose for the net, with a quick release that is pretty accurate. He plays in the Swiss National League against grown men, much the same way Mikael Granlund, Jonas Brodin, Johan Gustafsson, and Johan Larsson do so his production is pretty impressive for an 18-year old. There are lots of ex-NHL'ers in that league. His small size is a concern, and he will have to add strength if he's going to succeed at the NHL level. In the Swiss league playoffs, his ice time was greatly reduced and he only managed a goal and an assist in 17 games but the fact he wasn't a scratch is a testament to his maturity for his age. Here is a video clip of Bertschy scoring a goal in a U-17 game against Czech Republic.
What I think: This is another attempt by the Wild to take a player more or less off the radar of lot of scouts and find a young European with good potential that is already playing reasonably well for their age in their best men's league. While I think the Wild would love to see Bertschy give North America try, the fact he's managed to do what he's done against grown men is quite encouraging. The only danger in selecting guys like Bertschy or Gunnarsson who are already in the pro's in their respective countries is if these kids will give up being a big fish in a smaller pond for an uncertain future in North America. The Wild do not have a good history of success with their past selections of Swiss born players as Julien Sprunger and Julian Walker never decided to leave their careers in the very comfortable Swiss league behind. I'd feel a lot better about this pick if he decided to play major junior hockey instead of staying in Switzerland.
7th Round (188th Overall) Left Wing – Louis Nanne ~ Edina (USHS-MN)
Height: 5'10" Weight: 165lbs Shoots: Left
NHL Central Scouting's ranking: 188th (North American) The Hockey News' ranking: N/A ISS' ranking: 196th
2011-12 Stats: 24GP 12G 18A = 30pts 12 PIM's
Talent Analysis: Nanne is a hard working forward that is a pain to play against, playing for a perennial high school hockey powerhouse in Edina. The son of current Wild scout Marty Nanne and grandson of former Minnesota North Stars player / coach / general manager Lou Nanne is a decent skater who uses his speed to get in on the forecheck quickly. He plays very well away from the puck and shows excellent hockey intelligence knowing precisely where he should be at all times. His size is a concern, especially when you consider he's 165lbs and he will need to add strength if he wants to play the same way he has with the Hornets. Nanne's stock dropped a bit because they were hoping to see more offense from him, but he does finish well close to the net and protects the puck well despite his smaller stature. He likes to hit, and finishes his checks with authority but plays a clean game. Nanne does not take a shift off and many scouts commented on how he backchecks effectively and works well with his defenseman in his own zone. He is committed to play for the University of Minnesota although he will play for the Penticton Vees of the BCHL, the same team Wild prospect Mario Lucia played for this season (they won an RBC Cup as the top Jr.A team in Canada). The future Golden Gopher is definitely a long-term project. Here is a video of Louis Nanne scoring a goal for Team USA at the U-18 tournament against Slovakia.
What I think: I have to admit, my eyes rolled a bit on this selection. The Wild just drafted the son of one of their scouts, whose grandfather is a Minnesota Hockey legend? Coincidence?!?! The Wild would have you believe that Nanne's lineage had nothing to do with it, but for an organization that goes out of its way to remind us where the Minnesotans are in everything NHL hockey it sounds a little too convenient if you ask me. I love high school hockey in Minnesota as much as anyone, but drafting high school players from this state just so we keep drafting 'one of us' gets a bit old and begs the question if they really are the best player available. Louis Nanne gets rave reviews for his work ethic and commitment to playing a 200ft game, and that's nice. However, its debatable if he was even the best available Minnesota high school player in this draft. One Minnesota high school star who was not selected was Eagan's Will Merchant who is bigger, and in my opinion much greater potential offensively and perhaps defensively than Nanne. Sure its nice to have the hometown kid go to the University of Minnesota and hopefully shine there before he gets his chance to turn pro with the local NHL team, but even though Merchant is committed to playing for the University of Maine that local link should not trump his superior talent.
Draft Thoughts Overall:
I thought this draft was a reflection of the current state of the Wild's prospect pool. Meaning, it was a draft where the Wild likely looked towards long-term development rather than guys with the potential to be NHL-ready the fastest. To provide an anology, its as though the Wild took a 'Crock Pot approach' where the Wild added the raw ingredients but are in no real hurry to see them cook. They'll provide a little seasoning (prospect camp) and some water (off-ice training advice) but other than that they will wait on many of these prospects, especially the 3 high schoolers they selected to develop at a gradual pace. The Wild have a very promising crop of prospects nearing that stage of being ripe for the NHL, so there is no reason to make that log jam anymore congested, hence the slower approach this time around. However, drafting high schoolers is always risky. No offense to high school hockey in Minnesota but your competition level can vary greatly and sometimes a player that dominates that level struggles as their career moves forward. Case in point, Apple Valley's A.J. Michaelson. Michaelson looked like a sure thing last season playing for the Eagles, as he was a terrific scorer who thrived at an early age. But he decided to hone his game in the USHL but struggled and was passed over in this year's draft.
Minnesota loaded up on right handed shots in this draft as 5 out of the 7 players drafted shoot from the right. For the first time since 2008, the Wild did not draft a goaltender but I think that's because the cupboard is pretty full. It was not a great year for Minnesota kids, just 7 were drafted in this year's draft one of the lowest totals in recent memory. The Wild passed up on some opportunities to take some more highly touted North American players like Martin Frk, Colton Sissons in the 2nd round; Scott Kosmachuk, Jarrod Maidens, Ben Johnson and Daniil Zharkov in the 3rd round; Andreas Athanasiou in the 4th round; Tomas Hyka and Anton Zlobin in the 6th; and Valeri Vasilyev and Nikita Gusev in the 7th. Only time will tell just how well the Wild did the last two days, but it might take this group a little longer to see this group bear fruit. I see promise in many of the Wild's selections but with so many long-term projects its tough to really be excited about them in comparison to other draft classes.