This is where the NHL scouts really earn their money, where the fruits of all that effort, long and lonely drives all over the world to isolated rinks to watch these young players ply their game really pay off.  The scouts collect their information and return to the front office a few times a year to report what players really impressed them and as a group they decide how their draft board should look.  For these scouts, its where they debate, at times even argue for the players they have personally witnessed and vouch for their future value to an organization.  Yet to a person, even if they don't get their way that the debates do not get personal but its a time for frank and honest discussions about the potential of these players.  I think I speak for a lot of NHL fans out there; but wouldn't it be awesome just to sit in on that discussion?  NHL teams, including the Wild have offered little sneak peaks here and there but what has been revealed has been carefully shaped so as not to stir up ill-feelings for the players they're discussing.  Afterall, as Team USA learned when it allowed ESPN's Scott Burnside to more or less 'be in the scouting room' with the various officials as they picked the 2014 Men's Olympic squad when those details of 'what is said in the room' are released 'out of the room' it can lead to players feeling offended or down right jilted, just ask Bobby Ryan.
The discussions must be fascinating, where scouts and team management analyze these players' games with a finetooth comb, looking for any small reason to say one player should be valued higher than another.  Those small differences can be the difference between a player fitting the direction of a team and one who, despite being skilled and even a quality player, is simply a square peg trying to be fit into a round hole.  Going into the 2nd day of the draft, the Minnesota Wild have 7 selections in the draft but will that number say the same?  The Wild certainly have made a lot of 2nd day swaps in the past in order to get a player they really like and I think that is very likely to happen again.
An interesting caveat to this second day of activity was the announcement that the Wild will be penalized slightly (by $700,000) due to an overage in the salary cap because of bonuses players achieved.  While that amount may seem insignificant, that cost is not much less than what the Wild are currently paying many of its rookies on entry-level deals and its actually more than the salary of signed winger Stephane Veilleux (whose contract is for $594,000 per season).  So the Wild will certainly be shopping to trim some of its uglier contracts today as it also goes about selecting more players to fill out its prospect pool.
As I still see it, here are the team's biggest 3 needs.
1.  The Wild need a fast, goal-scoring forward to be a major contributor on its top 6.  The team has tried the free agent route as well as trades here to limited success, now its time the team select a player to be that guy.  The team played its best hockey by utilizing its speed and as an organization they really lack players who are noted for their ability to finish their chances.
2.  The Wild need to draft a blue-chip goaltending prospect to really challenge for that starting role in the future.  No offense to Darcy Kuemper, Johan Gustafsson or even Ilya Bryzgalov but the situation with Josh Harding's battle with Multiple Sclerosis and Niklas Backstrom's aging body make it necessary for the team to seriously address its goaltending depth.  There are notable free agent goalies available though.
3.  The Wild need to draft a big, mean defenseman who can punish opponents with a strong, physical game.  Watching the Chicago series, the Wild started off pretty well because the team was playing a physical brand of hockey and taking every opportunity to hit the Blackhawks.  Yet as the Wild got beat up, their lack of physical defenseman started to become a problem as Chicago's bigger forwards could camp out in front of the Wild crease without much difficulty because the team's defense simply lacked the size and snarl to move them out of the way.  The Wild have to be tired of being labeled as 'soft' and drafting some ornery, big defenseman can help remove that label to a certain degree.
So who exactly did the Wild draft on Day 2, and what do these players bring to the table?
3rd Round – 80th Overall
D – Louie Belpedio (USNDT, USHL)
Height:  5'10.5″  Weight:  193lbs  Shoots: Right
2013-14 Stats:  26GP  5G 10A = 15pts  24 PIM's
ISS: 126th  Central Scouting: 107th (NA)  The Hockey News: 85th
Talent Analysis:  In many ways Louie Belpedio is what you'd expect from a smaller defenseman.  He's a terrific skater who is very comfortable handling the puck and has the ability to move it up the ice quickly as well as make that all important first pass out of the zone to start the attack.  Belpedio has committed to the University of Miami (OH) where he'll play in a very tough NCHC Conference and his terrific hockey sense will come in handy right away for the Redhawks.  He is very calm under pressure and even though he does not have any physical game to speak of he has shown he can weather the storm of big hits.  Belpedio plays the smart kind of game that coaches love and has the ability to be used effectively as a power play quarterback.  He is a terrific passer and his on-ice awareness and vision is what sets him apart from many of his peers.  His right handed shot will also make him a nice addition to a blueline that could use another shot from that side on the man advantage.  Belpedio was also the USNDT's team captain and he gets high marks for his leadership and character on and off the ice.
Bottom Line:  Just call him Jared Spurgeon 2.0, because their games sound eerily similar.  His hockey sense means he probably can play effectively on a team's top 4 someday, but I am not sure if he'll ever be a big point producer even though his skillset would indicate he's more of an offensive defenseman.
My Thoughts:  This pick is a bit of a head scratcher, the team's blueline lacks snarl and size so their first selection on Day 2 is a Jared Spurgeon clone?  Spurgeon's physical limitations were exposed against Chicago, and should have indicated the Wild need to get a bit bigger and meaner on its defensive core.  I don't see how Belpedio's fits to address those needs unless the plan is that he replaces Spurgeon in the next few years.  Didn't they already sign a smallish defenseman in Guillaume Gelinas already to be that offensive dynamo on the blueline?  The team's defense is where it probably has the most depth but we're adding more.  Uh, ok.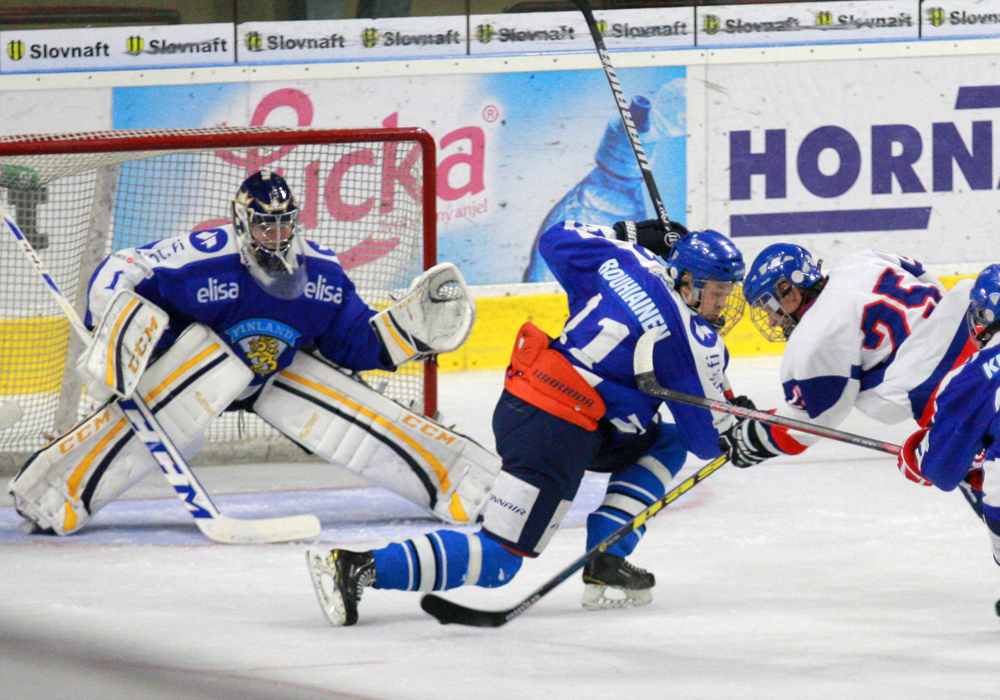 4th Round – 109th Overall
G – Kaapo Kahkonen (Espoo Jr., Fin. Jr.)
Height: 6'2″  Weight:  201lbs  Catches: Left
2013-14 Stats:  38GP  .912%SP
ISS: 10th (Goalie)  Central Scouting: 4th (Euro Goalie)  The Hockey News: 47th
Talent Analysis:  Kahkonen is your prototypical big-bodied butterfly goaltender.  He is reasonably athletic, and his movement from post to post is pretty impressive but at times he was really fighting the puck.  His big body does a great job at denying shooters from having a lot of net to look at.  As the season went on, he started to struggle and his confidence started to wane.  He tends to stay back in his crease and does not challenge shooters as much as other goaltenders.  Kahkonen is a terrific puck handler and feels comfortable going behind the net to help out his defenseman whether by settling the puck down or even making that first pass out of the zone himself.  However some scouts felt at times Kahkonen seemed a bit disconnected and want to see him more invested emotionally in the game and his teammates.  If he has any weaknesses its his blocker side, but most scouts are excited by the potential of his body, athleticism and skillset overall.
Bottom Line:  He's a classic project goaltender who has a lot of raw tools that simply need to be polished and refined.  If he can be developed properly he could become a viable candidate to being a starting goaltender in 4-5 years or at least challenge those that have that spot.
My Thoughts:  This is a sensible selection considering the Wild's depth at goaltender, and its need to re-stock the pool after the graduation of Darcy Kuemper to the NHL.  Kahkonen is an interesting goaltending prospect that hopefully gets the opportunity to hone his game and continue to improve and regain that confidence he had at the start of this season.
5th Round – 139th Overall
D – Tanner Faith (Kootenay, WHL)
Height: 6'3.25″ Weight: 211lbs  Shoots: Right
2013-14 Stats: 10GP  0G 1A = 1pt  9 PIM's
ISS:  Central Scouting: N/A  The Hockey News: N/A
Talent Analysis:  Faith is the towering defender that uses his reach to take away ice from opposing skaters rather effectively.  He is a classic stay at home defender who plays tough in around the crease area.  Faith is physical, but picks his spots carefully and does so in a way that doesn't put his team on the penalty kill in the process.  While his frame and physical ability is what scouts covet, his lack of lateral quickness and below average skating make him problematic trying to defend the rush.  He can struggle to stay with faster forwards who can motor around him if they catch him too far in the middle of the ice.  However Faith has managed to be reasonably effective if he can angle the oncoming skater closer to the boards where he has the reach to take away time and space.  He has no real offensive game to speak of, but he's certainly willing to drop the gloves to play the role of an enforcer should a player try to take liberties against his teammates.  Faith was only able to play 10 games this season before suffering a season-ending shoulder injury.
Bottom Line:  Faith is a physical, no-nonsense stay-at-home defenseman who plays tenaciously around his crease.  Unfortunately, unless he addresses his skating issues, he'll likely not be an effective NHL'er despite having an NHL-sized frame.
My Thoughts:  Another defenseman?  While Faith certainly provides the physical element I referred to earlier when talking about Louie Belpedio, his skating makes him a project defenseman at best.  I am sure the Wild hope fans have 'faith' that Faith will make those necessary improvements to his skating so he can have at least a shot at becoming a regular NHL defenseman someday.  While I appreciate Faith's calculated nature of his physical game, professional games unfold a lot faster and if he's trying to figure out whether he needs to get physical it might be too late.  If he becomes a serviceable player for Iowa, I'll probably have to be happy with that.
6th Round – 160th Overall
D – Pontus Sjalin (Ostersunds IFK, Swe. Jr.)
Height: 6'0″  Weight:  168lbs  Shoots: Left
2013-14 Stats:  10GP  1G 4A = 5pts  4 PIM's
ISS:  N/A  Central Scouting:  N/A  The Hockey News: N/A
Talent Analysis:  He is a very slight of build, smooth skating defenseman currently playing in Sweden's 3rd division with Ostersunds.  Sjalin has reasonable hockey sense and puck skills but its tough to really compare him to many other players in this draft since he competes at a level that is below most of his draft peers.  He obviously will have to add strength to his frame, but he has to prove he can compete at a higher level before you can really evaluate where he stands.  You can read more about Sjalin's limited hockey career here.
Bottom Line:  This is a total shot in the dark by the Wild, hoping this late bloomer defies the odds and become a viable asset in 3-4 years.  He needs to add strength but he's a decent skater with some potential as a puck moving blueliner.
My Thoughts:  What a complete waste of a draft choice.  With a big, mean fellow Swedish blueliner Adam Ollas Mattson (rated 50th by ISS and 98th by the Hockey News) still available I have no idea why we'd take a very slight, non-physical defenseman when we already selected one in this draft.  This is the kind of pick that is reminiscent of Eero Elo from a few years ago.  A complete 'off-the board' selection to make a European scout (Ricard Persson) happy for the work they've put in but of absolutely no practical use to the organization than to make this player an obscure Wild trivia answer.  The team claims another team had him on their prospect board, to that I say, so what?  Let them waste the pick instead of us.
6th Round – 167th Overall
C/RW – Chase Lang (Calgary, WHL)
Height: 6'1″  Weight:  176lbs  Shoots: Right
2013-14 Stats:  68GP  10G 15A = 25pts  52 PIM's
ISS: 148th  Central Scouting: N/A  The Hockey News: N/A
Talent Analysis:  Lang is a player who has decent speed, and is a skilled puckhandler that can dangle through traffic well in the offensive zone.  He is the type of player who can just suddenly pull a fantastic move that surprises just about everyone on the ice but the problem is he doesn't exhibit these skills nearly enough to become a go-to scorer each night.  Lang plays hard at both ends of the ice, but he often leaves you wanting more at either ends of the ice.  He will definitely have to bulk up; as he's still rather skinny and if he wants to play more a bottom 6 role where he's most likely ideally suited he'll need to do so in order to be effective.  Lang is the kind of player who you can use on both the power play and penalty kill and not be a liability.  He is not afraid to drop the gloves either, and has a nice collection of skills if it could be focused to sort of pick an identity for his game.  He is a right-handed shot which seems to be a growing theme of this draft so far.
Bottom Line:  In some ways, he reminds me of Kris Foucault when the Wild drafted him.  He is a kid who has some terrific talent, but you only see very small flashes of it to ever really rely on it.  While he certainly has to spend some time hitting the weight to add strength and some good weight to his skinny frame he could become a reasonable contributor to the franchise, perhaps for Iowa someday.
My Thoughts:  Another pick where I am trying figure out just what the Wild are doing.  He's a kid with some reasonable skill, but he isn't consistent as to how much he uses it.  He is not a scorer, but can play well enough at both ends of the ice.  Chase Lang is a player who is still trying to figure out his game and you won't really know what you have until he sets a direction and runs with it.  He is too skinny to be real physical so even if you think he best projects as a 3rd liner that sort of limits his utility to a degree because he's not going to be that great of a checker.  Odd selection especially since Mattsson was still available at this point.
6th Round – 169th Overall
C – Reid Duke (Lethbridge, WHL)
Height: 5'11.5″  Weight: 189lbs  Shoots:  Right
2013-14 Stats:  62GP  15G 25A = 40pts  91 PIM's
ISS: 142nd  Central Scouting: 137th (NA)   The Hockey News: N/A
Talent Analysis:  Reid Duke is a player who had real high expectations after being selected 5th Overall in the WHL draft in 2012.  His first campaign saw him score just 24 points and this year he had 15 goals and 40 points playing one of the worst clubs in the Western Hockey League.  Duke is a terrific skater who can get up to top speed in a hurry, and his first few steps are extremely explosive.  He is also a very deft stickhandler and along with his speed make him very dangerous 1-0n-1.  Some scouts believe his development has been hindered by the lack of quality linemates available with Lethbridge and believe he has the potential to be far more productive if he was in a better overall situation.  Actually as Lethbridge's season really started to turn sour, many players demanded to be dealt but Duke wasn't among them as you can read here.  He is not a big player, nor he very physical but he's skilled forward who is a natural playmaker who has lacked the linemates with the finish to take advantage of his capabilities.  His shot is decent, but scouts would like to see him use it more often.  Defensively his game is just average and could stand some improvement.  He hustles back well, but often he isn't covering his assignment and that lack of attention to detail leads to goals for the opposition.
Bottom Line:  He is an interesting project player who has high end speed and quickness you want, but its tough to read just what he can do as he's been playing for such a poor team.  Reid Duke will need to work on fixing his defensive deficiencies if he really wants to prove worthy of a chance at the next level.
My Thoughts:  Another strange pick, but he does at least seem to have some skilled potential to be that fast, goal scoring forward which is a big need for the organization.  Yet, he's a player with a strange story of character but also in a way, excuses.  He's not the only player in this draft that plays for a lousy team but many of them still find ways to lead their teams in scoring, etc.  While the article above talks about how he wasn't going to abandon his club, maybe he'd wish he did as he dropped from being 65th in Central Scouting's Mid-Term rankings to 137th in their final assessment.  Reid Duke was a -47 on the Hurricanes.  While that's pretty horrendous, he wasn't the worst +/- on his team, that dubious honor went to Macoy Erkamps who was a -62, ouch!  But hey, look at the bright side Reid, if you make the Wild they most likely will not be as bad as Lethbridge!  He's also another right handed shot which certainly has been a major theme of this draft class for the Wild.
7th Round – 199th Overall
C – Pavel Jenys (Brno, Czech Elite)
Height: 6'3″  Weight:  194lbs  Shoots: Right
2013-14 Stats:  28GP  2G 0A = 2pts  4 PIM's
ISS: 107th  Central Scouting: 21st (European)  The Hockey News: N/A
Talent Analysis:  Jenys is a European power forward who played in the Czech Elite League this season, and while his stats don't jump out at you he was playing in a limited role for the Brno Komets.  He protects the puck very well and while his skating needs work he is very strong on his skates and is sort of like a bull in a china shop once he gets going.  Scouts wished he would move to the net more often, where his strong frame could be effective as you will see in the video below.  Jenys does not ignore the defensive game and he chases pucks down to the best of his ability whether in the offensive or defensive zone.  He is a beast along the wall and has a nice little set of moves to enter the offensive zone which is interesting for a player who at times seems to lack urgency on offense.  He is not overly physical, despite possessing the strength and body to dominate his foes.  Jenys is expected to play in North America next season.
Bottom Line:  He is an interesting European project power forward prospect.  I like the thought of him crashing the net and banging home goals.  He will certainly have to work on his acceleration and I think encouraging him to take the puck to the crease would be to his benefit as well.  If he works hard, improves his skating you could have a very interesting two-way forward for the 3rd line, who would also possess size and strength.
My Thoughts:  I don't mind this pick as much because I think it fits with many of the themes going into the draft.  One theme throughout this whole class that was obvious; was the premium placed on players with right-handed shots.  Jenys is a big kid with a nice blend of size, power and is learning how to play against grown men at a young age.  I think he is one of the more interesting selections of this whole draft.
Jenys and Kahkonen are intriguing prospects with lots of raw potential, yet overall this draft was terribly disappointing.  The team passed on some quality, bigger defenseman who had some nastiness to their game for more finesse, non-physical defensemen who already make up much of the teams pool of blueline prospects.  By the time the team tried to draft some skilled forwards it was forced to make some major reaches on players who are still figuring out what their game is or one's that were not living up to their potential.  I realize the draft is not about what these players can do now, but what they can become in the future.  However, maybe its just me but I'd like to think I can kind of understand what the scouts see in these players so I can get as excited as apparently they are about this draft class.  In most cases, the choices seem random and do not address organizational holes.  I do not have a lot of hope for most of this draft class as a whole.