Minnesota Wild (5-3-3) 13pts 4th in the Central
2.18 Goals For (24th)
1.91 Goals Against (4th)
26.7% Power Play (4th)
75% Penalty Kill (27th)
Top 5 Scorers:
1. #11 Zach Parise ~ 5G 3A = 8pts
2. #24 Matt Cooke ~ 3G 4A = 7pts
3. #9 Mikko Koivu ~ 1G 6A = 7pts
4. #25 Jonas Brodin ~ 3G 3A = 6pts
5. #22 Nino Niederreiter ~ 2G 3A = 5pts
Top 3 PIM's:
1. #28 Zenon Konopka ~ 28 PIM's
2. #4 Clayton Stoner ~ 13 PIM's
3. #22 Nino Niederreiter ~ 10 PIM's
Top Goaltenders:
1. #37 Josh Harding (5-2-1) 1.00GAA .953%SP 1SO
2. #32 Niklas Backstrom (0-0-2) 2.98GAA .867%SP
Vs.
Chicago Blackhawks (6-1-3) 15pts 2nd in the Central
2.90 Goals For (12th)
2.50 Goals Against (9th)
21% Power Play (11th)
71% Penalty Kill (30th)
Top 5 Scorers:
1. #88 Patrick Kane ~ 5G 3A = 8pts
2. #19 Jonathan Toews ~ 4G 3A = 7pts
3. #81 Marian Hossa ~ 4G 2A = 6pts
4. #20 Brandon Saad ~ 2G 4A = 6pts
5. #2 Duncan Keith ~ 0G 6A = 6pts
Top 3 PIM's:
1. #52 Brandon Bolig ~ 21 PIM's
2. #19 Jonathan Toews ~ 12 PIM's
3. #32 Michal Rozsival ~ 10 PIM's
Top Goaltenders:
1. #50 Corey Crawford (5-1-2) 2.04GAA .921%SP
2. #39 Nikolai Khabibulin (1-0-1) 3.97GAA .818%SP
Click on "Continue Reading" for the rest of the article…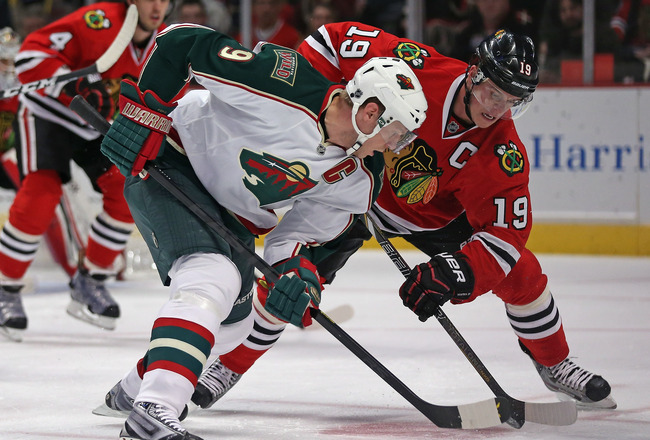 For the first time in what seems forever, the Minnesota Wild appear (on paper) as if they can much better compete against the Chicago Blackhawks. Yes, Chicago has won the Stanley Cup twice in recent years, but for once, I'm not exactly dreading a trip to Chicago. It still won't be easy, but the deep sense of dread simply isn't there, and that alone is something to feel good about. There are other teams in the league to give me that feeling.
First off, let's look at the teams' overall records. Now, Minnesota has played one more game than Chicago. For being the team that lost to the reigning Stanley Cup Champions in the first round of last year's players, we only have one less win than Chicago. Looking at who the Blackhawks have played, I'd say the opponents are fairly comparable. They've played (and lost to)Tampa Bay twice. They were also defeated by Toronto. I'll take those comparisons any day. I would like to point out that it took Chicago a shootout to defeat Carolina, while Minnesota managed to do it in regulation. Now we do have two more regulation losses than Chicago does, but since we have played one more game, I'm hoping it just balances out some how. Don't ask me how, I just like to think in my crazy mind, it's somehow justified. It's been a long week, just go with my mental gymnastics here.
Comparing the team stats as well don't make me fear tonight either. Sure, Minnesota's overall lack of offensive prowess does make me a little nervous, as does its penalty kill, but we're probably going to have that issue agasint just about every team this year. Sure, no team wants to have the 24th best goals per game (well unless your teams 25-30). However, even with that dreadful stat, we're still 5-3-3. It could be much, much worse. Like any game, especially considering how horrendous the penalty kill has been this season, it is absolutely imperative that Minnesota stays out of the penalty box. Just about every game this season, Minnesota has allowed the opponent to score with the man advantage, and in some cases more than once. If you can't prevent power play goals, then it's important to play more disciplined and avoid the penalty box as much as possible. Yet, it could be worse. We could have Chicago's penalty kill. Ouch.
Heck even scoring wise, our players are fairly comparable. Zach Parise has 5 goals and 3 assists, same goes for Chicago's Patrick Kane. The rest of the players in the top five scorers category for each are fairly close as well. If Minnesota can control the puck like we've seen all season and shoot as they have, the Wild could actually compete tonight. The only concern I have is the mental game. There are teams in the league that Minnesota often can't win in the mental game. Chicago has been one of those teams in recent years. Add that to the fact that the game is being played in the Windy City, just makes the mental game that much tougher. Minnesota needs to come out and play their puck possession game early and keep playing it. The ultimate key to a win tonight wll be to severely limit Chicago's chances with the puck. Basically, they need to play the old playground game of keep away.
While I have no idea how this game will pan out, I do know some things. I know that I find Chicago's goal celebration song to be just about as annoying as Nashville's. I would be pleased if I never have to hear Chicago's tonight. I also know that during one of the intermissions, when they have "fans" come to the ice and shoot the puck for some contest, that one of the contestants, will be an overly made up female, wearing skin tight pants and a tight, low-cut top wearing high heeled boots on the ice (you know, "sensible" footwear). It's never a real female hockey fan. But beyond those two things, I really have no idea of what will happen.
So hopefully, Minnesota doesn't make me realize I'm foolhardy with this sense of almost calm that I have. Of course I should know better. Minnesota does have this way of disappointing me.