Minnesota Wild (22-15-2) 46pts 2nd in the Northwest
2.54 Goals For (18th)
2.49 Goals Against (11th)
18.3% Power Play (13th)
82.6% Penalty Kill (12th)
Top 5 Scorers:
1. #9 Mikko Koivu ~ 9G 24A = 33pts
2. #11 Zach Parise ~ 15G 17A = 32pts
3. #20 Ryan Suter ~ 4G 25A = 29pts
4. #29 Jasn Pominville ~ 11G 16A = 27pts
5. #7 Matt Cullen ~ 7G 18A = 25pts
Top 3 PIM's:
1. #28 Zenon Konopka ~ 100 PIM's
2. #27 Mike Rupp ~ 67 PIM's
3. #44 Justin Falk ~ 38 PIM's
Top Goaltenders:
1. #32 Niklas Backstrom (20-11-2) 2.39GAA .915%SP 2SO
2. #35 Darcy Kuenper (1-2-0) 1.98GAA .924%SP
3. #37 Josh Harding (1-1-0) 2.92GAA .885%SP 1SO
Vs.
St. Louis Blues (22-14-2) 46pts 2nd in the Central
2.74 Goals For (12th)
2.55 Goals Against (15th)
21.6% Power Play (7th)
83.9% Penalty Kill (9th)
Top 5 Scorers:
1. #25 Chris Stewart ~ 16G 14A = 30pts
2. #20 Alex Steen ~ 7G 18A = 25pts
3. #57 David Perron ~ 9G 14A = 23pts
4. #21 Patrik Berglund ~ 15G 7A = 22pts
5. #42 David Backes ~ 5G 17A = 22pts
Top 3 PIM's:
1. #75 Ryan Reaves ~ 65 PIM's
2. #42 David Backes ~ 48 PIM's
3. #46 Roman Polak ~ 42 PIM's
Top Goaltenders:
1. #41 Jaroslav Halak (6-5-1) 2.14GAA .899%SP 3SO
2. #1 Brian Elliott (7-6-1) 2.89GAA .884%SP 2 SO
3. #34 Jake Allen (9-3-0) 2.33GAA .911%SP 1SO
Click on "Continue Reading" for the rest of the article…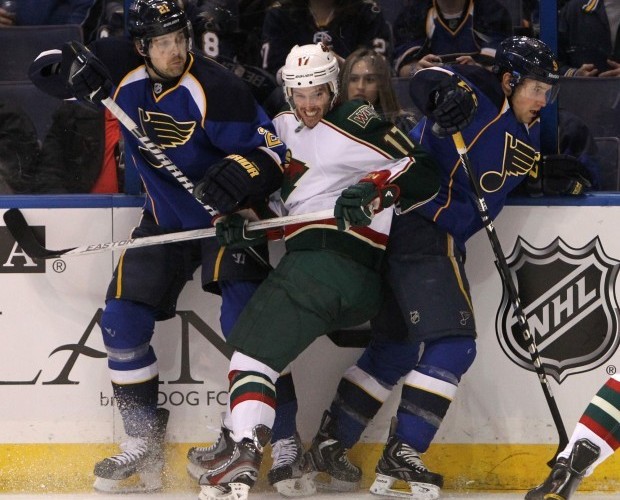 Some of my readers are aware that I have a dog. For those of you who are not, my dog's name is Fergus and he is a Basset hound. He definitely lives up to his breed stereotype: quiet, lazy, loves food, and has a nose that gets him in trouble. If you want a dog that is content to curl up on a dog bed and nap, Fergus is your man. However, that's not to say that when given the chance he'll run for the hills. Since he is a scent hound, he is kept on a leash when outside. On those rare times (and I can count them on one hand) he has gotten free, I've always been amazed at his speed and agility. Dogs are wonderful companions and can often teach you lessons that you often cannot learn anywhere else. They're loyal and tend to know when you've had a bad day and will come and comfort you in their canine way, which often means sitting on your feet and giving you that sad dog look. And after a while of looking at your faithful friend, they somehow put a smile back on your face. I'm sure you're wondering what the heck my dog has to do with the Minnesota Wild. Well, I came across this a picture on Facebook, and thought it was a good motto for the Minnesota. My apologies if you're offended by the language.
After the win in Columbus, Tuesday night's showing against the Blackhawks was a disappointment. It wasn't a completely horrible game, it just wasn't a successful game against a powerful Chicago team. Minnesota just doesn't have the roster, especially on the blue line (well with the exception of Ryan Suter and Jonas Brodin) to compete with offensively minded teams. If the Wild make the playoffs, they're going to want to hope that they don't face Chicago in the first round (or any round if they advance). However, when you have a game like Tuesday night, you have to accept the result, learn from the mistakes, and then move on to the next one. The Wild need to take advice from the dog above, by kicking some dirt on their mistakes and move on. Tuesday's game was the expletive in the picture. Time to move on, and look to St. Louis.
St. Louis brings its own set of concerns for the Wild. First off, they're bigger and more physical than the Wild. That right there bring all sorts of problems for Minnesota. Physically, we really don't match up with the Blues. Even worse, they know that. Yes, I'm glad that we have Charlie Coyle to battle along the boards, but even with more physical players like Zenon Konopka, Cal Clutterbuck and Mike Rupp we simply don't have the same kind of players that the Blues have. To add insult to injury, while the Blues aren't know as an offensive powerhouse, they just seem to have the ability to score against the Wild, almost at will. Minnesota's inability to score against Chicago or get sustained offensive pressure could easily reassert itself with St. Louis. St. Louis will put sustain both offensive and defensive pressure all night long, and if Minnesota doesn't get on the board early, it could be a very long night.
Fergus just hopes that the Wild get a good meal and a good nap in before the game, so that they're ready to compete when it's time for the puck to drop. He'll be sure to catch a few extra z's to help the good guys.