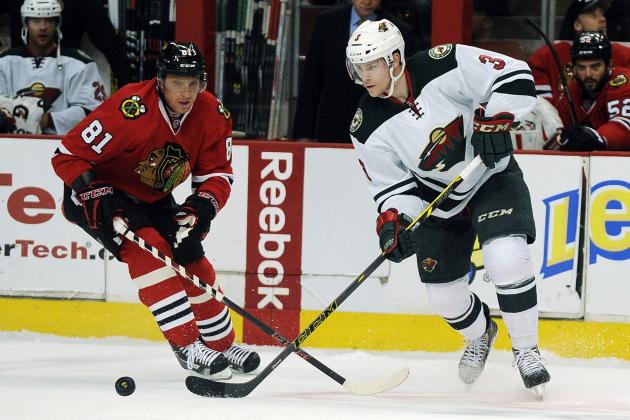 10 years ago, the Chicago Blackhawks were the laghingstock of the NHL.  The arena was mostly devoid of fans, apart from a few die-hards and then a slew of business people trying to schmooze clients over a 'quiet' game of hockey.  No one was calling the United Center the Madhouse on Madison when the Blackhawks were in town because in all honesty so few people cared to follow the team.  I mean honestly, ask a current Chicago Blackhawks fan do they remember the days when Alexi Zhamnov, Eric Daze, Sergei Berezin, and Theo Fleury were donning Blackhawks jerseys they'd wonder if Cirque du Soleil was performing at the arena between games.  I was there during those days.  I even pulled off the unthinkable.  I wore my Minnesota North Stars jersey to the game and if I had done the same thing 10 years before someone may have thought I had a death wish for I surely would've been heckled severely if not a lot worse.  But at the mostly empty confines of United Center, I got mostly handshakes from the few more well-seasoned Chicago Blackhawks fans who remembered that historic rivalry as if they were reconnecting with an old friend. Owner "Dollar Bill" Wirtz dies and his son Rocky Wirtz takes over; the team starts to televise its home games and along with more success on the ice and suddenly the Blackhawks were one of the most popular games in town.  Yet, good luck finding many Blackhawks fans that were around during their 'dark ages.'  For a team that once was outdrawn by its American Hockey League team, the Chicago Wolves, the Blackhawks have come a long way.  Two Stanley Cups in the last four years have made Chicago the team to beat in the West, but will they get caught overlooking the pesky Wild tonight or will the team from the Windy City blow them out?
1st Period Thoughts:  The game started with a cautious pace; both teams a bit unsure what to expect and I thought this benefited the Wild early as Minnesota was causing turnovers early.  Minnesota was solid defensively, denying time and space as they pressured the Chicago as they tried to carry the puck through the neutral zone.  The Wild were able to turn those turnovers into scoring chances as the 4th line caused a little havoc as Stephane Veilleux skated in and got off a quick wrist shot that was stonewalled by Corey Crawford.  Minnesota was also quick to backcheck aggressively, and Ilya Bryzgalov was not taking any chances as he was quick to pounce on any puck that was near his crease.  Minnesota would earn the first power play of the game as Andrew Shaw was tagged with an interference penalty on a silly attempt to check Mikko Koivu as the Blackhawks tried to exit their own zone.  On the power play, the Wild moved the puck with more efficiency and purpose than they had in the latter half of their series with the Avalanche.  Minnesota had a great chance early as a shot from the point by Ryan Suter was redirected nicely by Dany Heatley up and over the shoulder of Crawford and off the outside of the left post.  The Wild kept working the puck, hoping to set up a one-timer on the backside of the play.  The passing was there, but Minnesota just couldn't seem to connect on the one-timer and the Wild came up empty on the man advantage.  Minnesota still had good energy and they started to put the hurt on Chicago as Clayton Stoner was dishing out bone-crunching hits as he crushed Joakim Nordstrom and Shaw who both got up pretty slowly after being stapled into the boards.  Unfortunately, for all the good energy a lazy play by Jonas Brodin would help put Minnesota in a hole as his stick flew up into the face off Marian Hossa, cutting the big Slovak winger and giving Chicago a 4-minute power play.  The Wild penalty kill actually started off pretty well; forcing the Blackhawks to stay to the perimeter, using good active sticks and solid positioning to deny passing lanes through the middle of the ice.  Minnesota would catch Chicago's defense sleeping as Jared Spurgeon threaded a long pass to Zach Parise for what looked like a sure breakaway but Nick Leddy would hustle back and lift the stick of Parise before he could really get a shot on Crawford.  Having escaped the Wild's shorthanded chance, Chicago worked the puck around the Minnesota zone, getting the Wild's penalty killers to chase a bit they'd open up a shooting lane as Hossa dropped a pass back to Brent Seabrook who blasted a one-timer that deflected off the stick of Bryan Bickell and by Bryzgalov to make it 1-0 Chicago.  Since the goal came in the 1st half of the power play, Chicago still had a full 2-minute power play to work with.  The Wild would kill off the rest of the Blackhawks power play as they again caught Chicago sleeping as Marco Scandella flipped a puck high towards the Chicago end that was skated down by Erik Haula who was behind the defense but unfortunately the puck didn't settle for him and he was unable to get a shot on goal.  Chicago would then have a real close opportunity of their own as Nordstrom made a strong move towards the goal as Bryzgalov tried to hold the post but the puck would slide underneath him where he could not see it and the same could be said for the official even though the puck was just sitting in the crease before it was jammed home by a sliding Brandon Bollig.  The play would be reviewed, but the official thought the puck was underneath Bryzgalov and Minnesota dodged a bullet so they still only trailed 1-0.  It was the right call, but Chicago probably deserved a goal on that one.  The Blackhawks wanted to extend their lead in the closing moments of the period as Patrick Kane would patiently dangle the puck and take it down low where he fed a pass to Patrick Sharp for a sharp angle shot that was pushed wide.  Minnesota was probably a little relieved to only be down by one, after being outshot 13 to 8.  Jonas Brodin's lazy play has me concerned, because I can understand not wanting to be hit but a weak stick check like that will yield the kind of dumb penalties that could haunt this team.
2nd Period Thoughts:  The 2nd period started with the Wild looking for equalizer early as Granlund, Parise and Jason Pominville nearly connected as Parise threaded a diagonal pass towards the crease that was redirected by Granlund off the cross bar and out.  Stoner continued to throw his big frame around as he'd give a vicious hit to Ben Smith near the Wild bench.  Minnesota would continue to attack with its top line, and off a faceoff in the offensive zone a big shot by Suter drew a rebound that was swung on goal by Parise but Crawford was able to come up with the save.  Moments after that the Wild would find a little space off the rush as Koivu hammered a slap shot from the high slot that was stopped by Crawford who again gave up a big rebound that was pounced upon by Granlund who forced Crawford to make another big save.  The Wild would bait Chicago into a 'too many men' penalty as Kane went after a Parise pass.  On the man advantage the Wild would create a scoring chance right away after winning the draw and then sending a puck out to the point that Suter sent on goal that was gloved by Crawford.  Unfortunately, Minnesota would be victimized by a bad offsides call as the official had a clear sight line on the puck that never crossed the Chicago blueline as Minnesota seemed to have a potential shooting opportunity.  The Wild just couldn't manage to get comfortable in the Chicago zone and they'd come up empty on the power play.  As if on cue the Wild would give Chicago another opportunity as Brodin again would sit in the box with a minor for high sticking Ben Smith.  Chicago would take advantage of Brodin's lack of discipline and they'd score right away as Brandon Saad made a pretty backhanded pass cross ice to Hossa who lifted a shot over the stretching leg pad of Bryzgalov who did the splits trying to make the save.  2-0 Chicago.  Minnesota would get another power play moments later as Nick Leddy gave Heatley a vicious elbow behind the play.  The Wild's power play concept was simple, set up Pominville on the one-timer and while they managed to give him those opportunities he'd just blast shots wide of the goal that helped Chicago by clearing the zone.  Another power play with nothing to show for it was becoming a disturbing trend.  Stoner kept looking for Blackhawks to hit as Bollig avoided being erased by the Wild defenseman on an open-ice hit and then moments after that Stoner delivered a big shot to Nordstrom that drew Bollig's ire as he tried to rough up the Port McNeill, British Columbia-native.  Minnesota was looking to go on the rush at every opportunity as Haula got a step and he'd rifle a snap shot that was blocked aside by Crawford.  The Wild would take a late 'too many men' penalty giving Chicago a power play to start the 3rd period.  It was a frustrating period for the Wild who carried most of the play, outshooting the Blackhawks 17 to 3 but Chicago managed to extend its lead to 2-0 going into the 2nd intermission.  The Wild must get more shots on goal; and while its good to see the team pulling the trigger it isn't going to do much good to blast pucks high and wide all of the time.  Right now, the Wild are beating themselves.  Two lazy penalties by Brodin has resulted in 2 Chicago goals.
3rd Period Thoughts:  The Wild's penalty kill was solid to start the 3rd period, as good active sticks allowed Minnesota to force a few turnovers and they'd escape unscathed.  Minnesota would go back on the attack with its top line of Granlund, Pominville and Parise as Granlund swung a pass out to the point where Stoner blasted a slap shot that Crawford stopped but Pominville would crash the crease and the puck apparently seemed to cross the goal line.  As it was reviewed it was clear that after the save on Stoner's slapper, the puck went off the skates of Pominville and then Chicago's Johnny Oduya and the puck rolled over the line before it was carried back across the line by the glove of Crawford and it was ruled a good goal.  2-1 Chicago now as Stoner got credit for the goal.  As the Wild were feeling good after cutting the Chicago lead in half, and the Blackhawks nearly went back up by two as Ben Smith got behind the Wild defense but his pass to a wide open Kane just failed to connect.  Minnesota would counter with its top line as Pominville set up Granlund for a shot off the rush but he'd chip a shot wide of the mark.  The Wild kept attacking and it was the 4th line that would capitalize where the top line couldn't as Haula picked up a puck in the neutral zone and he'd turn on the jets and fly into the Chicago zone and he'd rip a backhander that was steered aside by Crawford but Dany Heatley would win a battle for the puck and Haula swept it up and then fed a perfect cross-ice pass to Kyle Brodziak for an easy tap in to tie the game at 2-2.  You could sense a level of anxiety in the home crowd as Minnesota was playing with more urgency and desperation but that feeling would subside quickly.  Chicago would re-take the lead just a little under 2 minutes later as Patrick Kane put on a stickhandling and finishing clinic as he stepped around 2 Wild defenders before blowing by Jonas Brodin who was somehow caught flatfooted before lifting a backhander over the shoulder of Bryzgalov to make it 3-2 Blackhawks.  It was an unreal finish, and another ugly effort by Brodin who you could say was a +3 for Chicago.  The goal had Minnesota a bit demoralized and Chicago looked to add an insurance goal as the game started to open up as the Wild started to take more chances.  Minnesota would have another quality chance as Brodziak and Haula worked together to set up Matt Moulson for a quick chance from the slot that was just blocked away by Crawford.  Yet that really was as close as it would get as Minnesota's defense would fall asleep in its own and Smith made a great diagonal deflection pass that found a wide open Patrick Kane for easy tap in goal, 4-2 Chicago.  Feeling desperate, the Wild would pull Bryzgalov with a shade under 3 minutes left in the game as Minnesota took a page out of Patrick Roy's playbook.  It would not turn out that well as Minnesota couldn't hold the offensive zone and then some hesitant play by Jared Spurgeon to step up to challenge Bickell gave the former Oshawa Generals' star the chance to send a puck on goal and he'd bury an empty netter to seal a 5-2 Blackhawks victory.
Ilya Bryzgalov was below average at best, stopping just 17 shots in the loss.  Bryzgalov wasn't able to come up with the game saving stops to keep Minnesota in the game.  While its tough for me to really rip him for not stopping Kane's go-ahead goal in the 3rd period but that's where his team needed him to come up with a great save.  Yet at this point, what other option is there?  John Curry?  Josh Harding?!?!  I'm not that desperate yet.  I think the Wild have to figure it out on their own.  Jonas Brodin had an absolutely awful game.  Two lazy high sticking calls gave Chicago two power play goals and then getting walked by Kane on that aforementioned go-ahead tally was what you expect from a player who seems overwhelmed.  In my opinion, its time to sit him and give Jonathon Blum a chance because can he really do any worse?  Clayton Stoner was terrific; physically punishing and playing smart too as well as Scandella who I felt had a strong game as well.  The penalty kill got ravaged, but the best play for the Wild is to avoid going into the box altogether.
Offensively I thought the Wild got offensive chances from just about all of its lines.  In fact, in the 3rd period, the Wild's best line was its 4th line of Heatley, Haula and Brodziak who used a mix of speed, skill and grit to get Minnesota a chance to pull ahead in this game.  Haula's speed makes good things happen and say what you want about Brodziak's hands in the regular season but he's now tied for the team lead in goals in the playoffs with 3.  The Wild's top line was guilty of not putting shots on goal; how many times did we watch Pominville blast shots high and wide; I thought it was shades of 2004 Pascal Dupuis out there.  The Wild must also manage to make Chicago pay on the power play which also struggled tonight from their inability to put shots on goal to at least force Corey Crawford to make some saves.
Overall this really wasn't all that bad of a game.  I thought Minnesota controlled much of the pace of the game and I certainly felt the Wild are more than able to compete and skate with Chicago.  The Blackhawks don't look nearly as explosive as Colorado did, and I think the lessons Minnesota learned from their 1st round series about stepping up to deny speed through the neutral zone and that helped limit Chicago's offense tonight.  Minnesota has lots to feel good about, and it was its own mistakes that gave Chicago the opportunity to win this game and at the crucial moment its superstar player took over in  way that no Wild player could.  Hopefully they can eliminate those errors in Game #2 and then put more of its shots on goal and I think the result could end up in our favor.
Wild Notes:
~ The Wild roster tonight is as follows: Mikael Granlund, Jason Pominville, Zach Parise, Mikko Koivu, Matt Moulson, Charlie Coyle, Dany Heatley, Nino Niederreiter, Kyle Brodziak, Cody McCormick, Stephane Veilleux, Erik Haula, Ryan Suter, Jared Spurgeon, Jonas Brodin, Marco Scandella, Clayton Stoner and Nate Prosser.  John Curry backed up Ilya Bryzgalov.  Mike Rupp, Justin Fontaine, Raphael Bussieres, Tyler Graovac, Zack Phillips, Jake Dowell, Carson McMillan, Keith Ballard, Steven Kampfer, Jon Landry, and Jonathon Blum were the scratches.  Matt Cooke served the 5th game of his NHL 7-game suspension.
~ The 3 Stars of the Game as selected by Scott Powers were: 1st Star Patrick Kane, 2nd Star Marian Hossa, 3rd Star Bryan Bickell
~ Attendance was 22,116 at United Center.
Wild Prospect Report:
RW – Zack Mitchell (Guelph, OHL) ~ The Storm took a OHL Finals series 1-0 lead on Thursday night with a 3-2 overtime win over the North Bay Battalion.  Mitchell, an alternate captain with the Storm keeps piling up the points as he scored the game-tying goal in the 3rd period.  The Caledon, Ontario-native has 11 goals, 24 points and is an impressive +17 in 16 playoff games this season.