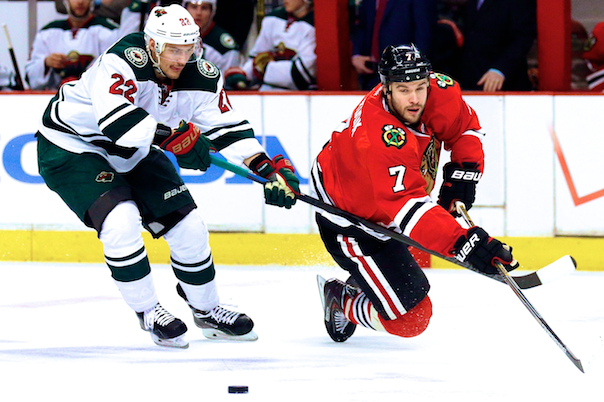 If watch shows like CSI or Bones, you kind of understand the forensic processes of an autopsy.  Sometimes those autopsies occur soon after a person has died, as those at the morgue try to figure out just what happened.  What was the cause of death, when did they die?  Yet there are also times when autopsies are done a very long time after death has occurred and they still seek the answers to those same questions.  I've decided to take the latter approach.  Instead of looking at the Wild's organizational strengths and weaknesses right after it was over against Chicago, I've decided to let the corpse cool off a bit and let my mind think about other things and attempt to come back with an objective viewpoint.  Obviously some of the things the Wild did to change itself in 2013-14 worked out well, while others failed to live up to expectations.  Still, the net result was its best overall result in the last 5 seasons and winning a playoff series for the first time since 2003.
According to CapGeek.com the Minnesota Wild have 17 players signed for the 2014-15 season, but just 7 for 2015-16 so some significant decisions have to be made.  The team has a chance to shape itself in order to best fit what was working for it this season.  Minnesota already made one decision in the days after the conclusion of the season, by entering talks with Mike Yeo over a contract extension.  Not a bad recovery for him when you consider the buzzards that were circling over him this winter; where people expected the axe to fall at any moment.  Yet, we'll still examine coaching as part of the complete organizational autopsy for this season.  What did we find as we picked through Minnesota's innards?
So lets look at this piece by piece as we attempt to determine the cause of the death of the season as well as the relative heath of the various components of the franchise.  We'll start from the top down.
Ownership:  Unless you are horribly uninformed, Wild ownership as its currently led by majority share holder Craig Leipold has done just about all that could be asked of any professional sports owner.  The team has spent money to add high quality free agents and has been near the upper echelon of teams in the league in regards to team salary.  This summer a huge portion of salary comes off the books as the buyout of Mark Parrish finally goes by the wayside as does the compliance buyout of Tom Gilbert.  In addition, the hefty deals of Dany Heatley and Matt Moulson free up nearly $11 million of space as the cap itself goes up by $10 million from a year ago.  Leipold has been a hands on owner who has the same passion for the game as the fans in the State of Hockey, insisting on sitting away from everyone while he watches the game from his own seat with great intensity.  Yet, as far as we can tell he's not meddled with the front office as he's entrusted them to make the necessary moves.  The team has turned the trade deadline into something for the Wild to get excited about, and its clear the standard of expectation continues to rise as it should.  The ownership had to be happy about hosting 6 playoff games this season, but more will be expected next year.   Even though Leipold has claimed the team lost money but seems to be unwavering in his support of the team.  The Wild played to more sellouts in 2013-14 than it did in 2012-13 and that also had to help hold up the bottom line.
Front Office:  Bold and process-oriented as the team keeps its eye on the goal of building a Stanley Cup contender without mortgaging its future.  Wild General Manager Chuck Fletcher continues to demonstrate he's not afraid to pull the trigger on a big move at the deadline as he traded for Matt Moulson, Ilya Bryzgalov and Cody McCormick.  The Wild front office will have nearly $23 million in cap space this summer, which will give the clubs some options to upgrade this summer or it can lock up its collection of young talent.  It has been widely speculated to the point where many believe its a foregone conclusion the team will sign Thomas Vanek to a deal, but Fletcher has hinted the team may pass on expensive free agents with its youngsters having been such a bright spot this season.  Either way, the team has the money to spend if it wants to go in that direction.  The team's trade of fan favorite Cal Clutterbuck to the New York Islanders for Nino Niederreiter is looking like highway robbery so far.  Niederreiter is fast, gritty with great hands and who seems to be on the cusp of being a big time scorer.  His attitude was positive and he's a restricted free agent this summer whom I'd be surprised if the team didn't decide to lock up for the next three seasons.  Fletcher, along with Assistant GM Brent Flahr have done their part to help bolster the strength of its prospect pool by signing highly prized college defenseman Christian Folin as a free agent along with Brady Brassart and Zack Mitchell.  The front office will no doubt look to tweak and improve the roster this summer but what those adjustments will be, remains to be seen.  Just in case you're curious.  Here is a list of the team's unrestricted free agents this summer.
Dany Heatley
Matt Moulson
Cody McCormick
Jake Dowell
Mike Rupp
Clayton Stoner
Nate Prosser
RFA's
Nino Niederreiter
Jason Zucker
Justin Fontaine
Jonathon Blum
Coaching Staff:  The Wild coaching staff looked to be on its way for a major shakeup in late December as the team was mired in a long losing skid, and rumors began to swirl about upset GM's and Craig Leipold stopping by to watch practice.  Some people would've crumbled under the pressure, but Mike Yeo did his best to stay calm and team worked its way out of the doldrums and eventually rode a wave of momentum that carried it to its 2nd straight playoff appearance.  The record of 43-27-12 was good for 4th in a very tough Central Division.  98 points was respectable and the team did not limp into the post-season as it did a season-ago.  However it wasn't all improvements either.  The Wild were 24th in goals scored; so scoring remains a pressing issue for the perennially offensively challenged team despite the fact the lineup featured far more depth this season than it did back in 2012-13.  On the flip side, the Wild were 7th in goals against at 2.42 goals against per game meaning limiting scoring chances is still its calling card.  One area that did not go so well for the Wild coaching staff was special teams where the Wild finished the season 16th on the power play and 27th on the penalty kill.  The power play may not sound all that bad at 16th, finishing at 17.9% but it really was remarkably inconsistent.  It must improve, to not only help augment the Wild offense, but to make opponents pay for their lapses of discipline.  Equally important, the penalty kill took a major step backwards this season, and if that's Assistant Coach Rick Wilson or Daryl Sydor's  responsibility it better improve.  The only coach I think can brag a bit is Minnesota's longest tenured coach in goaltending coach Bob Mason who managed to help keep the Wild's hopes alive despite a crazy goalie carousel all season long.  The Coaching staff is at least safe one more season and it will be interesting to see how long the team extends Mike Yeo in the next few weeks.
Farm System:  It was not for a lack of enthusiasm as the brand new Iowa Wild failed miserably to be a winner despite having the American Hockey League's 10th best in average attendance, averaging 5,883 fans per game at Des Moines' Wells Fargo Center.  The Wild were dead last in goals and finished last in the AHL's Western Conference. In Kurt Kleinendorst's defense, he didn't have a whole lot to work with.  The Wild's AHL affiliate was supposed to be powered by a young core, but that didn't quite go as planned as top scorers Erik Haula, Jason Zucker, Darcy Kuemper were frequently called up as injuries mounted with the big club.  Injuries were also a problem as it was robbed of its most potent early season goal scorer in Brett Bulmer who had a 3rd season marred by a large swath of a season spent on injured reserve.  Zack Phillips led the team's internally developed group with a very modest 12 goals and 33 points in 76 games.  Rookie pros Tyler Graovac and Raphael Bussieres had a few flashes of brilliance but it wasn't nearly enough for the club that scored a scant 169 goals this season.  Because of Darcy Kuemper's prolonged call up, the team leaned on Johan Gustafsson who arrived in Iowa with the accolades of having been one of the best goaltenders in the Sweden's Eliteserien got a tough taste of North American hockey as he sported a 12-20-4 record a 2.98 goals against average and a .903% save percentage.  The failure of the Iowa Wild to make the playoffs meant less games for the team's young players to develop, even those they managed to pick up late in the season like Gustav Olofsson and Kurtis Gabriel.  I have no doubt the organization was not happy about this and will hope to be significantly better next season.
Prospect Pool:  The Wild prospect pool earned some nice kudos from the Hockey News as a group of independent scouts rated the organization 4th in the NHL and gave it an A- rating.  Yet is it really deserving of such praise now that so many youngsters have graduated to full-time NHL service?  The team's top prospect, Mathew Dumba was mostly forgettable in his NHL stint that burnt a season on Entry Level contract and then had a mostly ugly performance for Team Canada at the World Junior Championships.  Dumba was then returned to major junior with the Portland Winterhawks where he put up reasonable numbers through the latter half of the regular season and playoffs before having a terrible series against the eventual Memorial Cup champion Edmonton Oil Kings.  Dumba has some great skills, but he's your classic, high-risk, high-reward player and in my opinion is most likely best suited to being a power play specialist.  Gustav Olofsson wasn't nearly enough to help the Colorado College Tigers from finishing last in the new NCHC.  Olofsson at times demonstrated some great puck skills for a defenseman, but he too suffered from inconsistency.  Mario Lucia had a decent season for Notre Dame, as he was the 2nd leading goal scorer with the Fighting Irish but he's really the only quality goal scorer still in Minnesota's prospect pool.  Christian Folin is a two-way defenseman from UMass-Lowell that brings enviable size and a big shot from the point.  Yet the rest of the prospect pool is mostly devoid of speed and finishers up front and in its collection of defensive prospects lack snarl and tenacity.  Zack Phillips so far has been a disappointment and his lack of speed has really hampered him at being a consistent offensive contributor with the Iowa Wild as he had a modest 33 points in his 2nd professional season.  Tyler Graovac combines height, the ability to dangle and some reasonable finishing ability but has yet to prove he can be an offensive workhorse at the professional level.  Adam Gilmour showed good promise in his freshman year and Avery Peterson was Minnesota's Mr. Hockey this year before having a solid playoffs for the Sioux City Musketeers of the USHL.  Kurtis Gabriel had a strong season for Owen Sound, but I am not sure I'd call him a budding power forward.  He is a workout fanatic, which is good but he may not have the hands to be a real reliable finisher at the pro level although he did ok in a late-season stint with Iowa.  Nick Seeler, Dylan Labbe, John Draeger, Carson Soucy and Nolan DeJong are all blueliners who can make a good first pass but are not overly physical.  I think the prospect pool is ok, but still years away from providing the team an impact player.  Alexandre Belanger is the only real goaltending prospect beyond Johan Gustafsson.  Belanger had a reasonable season with Rouyn-Noranda (QMJHL) going 28-21 but his 3.23 goals against average and .881% save percentage may not instill a lot of confidence.  Restocking the prospect cupboard is a must.
Forwards:  It was an interesting season for the Wild's forwards who battled through injuries in the top 6 to have a respectable season.  Zach Parise and Jason Pominville really paced the Wild's offense by providing the much-needed goal scoring punch with 29 and 30 goals respectively.  Unfortunately, after that it was more of a scoring by committee effort.  Dany Heatley steadily faded out of the lineup and provided just 12 goals for $7.5 million and its a foregone conclusion he won't be back.  Mikko Koivu had 54 points but he must find a way to provide more than a scant 11 goals.  I don't care how great of a playmaker you are, but $6.75 million for a guy to score less than 15 goals in a season is just wrong.  Mikael Granlund was a revelation at center, where the hard work he put in over the summer paid off big time as he had the quickness and strength to be effective.  Granlund had great chemistry with Pominville and Parise, and hopefully he can build on from the 41 points he had this season.  Beyond that the Wild had sporadic bursts of goal scoring from its younger players like Nino Niederreiter, Charlie Coyle and Justin Fontaine.  The potential is certainly there for more goals, and if the Wild really want to keep moving forward they're going to have to improve on their 2013-14 totals.  Matt Moulson was brought in to provide some late-season punch but got hurt and was a shadow of himself in the playoffs before ending up on injured reserve.  While a lot of talk is about Thomas Vanek who is going to have a ton of money directed at him this summer as the top free agent; but perhaps Matt Moulson should be offered a very limited (not more than 3 years deal) and let him establish some chemistry and then judge where you want to go with him.  Its tough to completely judge Moulson, because his linemates seemed to be different with each shift.  Another player that really stepped up; especially in the final weeks of the season and the playoffs was Erik Haula.  Haula impressed with his speed and versatility as well as his ability to finish his chances off the rush.  Expect him to have an expanded role next season.  Another player that provides a bit of a conundrum for the Wild is Jason Zucker.  Zucker has the speed and skill to be a dangerous player but his lack of attention to his defensive game quickly puts him in the doghouse with the Wild coaching staff and so far he looks to be the odd man out.  His knee injury is said to have been pretty bad, so it will be interesting to see what the team does with him as he is an RFA this summer.  Kyle Brodziak must be better than the 8 goals, 24 points he had at $2.83 million no matter if he's playing on the 3rd or 4th line.  Matt Cooke had a good start but was mostly a non-factor scoring-wise throughout the rest of the season.  Cody McCormick is a UFA, but had a strong performance in the playoffs as an energy player and penalty killer.  I'd imagine the team would try to sign him back.  The forwards are as good as the team has had in a long time, but there is still plenty of room to grow from a club that was 24th in the NHL in goals scored.  Ultimately in the playoffs, it was a lack of scoring that did the Wild in against Chicago and the team needed more from its best players than it got in that series.  The forward group was at its best playing a fast, forechecking style of game that forced turnovers with good puck pressure.  It was often quite noticeable when the team used its slower  forwards its forecheck suffered and the team would be wise to keep this team as fast as it can.
Defensemen:  The team again leaned heavily along Norris Trophy candidate Ryan Suter as one would expect, as he played just a shade under 30 minutes per game.  Towards the 2nd half of the season, Suter seemed to get caught at times trying to conserve his energy as his overall effectiveness was reduced.  Suter's 43 points was 4th best on the team and the Wild would be well-served providing him some more support so he doesn't have to log such heavy minutes.  Suter's one-time partner, Jonas Brodin took a step back in his sophomore season.  Especially after he suffered a broken jaw early in the season, the steady patience that typified his rookie campaign seemed to mostly disappear.  Brodin began to use the boards and glass more instead of the tape-to-tape passes and it was clear he was a little gun shy of getting hit.  Opposing teams took advantage of that and his effectiveness was greatly reduced.  Although it was a bit of a bright spot to see that Brodin had 8 goals gives you an idea of the offensive potential that was speculated when the team drafted him in 2011.  He must improve his game next season.  Jared Spurgeon is well-liked by the Wild coaching staff and he really is the closest thing the team has to an offensive defenseman, but at times he can be very effective moving the puck and manning the point but at others his lack of size is exposed as he can't seal off opposing skaters from the puck.  Marco Scandella seemed to raise his game as the season went along and while his offensive production hasn't quite turned out to be what some expected, his physical game has improved and his ability to move the puck continues to be an asset.  It will be interesting to see if the team decides to bring back Clayton Stoner; who is the lone physical defender the team has but he has been a loyal soldier since the team drafted him back in 2004.  Stoner really threw his weight around in the Chicago series, but the team could use another defenseman with that kind of game.  There are free agent options out there that fit that skillset (Brooks Orpik, Matt Greene).  Christian Folin and Mathew Dumba will get a long look at training camp.  If I had to guess, Folin gets a shot out of camp, but an upgrade at defense would certainly help Suter from having to log all of the important minutes.
Goaltenders:  This is the area of great dysfunction and instability only surpassed in Minnesota sports by who is going to be the starting quarterback for the Minnesota Vikings.  The team started the season with Niklas Backstrom as the planned starter but he struggled and was supplanted by Josh Harding who was perhaps the best goaltender in the NHL in the 1st half of the season before an adjustment to his medication to help treat his Multiple Sclerosis put him out of action.  Backstrom then found himself out soon thereafter with a hip injury that required surgery prompting the team to put its hopes onto the shoulders of Darcy Kuemper.  Kuemper was outstanding providing the stable play between the pipes that Backstrom couldn't seem to muster.  In the meantime the team traded for Ilya Bryzgalov to be his backup, and this proved to be a prudent move as he ended up being the default starter after Kuemper suffered a concussion in practice.  Some fans wanted to blame Bryzgalov for the series loss against Chicago.  Yet his numbers are far more respectable than Backstrom and slightly better than Kuemper.  The Wild must solidify this position so they can avoid the carousel it had to deal with in 2013-14.  Bryzgalov may not be a bad backup option no matter who they tab as the starter.  I can't see the team looking to spend big money on a Ryan Miller or even a Martin Brodeur considering its other needs.    Whether its fair or not, I think its safe to say the Wild must assume that Harding cannot last an entire season and so if it wishes to push forward with him it must have a Plan B and C in mind.  Such options are not all that desireable as Backstrom cannot be bought out using a compliance buyout because his contract was signed after the new CBA was reached.
Simply put, the Wild must shore itself up in all 3 of its major positions.  While some areas need more work than others the team must make those improvements if it wishes to take that next incremental step forward towards being a legit Stanley Cup contender.  It must make improvements to its offense and strengthen itself between the pipes if it wants to keep moving forward.