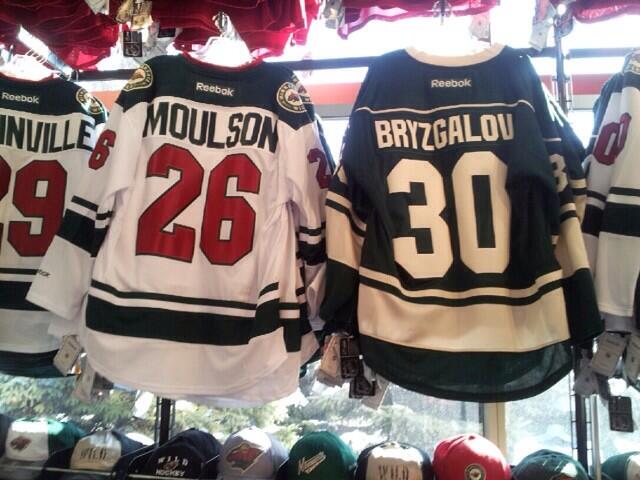 For a while, it felt like the big deal for the Minnesota Wild was the one that brought Ilya Bryzgalov to St. Paul. As the deadline clock ticked away, I think many fans around the league were like me. I thought that the big names of Matt Moulson, Tomas Vanek and Ryan Kesler must have price tags attached to them, prices that were too steep for most teams. Especially with Vanek, as he will most likely be a free agent target come the off-season. While there is a contigent of Wild fans that are drooling over the thought of having Vanek in a Wild jersey next season, it made absolutely no point to trade for a guy when you can essentially get him for free this summer. I had a bad feeling however, that Wild General Manager, Chuck Fletcher would end up making a pricey bid for Vanek. With that in mind, I had to change my thought process when the rumors on Twitter started tying Moulson, and not Vanek, to the Minnesota Wild. Of the players available, that was the one that was the most interesting. Or was it?
Click on "Continue Reading" for the rest of the article…
Minnesota will be the third stop this season for the 30-year-old winger from Ontario. He started off the season on Long Idland, and lasted just 11 games this year after spending the past four seasons with the Islanders. He was part of the big trade early in the season with the Buffalo Sabres that sent Moulson to Buffalo and Vanek to Long Island. Between his stints in New York and Buffalo, he played 55 games and scored 17 goals and 21 assists. As crazy as it sounds, that puts Moulson in the top five points-wise for a typically offense-starved Minnesota Wild. With this trade Buffalo and Minnesota, you start to wonder if there will be a trend for these two teams to make future moves with them, and possibly big moves. Last season's trade deadline saw the big move of Jason Pominville to Minnesota. In fact, the moves two trade deadlines in a row, remind me of the days when Minnesota was "West Jersey" when several moves would happen between the Wild and Devils.
Coming along with Moulson, is Cody McCormick. The Ontario-born center has spent the past four seasons in Buffalo after spending the previous seven seasons in the Colorado Avalanche organization. It was Colorado that drafted McCormick in 2001. The best part of McCormick's game, is that he will bring energy to his teammates and be a pain to play against. If you need a player to compare him to, just look to Colorado's Cody McLeod, where provides solid cruiserweight toughness with a 6'2", 224lbs frame. Do you remember when the Avalanche had the two Cody's and what a pain they were to play against? Well, we just added some grit and determination to a team that desperately needed a scrapper. Minnesota has been way too soft for too long. Mind you, we're not getting a true enforcer, but we definitely needed someone not afraid to get dirty.
Thankfully, Minnesota didn't give much up to acquire Moulson and McCormick. Going to Buffalo are Torrey Mitchell and a second round pick in 2014 and a second round pick in 2016. Better yet, gone will be Mitchell's $1.9 million cap hit on top of the fact he was unhapy playing in his current 4th line role. Minnesota has hovering near the ceiling, and they needed to shed some payroll in order to secure players now and in the future. What has pleased me most about this move, is that Fletcher didn't trade away prospects, like we did last season to acquire Pominville. In fact, if you read various quotes by Fletcher, especially on Twitter, he said propects were completely off the table when it came to picking up players. That's not to say other teams weren't calling Fletcher, with their eye on some of the young guys in the system. Fletcher specifically said teams had asked about Mathew Dumba, Gustav Olofsson, and Kurtis Gabriel (who the Wild just signed a few days ago). Fletcher also stated that trading the first round pick was not an option either. It was nice to see a general manager stand his ground yet at the same time managed to acquire good things for the team. When you listen to the talking heads in hockey, they've pretty much said that the acquisition of Moulson and McCormick, for the little they gave up, is probably one of the best moves in the National Hockey League. Now, it just has to prove beneficial where it truly counts: the regular season standings and the playoffs.
Now for a little light-hearted moment. If you wanted a giggle over today's flurry, I have to laugh at the Los Angeles Kings. If you think Marian Gaborik and his "glass groin" are the "missing piece" to your season, I think there's a bridge for sale somewhere. Enjoy Gaborik and the Tale of the Groin. It's one of those stories that just doesn't have a happy ending.