Conspiracy theories, the home of crackpots, the paranoid or genius' who see the world for what it really is?  I know this probably all sounds cliche, but I would not count myself as one of those who buy conspiracy theories even though I have been known to watch a few programs that love to promote them.  One thing is for sure; those types of shows are immensely popular, especially if you watch the History Channel these days.  America Unearthed, Ancient Aliens, Brad Meltzer's Decoded all promote conspiracy theories that say the truth is being hidden for all kinds of diabolical purposes.  The shows often cannot prove the claims they make but simply do their best to ask its viewers to consider 'what if'?  The 'evidence' they attempt to illustrate is often fleeting, speculative or downright questionable at best.  So after I managed to calm down a bit after the Wild's Game #5 loss in overtime at the hands of the Colorado Avalanche I tuned into NHL Network to watch their NHL Tonight highlights program.  Something wasn't right about the coverage.  The narrative they wanted to portray of the Avalanche was obvious.  A really young and dynamic team with wunderkind Nathan MacKinnon simply was way too good for the unexciting Wild to defeat.  The highlights highlighted elements of Colorado's speed and focused primarily on the game-tying and game-winning goals.  This would make sense if you were watching a Colorado broadcast.  Ignore the not so great moments of the opponent and do your best to portray your team in the most positive light possible.  But this wasn't a Colorado broadcast, it was an NHL one.  Or was it?  Has the NHL decided it wants Colorado to be in the playoffs more than the Minnesota Wild?  Even rather neutral observers like John Buccigross and Jeremy Roenick were posting the Wild got jobbed.  Meanwhile Avalanche sympathizers like 'unbiased' ESPN journalist Pierre LeBrun were falling over themselves to give kudos to Nathan MacKinnon writing a story about Colorado's tremendous domination of the game.  But did that happen?  Did Colorado dominate or were they given tremendous assistance by the supposedly neutral NHL officiating crew?  Gabriel Landeskog shoves away an official not once but twice, which according to league rules 40.3 says the following.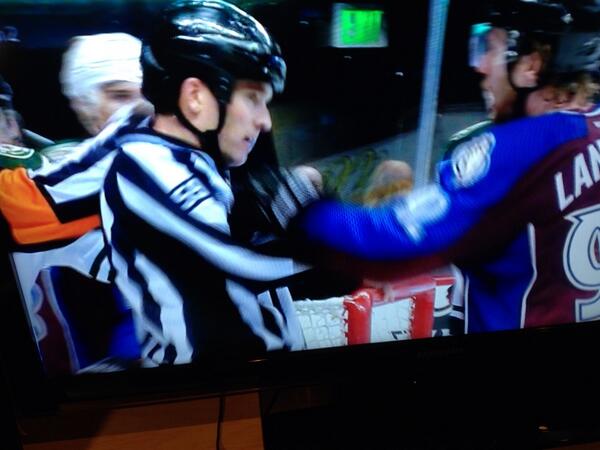 40.3 Automatic Suspension – Category II – Any player who deliberately
applies physical force to an official in any manner (excluding actions
as set out in Category I which stated that players intend to hurt the official), which physical force is applied without intent
to injure, or who spits on an official, shall be automatically suspended
for not less than ten (10) games.
Or how about offsides as the Avalanche clearly were on what became the game-tying goal as proven by this picture down below.
Or how about the play that led to this offsides non-call?  The blatent holding by Andre Benoit on Charlie Coyle as he was racing for a puck to have a chance to direct a puck on an empty net?  The comedy of errors made by the officials should concern anyone who cares about the integrity of the league.  But was it even brought up by NHL Network?  Nope.  The NHL knows who it wants to promote.  A fast, high-flying youth filled group to a market that has suffered through flagging attendance and declining interest the last few seasons.
The league likes the later start times that it can stagger against the Eastern Conference games.  Minnesota may have a loud, knowledgeable following but it doesn't make people want to watch games.  Colorado can sell the high flying club, its colorful rookie coach who knows the league will do all it can to help his club out.  But talk to Wild Head Coach Mike Yeo, he's doing all he can to get his club to ignore the inequity of it all.  "It is what it is" Yeo said after Game #5, and in all honesty that's all Minnesota really can do.  Conspiracy theory about the league paving the way for Colorado or not, all Minnesota can do is put its collective nose to grindstone and work hard and hope they'll be rewarded to overcome anymore shenanigans from the officials.  Will Minnesota send this series to a Game 7 or will Colorado finish this one off in six?
1st Period Thoughts:  The Avalanche would take an early penalty as Nathan MacKinnon was given a holding call as he water ski'd as Charlie Coyle skated after a puck before he was leveled by a blindside hit by Paul Stastny.  MacKinnon would sit in the box, and Minnesota went on the power play and they'd make the most of it.  Some great early passing and some nice hustle to hold the zone as Ryan O'Reilly's clearing attempt failed to make it out of the zone and this led to a cross-ice pass that was one-timed on goal by a pinching Ryan Suter that deflected off Zach Parise's leg and in.  1-0 Wild.  The crowd was thundering as the Wild followed up the goal with another fantastic shift as its 3rd line would create a breakaway as Nino Niederreiter turned on the jets to step around an Avalanche defender but he was stonewalled by Semyon Varlamov.  The line kept working hard, keeping Colorado bottled up in its own end as the puck was worked out to the point where Jared Spurgeon blasted a slap shot that was steered aside by the Avalanche goalie.  The Avalanche were finally able to calm things down and they'd try to go on the attack while Minnesota had its 4th line out and Darcy Kuemper would come up with two nice saves but the Wild's Dany Heatley would get tagged for slashing Patrick Bordeleau.  Colorado found time and space difficult to comeby in the Wild's offensive zone, as Minnesota was doing a fair job of denying the middle of the ice.  The Avalanche did manage to set up Jamie McGinn for a hard shot from the left faceoff circle only to see it snagged out of the air by Kuemper's glove.  Minnesota would get the kill, but more penalties would be called as Gabriel Landeskog got into it with Erik Haula near the Wild bench.  The game would open up a bit 4-on-4, but both clubs were finishing their checks and hoping to cause a mistake.  Minnesota would find itself on its heels a bit against the speedy Avalanche but Kuemper was solid when the team needed him to be.  Minnesota would go back on the attack 5-on-5 and the top line would enter the zone with speed as Zach Parise dropped a pass back to Mikael Granlund and he'd fire a wrist shot that beat Varlamov 5-hole to give the Wild a 2-0 lead.  Colorado would earn another power play as Mikko Koivu bumped into P.A. Parenteau that was called a trip by NHL referee Gord Dwyer.  The Wild's penalty kill was again rock solid, denying the middle of the ice as well as the cross-ice passes that Colorado wanted to execute and Minnesota would battle hard along the wall to clear the zone.  With another kill behind them the Wild tried to go on the attack and they'd have a short-lived 3-on-1 as Koivu exited the penalty box but unfortunately he was unable to thread a cross-ice pass to Zach Parise but they'd draw a penalty as Cody McCormick was slashed by Stastny.  On the power play the Wild would work the puck down low and try to jam it near the right post but Andre Benoit tried to flip the puck out of the glass but he'd lift it up and into the netting behind the Colorado goal for a delay of game penalty.  This gave the Wild a long 5-on-3 power play.  Unfortunately, they didn't do much with it.  The puck movement was too slow and the player movement was non-existent that allowed Colorado to stay in a tight triangle around the goal.  Minnesota would attempt a few shots from the point by Ryan Suter that were easily blocked by the Avalanche defense and as the 5-on-3 expired a shot block turned into an easy breakaway set up for Stastny.  Stastny would have at least 20 foot lead on Suter as he vainly tried to chase him down and he'd rip a wrist shot underneath the stick-side arm of Kuemper to cut the Minnesota lead in half, 2-1.  It was a painfully predictable shorthanded goal by a power play that has been an absolute nightmare 5-on-3 all season long.  The Wild wasn't able to get anything else done on what was left on the man advantage.  Minnesota would have two more great opportunities in the closing minute of the period as Matt Moulson came with in inches of scoring, and then moments after that it was Justin Fontaine setting up Haula on the doorstep that forced Varlamov to come up big.  The crowd gave Minnesota an appreciative cheer for the effort in the 1st period, but it was a huge opportunity blown by the Wild to potentially go up by 3 instead see the two goal swing trim their lead to one.  Champions put the foot on the throat and put their opponents down by 3, not botch a 5-on-3 as badly as Minnesota did.  I hope that doesn't come back to haunt them (knock on wood).
2nd Period Thoughts:  The Wild started off the 2nd with some sloppy play and some poor decisions with the puck as Colorado was firing shots from all over.  At times it seemed as thought the Wild were passing pucks into the Avalanche defenders and thwarting their own potential chances.  Minnesota's problems continued as Moulson would slash the stick out of MacKinnon's hand.  The Avalanche were bringing pressure right away as Stastny redirected an Erik Johnson shot that was held onto by Kuemper.  The Wild's penalty kill had chances to clear the zone as Granlund blocked a shot from the point where instead of just chopping it out of the zone he'd try to skate to it which allowed Colorado to hold the zone.  The Avakanche got Minnesota's penalty kill to scramble and this opened up some shooting / passing lanes as O'Reilly threaded a cross-ice pass to a wide open Nick Holden for an easy tap in goal suddenly it was a 2-2 tie.  With the momentum clearly not working in the Wild's favor, Minnesota would try to re-take the lead as Nino Niederreiter was like a man possessed with the puck down low as he put his shoulder charged and barreled towards the Colorado crease but couldn't manage to get a shot in behind Varlamov.  In fact, towards this portion of the game Minnesota's best line was its 4th line of Heatley, McCormick and Kyle Brodziak.  I thought they had the best hustle and seemed to give Colorado the most problems.  Slowly the Wild started to change up its lines as it brought back together the line of Koivu, Coyle and Parise.  Penalties would help neutralize some of the energy the Wild were building up late in the period as Moulson and Parise would get tagged with coincidental minors in quick succession depriving Minnesota of some its most dangerous forwards for two depth defenseman by the Avalanche in Holden and Benoit respectively.  The Wild had to feel a little frustrated as the period ended where Colorado was taking advantage of its opportunities to tie the game.  Minnesota needs to be a little less picky with its shots and hope by shooting the puck it can lead to other opportunities.  If I was Mike Yeo I'd strongly consider using Niederreiter on the power play as he looks hungry and seems to be able to make the types of play that will yield second chances for Minnesota to pounce on.
3rd Period Thoughts:  The 3rd period had a cautious feel to it, as both clubs were wary of making a big mistake as the Wild and Avalanche were content to wait to see who blinks first.  Minnesota slowly started to ramp up the pressure as a good forechecking effort led to a shot from the point by Jonas Brodin that was gloved by Varlamov.  The Wild would suffer a set back a few minutes in as the Avalanche were able to bottle up Minnesota in its own end that ultimately led to Clayton Stoner earning a cross checking penalty for knocking down Maxime Talbot.  On the man advantage the Avalanche controlled the zone as Minnesota tried to stay close to its goaltender hoping to sweep away dangerous pucks but in the meantime they gave up some great chances as McGinn just barely missed wide right.  Minnesota was really laboring to clear the zone and they had just barely enough to earn the big kill.  The Wild would go back on the attack and it was a modified 2nd line of Granlund, Pominville and Niederreiter who again was putting on a clinic on how to handle the puck near the boards as he tried to set up teammates as he attempted to split a two-on-one only to be tripped up to no call.  Minnesota was working awfully hard, but it wasn't yielding much in the way of shots on goal.  However they continued just battling hard along the wall and their persistence would be rewarded as a battle for the puck won by Ryan Suter near the Colorado blueline was worked to Mikko Koivu who wound up and hammered a slap shot that was deflected by Parise and in to give Minnesota a 3-2 lead.  With the sellout crowd roaring, the Wild kept hustling and forcing the Colorado to earn every inch of ice.  The fans, who were trying to rally the team to finish strong would rain down boo's on an obvious tripping call by Stastny on Coyle as they battled for a puck in the right corner of Minnesota's zone that was not called.  A few minutes later, Darcy Kuemper caused Wild fans' hearts to skip a beat as he casually played a puck that would deflect off a skate of Haula and move perilously towards the goal before Haula was able to carry it out of danger.  Patrick Roy would pull Varlamov with 2:44 left in the period as he has throughout the series.  Its a bold move, but Minnesota has yet to make Colorado pay for being that brave.  Yet this time would be different as Minnesota would score not one, but twice on the empty net as the Wild outworked Colorado for the puck and Jason Pominville and later Marco Scandella found the back of the Avalanche goal to seal a 5-2 victory.  In the closing seconds, Nate Prosser and Cody McLeod as well as Clayton Stoner and Patrick Bordeleau got into it but Minnesota was happy to extend the series to a seventh game.
Darcy Kuemper had reasonable game, stopping 21 shots in the victory.  Kuemper did a good job at controlling his rebounds and came up with some nice glove saves on some scrambly penalty kill efforts.  The penalty kill did finally give up a goal on Holden's 2nd period tally, but it just goes to show you how clearing the zone when you have the chance is so crucial to success.  Defensively, its all about the little things.  I thought Marco Scandella had a terrific game tonight, and Ryan Suter rebounded nicely after getting caught pinching on Stastny's shorthanded goal.
Offensively the Wild made some nice adjustments to keep up their offensive pressure.  It was good to see the coaching staff recognize Nino Niederreiter being in the zone tonight; as he was a force to be reckoned with down low, hitting people, shooting the puck and making good things happen on each shift.  Minnesota's patience and strong play along the boards is where the Wild have been able to create their offensive chances and tonight was no different.  A little traffic in front of Varlamov has made him beatable and Zach Parise scored the kind of goals you'd expect from him.  I still need to think the Wild utilize more player movement and more play down low on the power play.  The Wild are fortunate the missed opportunity on the 5-on-3 and the shorthanded goal that resulted shortly after that didn't come back to haunt them.  Minnesota still certainly has some room for improvement.
More good resilience from a group that has shown it can circle the wagons when it needed to to dig out a victory.  I thought Minnesota got great efforts from a wide variety of different areas.  I thought Dany Heatley had a decent, and shockingly physical game tonight.  It was good to see the Wild turn Patrick Roy's pull the goalie early trick on its head this evening.  Minnesota played with a little more desperation in those closing minutes and that is why they cashed in with the empty net.  They willed themselves those chances they didn't earn in Game #1 and Game #5 respectively.  Now they have to get one more victory on Wednesday.
Wild Notes:
~ The Wild roster tonight was as follows: Mikael Granlund, Jason Pominville, Zach Parise, Mikko Koivu, Charlie Coyle, Matt Moulson, Justin Fontaine, Erik Haula, Nino Niederreiter, Kyle Brodziak, Dany Heatley, Cody McCormick, Ryan Suter, Jared Spurgeon, Jonas Brodin, Marco Scandella, Clayton Stoner and Nate Prossser.  Ilya Bryzgalov backed up Darcy Kuemper.  Mike Rupp, Stephane Veilleux, John Curry, Jake Dowell, Carson McMillan, Zack Phillips, Tyler Graovac, Raphael Bussieres, Jon Landry, Steven Kampfer and Jonathon Blum were the healthy scratches.  Matt Cooke served the 3rd game of his 7-game NHL suspension.
~ The 3 Stars of the Game as selected by Wild.com were: 1st Star Zach Parise, 2nd Star Mikael Granlund, 3rd Star Nino Niederreiter
~ Attendance was 19,314 at Xcel Energy Center.
~ The State of Hockey News would like to congratulate Team USA's U-18 hockey team on its gold medal performance in the U-18 World Championships this weekend by defeating Czech Republic in the Championship 5-2.  Minnesotans Shane Gersich, Ryan Collins and Jack Dougherty represented the State of Hockey well.