Its finally a little quiet around the Minnesota Wild as the offseason moves to its yawning summer nap-time days as free agency moves are almost nil and NHL players are probably finally enjoying a little time on the lake or on the links.  This means there is precious little to really discuss for those hockey die hards that enjoy clamoring about team message boards.  Yet even in the tedium of debating the merits of the signing of Cody Almond to a 1-year, $550,000 one-way contract to an inane level, good ideas can still be born there.  One poster on the Wild.com message boards, icechipper made a comment about an All Time Obscurity Team.  That got me thinking, what exactly would an All Time Wild Obscurity Team look like?  I immediately raced on over to HockeyDB.com to take a long look at the Wild's all time roster here.  I had a ton of one game wonders to choose from and while that might be nice for some odd trivia contest I wanted to raise the level a bit.  Its far too easy to pick on the players who just got their NHL 'cup of coffee' and then were relegated back to the minors never to be seen (in the NHL at least again) like Chris Armstrong, Mike Matteucci, Petr Kalus, Christian Matte, Daryl Laplante, Danny Irmen or Tomas Mojzis.  The players on this list had to be players the Wild at least started their respective season with.  Also, they could not be players traded to them and then ended up not being signed at the end of the season so that disqualified guys like Erik Christensen, Hnat Domenichelli, Jeremy Stevenson, Dan Fritsche, Eric Chouinard, Roman Simicek, Jason Wiemer, etc.  I will also not delve into the list of players the Wild selected out of the NHL Expansion Draft either; so don't expect to see Joe Juneau, Mike Vernon, Jeff Odgers on the list either.  I realize I probably already have named a nice little list of obscure Wild players, but we're looking for the Best of All Time OBSCURE list.  These are the players you'll almost never hear discussed by fans that don't closely follow the Wild.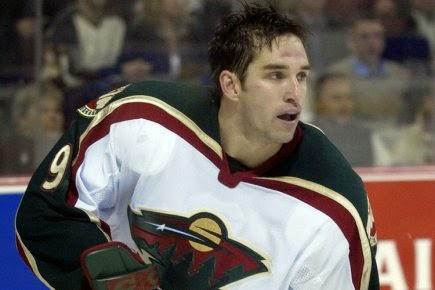 Preferably, a player had to play at least a full season for the Wild, and as stated before started the respective season with the club.  Players had to have played a minimum of 13 games in the NHL with two exceptions which I'll get to when I discuss him later in the article.  Goaltenders are a bit different and I guess you could say I opted for guys who more or less had a small amount of starts with the team that you've probably never heard of or have long forgotten.  Spoiler alert, I didn't take emergency call ups Paul Deutsch or Rob Laurie either because unless you play in at least 2 games it doesn't count.  So if you would permit me to slide a bit on my rules for these puck stoppers I'd appreciate it.  I also tried to build this group of 20 players like a team; where I had skill on the top two lines, speedy or gritty players on the 3rd and toughness on the 4th line.  I do not expect to see some powerhouse, afterall its meant to be obscure so this would probably be a pretty ugly Wild team if it had ever existed in this way.  With each player I list I will give a brief description of his playing career with the Wild, maybe some stats if needed to get an idea kind of how the player sort of fell into obscurity as well as where they might be right now.   I hope you enjoy the journey down memory / obscurity lane!
Minnesota Wild All Time Obscurity Team
Pellerin-Robitaille-Daigle
Brandner-Patera-Krivokrasov
Stewart-Bordeleau-Muckalt
Nazarov-Smith-Weller
Hill-Bergeron
Lundin-Tjarnqvist
Brown-Henry
Gustafson
Dubielewicz
Forwards
C – #25 Randy Robitaille (2005-06) – The 'other' (or 'wrong') Robitaille spent his time bouncing from the 2nd and 3rd lines for 67 games during the team's 'evaluation year' in 2005-06.  Robitaille got decent minutes on both the power play and penalty kill but still managed just 12 goals and 40 points in 67 games.  While it was perhaps one of his best chances to stick with an NHL club he simply did not score enough for a guy playing in a Top 6 role and the team let him go that next summer as the organization made some pretty serious upgrades to the roster.  He is pretty used to traveling as he has played for 9 different NHL teams over the course of his career.  The Ottawa, Ontario-native who is not related to Hall of Famer Luc Robitaille in anyway is now plying his trade in the KHL.
C – #23 Pavel Patera (2000-01) – The Wild took a little gamble on Patera when they dealt Brad Lukowich to Dallas who they had selected in the NHL Expansion Draft.  Since this trade occurred before the start of its first season I still figured it fit into my requirements.  He was said to be a skilled scorer who had put up decent numbers in the Czech Superleague, but he wasn't nearly as explosive in the NHL and after scoring just a single goal in 20 games the team had seen enough to let him make his way back to Europe.  I could've tabbed a few different European players whom the team gave NHL auditions to that first season in Maxim Sushinsky and Peter Bartos but Patera is by far the most obscure of the group.
C – #71 Sebastien Bordeleau (2001-02) – Perhaps looking for a little offense the team gave the speedy Vancouver-native a try early in the 2001-02 season.  In fact as I attended a pre-season practice I remember being a little excited about his potential, but he didn't quite deliver the offense as expected and was dealt away in a minor deal.  Yet he is responsible for one great piece of Wild trivia.  He is probably the only and may ever be the only Wild player to have scored his only goal with the team on a penalty shot, in the season opener against the Los Angeles Kings.
C – #17 Wyatt Smith (2006-07) – The former Warroad and Minnesota Golden Gophers star was probably not meant to log in a lot of games back in 2006-07 season where he anchored the 4th line.  It probably dates me a bit that I can remember watching him play in the Minnesota High School Hockey State Tournament, but his performance with the Wild was hardly noticeable with 3 goals and 6 points in 61 games.
RW – #9 Alexandre Daigle (2003-06) – The former 1st Overall pick back in 1993 he struggled to live up to expectations and the pressures that come with it.  After leaving the NHL to try his hand at acting, Daigle tried to make his 'comeback' in the State of Hockey the year after its memorable playoff run.  The Wild hedged their bets by signing Daigle to a 3-way deal.  You know an organization really has faith in you when they make sure they're not going to overpay you to play in the ECHL.  That season, contract talks between the Wild and Marian Gaborik as well as Pascal Dupuis stalled and Daigle suddenly found himself as the go-to guy in Minnesota.  Like a good actor, he improvised and did his best and wound up leading the team with 20 goals and 51 points in 2003-04.  After the NHL lockout, the team kind of soured on him and he was frequently scratched.  The Wild eventually traded him to the Kings in 2005-06 but that was it for his time in North America.  He would play the next four seasons in Switzerland before retiring from hockey altogether in 2010.
RW – #25 Sergei Krivokrasov (2000-02) – The Wild signed the former 1st round pick of the Chicago Blackhawks after selecting him in the NHL Expansion Draft.  He was a player known to be enigmatic, moody in an odd way and perhaps the most dangerous player on paper for the inaugural season of the Wild.  Unfortunately he was more enigmatic than productive and put up a paltry 7 goals in 54 forgettable games.  Oddly enough the team let him go that summer only to trade back for him early in the 2001-02 season where he again was mostly a non-factor.  After the 2001-02 season he'd return to his motherland where he then played 7 more seasons before trying his hand at coaching minor-league hockey.   He wasn't that great behind the bench as he was replaced midseason after leading his club to a 13-15 record.
RW – #16 Bill Muckalt (2002-03) – This is my first exception to my rule about games played.  Muckalt started the 2002-03 season with the Wild, and got off to a fast start as did the team as he surprised just about everyone with 5 goals and 8 points in 8 games.  Unfortunately he'd suffer a season-ending shoulder injury during the season that was to become the most remarkable season in franchise history to date.  When Muckalt was able to return the team felt it wanted to go in a different direction and he was relegated to the Houston Aeros the next season but only played in 9 games before calling it quits.  He is currently an assistant coach with the Michigan Tech Huskies.
RW – #12 Craig Weller (2008-09) – Minnesota felt it needed toughness after its playoff series against the Anaheim Ducks so it added 6'5″ winger Craig Weller to the line.  The team still had super heavyweight Derek Boogaard but it was hoped Weller could be that intimidating presence while Boogaard nursed nagging injuries.  Weller did not deliver a lot of points, and when he finally decided to drop the gloves it turned into a complete disaster.  He was thoroughly obliterated by Edmonton's Sheldon Souray, and whether it was Souray's prowess as a fighter or the plastic brace he had on his wrist he dropped Weller and left him concussed (you can watch the fight in the clip below).  Weller would not play another minute for the Wild or the NHL.  Once he was healthy he was dealt to the Boston Bruins in the Chuck Kobasew trade and then played the rest of the next season and a half in the AHL before going on to play in Europe.  He retired from hockey in 2013.
LW – #33 Scott Pellerin (2000-01) – Who was the Wild's leading scorer in its inaugural season?  To those of you who guessed Marian Gaborik you're wrong.  Gaborik's 36 points were tops on the team of those players that remained but in terms of total points scored as a member of the club that season, its Scott Pellerin's 39 points is at the top of that list.  Pellerin was selected by the Wild in the Expansion Draft from the St. Louis Blues where he had been a key 3rd liner.  With increased ice time and a two-way game he quickly gained the trust of Jacques Lemaire who used Pellerin in all situations including on special teams.  While his 11 goals were not all that great, on a team starved for offense Pellerin was Minnesota's most consistent player in that first year and when the team traded him to the Carolina Hurricanes some fans (like myself) were actually a little upset at the paltry return the team received in exchange for its leading scorer; a 3rd round pick (which became Armands Berzins) and the best Wild prospect (in name only) ever Ashkat Rahkmatullin.  Few at the time realized that Pellerin was perhaps getting the worst part of the deal.  Instead of being a key player on a team of castoffs like the Wild were he now found himself back on the 4th line and he struggled in that transition.  He'd bounce around to Boston, Dallas, Phoenix and St. Louis before retiring in 2004.  Pellerin is not out of hockey though, as he served as an assistant coach with the Manchester Monarchs of the AHL for 6 seasons before becoming the bench boss with the Bridgeport Sound Tigers the last two years.
LW – #26 Christoph Brandner (2003-04) – Maybe the most notable thing about Christoph Brandner is the fact I decided to buy my partner in crime a jersey with his name and number on it (that we still have).  I kid, I kid (I wish I was kidding about the jersey, I still have it).  But seriously, the Wild were in need of skill and size, and with ownership demanding the team keep a frugal payroll at the time the team was forced to be creative.  This time they decided to draft an young European league star in Austrian-born winger who had been tearing it up for the Krefeld Pinguine in the German Bundesliga.  He was 6'4″, 225lbs, but you wouldn't know it with the way he played and the team may have been able to forgive his lack of physical skills if he could demonstrate an ability to bury the puck.  He struggled to do that as well; and when he wasn't ambling around the ice trying to keep up with the speed of the NHL game he seemed to have a problem avoiding big hits and after a 35-game audition he was sent down to play with the Wild's AHL affiliate in Houston.  The minor league life of the AHL did not appeal to him and he decided life was better back in Europe.  From 2005-2012 he re-established his scoring touch playing in his native Austrian league scoring anywhere from 19 to 10 goals a season before his retirement.  If he wants a feather in his cap he can at least say his auditioned lasted longer than Tony Virta.  But hey, at least I still have my Brandner jersey right!?!?
LW – #21 Cam Stewart (2000-01) – Before there was Cal Clutterbuck, there was Cam Stewart as the Wild's hitting machine during its inaugural season.  Stewart was the energy winger on a Wild team squad that was made up of mostly 3rd and 4th liners from other club and he fit right in.  Unfortunately for him his hard charging ways would be his undoing.  He would be concussed as the result of his hits and this would not only force him to retire from the NHL but have serious life altering effects as well.  He was hounded by all the worst parts of post-concussion syndrome; constant headaches and nausea, severe dizziness from even doing the most mild of activities like walking or riding a stationary bike.  He was then hired on as a consultant for the Houston Aeros for a few years after his departure from the game.  Sadly, Stewart was a classic example of just how devastating concussions could be long before that was the topic du jour by today's sports media.
LW – #44 Andrei Nazarov (2005-06) – Here is my other exception to my games rule, as 'the Russian Bear' suited up in just two games for the Wild.  The Wild signed the 6'5″, 242lbs Russian winger to a 1-year one-way contract worth $2 million.  The team did not like what it saw after its first two games and they sent him down to Houston where he was a healthy scratch for all but 1 of the Aeros' games that season.  That's right folks, the Wild paid this guy $2 million to play just 3 games total and to sit out the rest!  Not a bad gig if you can get it.  He never played hockey again but would return to the motherland to be a coach in the KHL.  Being the bench boss for 4 different clubs in 6 seasons he's been one of the KHL's most colorful (called the 'Russian Mike Keenan' as a coach) if not controversial characters as the video below will illustrate.  He just signed on to coach Barys Astana (KHL) for the 2014-15 season so despite all of the movement in his life the 'Russian bear' still keeps finding ways to get paid.
Defenseman
#6 Sean Hill (2007-08) – The Wild signed the then 37-year old defenseman to a one-year deal worth $475,000 despite the fact they knew he was going to have to serve 19-games of a 20-game league mandated suspension to start the 2007-08 season for being busted for using anabolic steroids.  At one time Hill was a reasonable top 4 defenseman who was both physical and had a big shot.  By the time he got to the Wild he was neither of those things.  Hill struggled with the speed of the game and was a -16 in just 35 games played.  Needless to say after that season, his NHL career was over.  The Duluth, Minnesota-native would play one more season in Switzerland before hanging up the axe altogether in 2009.
#2 Mike Lundin (2011-12) – Some people saw the signing of Mike Lundin as a savvy move by the Wild's brass taking a mobile, puck moving defenseman some had felt been under the radar on a lousy Tampa Bay Lightning team.  It didn't work out that way as he'd suffer a shoulder injury that kept him out of the lineup on opening day.  By the time Lundin was healthy, the spot that appeared to be his for the taking was no longer there.  The team had moved on in his absence, and when they finally worked him into the lineup he seemed uncomfortable and more than a little rusty which prompted the team to start making him a regular healthy scratch.  Minnesota would pass on re-signing him and he'd sign with the Ottawa Senators but the NHL lockout limited his action to just 11 games in 2012-13.  He would then take his game to the KHL and is currently playing for Barys Astana (we all know who his new coach will be!).
#34 Daniel Tjarnqvist (2005-06) – The team wanted to add a bit more skill, and so they decided to give a 2nd chance to Tjarnqvist who had played 3 seasons with the Atlanta Thrashers previously before spending a season playing back in his homeland of Sweden.  The Wild hoped they had snagged a skilled two-way defenseman to help their offense-less blueline, but it didn't work out that way.  The offensive assertiveness Tjarnqvist had in his homeland did not translate to the NHL and he often looked uncomfortable with the puck and gained a reputation for being a bit of a turnover machine.  The Wild let Tjarnqvist go the following summer and he'd catch on with the Edmonton Oilers and Colorado Avalanche where he had similar difficulties.  The Vaanas Koeping-native would take his game back to Europe where he had stints in Russia, Sweden and most recently in Germany last season with the Cologne Sharks of the Bundesliga.
#36 Alex Henry (2003-06) – Its not fun becoming a punchline, but on the Wild.com message board Alex Henry became sort of a punchline of sorts as part to the bizarre practice of the rotating captaincy that existed for so long under then Head Coach Jacques Lemaire.  It kind of went like this, "if you've only been a minor league defenseman throughout your entire career, you might be a Wild captain."  Henry, mostly a minor league journeyman throughout his career was 'rewarded' for his hard work by wearing the "C" to start the 2005-06 season.  Henry was a tall stay-at-home defenseman who was not afraid to stand up for his teammates but his overall game was hardly anything to get excited about.  After his first full season in the NHL the Wild decided to part ways and he was signed by the Nashville Predators where he was quickly relegated to play with their AHL affiliate in Milwaukee.  Then he'd play in the AHL affiliate of Montreal for 3 seasons before taking his game to Germany for a year before retiring in 2013.
#4 Brad Brown (2001-04) – Being selected in the 1st round can either be a tag that predicts future greatness or being labeled a major failure to meet expectations.  Brad Brown is one of the latter.  After being selected n the 1st round (18th Overall) by the Montreal Canadiens he couldn't deliver on the potential of being a 6'3″, 225lbs wrecking ball but he was still a decent fighter.  He was brought to Minnesota to add a dose of sandpaper to a fairly soft Wild blueline.  Brown did drop the gloves from time to time, but he struggled to stay healthy playing no more than 57 games in the 3 seasons he spent with the Wild.  He was 'awarded' with the captaincy three times with the Wild for reasons I still do not understand.  Brown was a slow, plodding defender who could fight but not much else.  The Wild traded Brown to the Sabres for a 4th round pick in 2004.  Brown finished the year with the Sabres and then spent the next 4 seasons bouncing back and forth between the AHL and ECHL before retiring in 2008.
#47 Marc-Andre Bergeron (2008-09) – The Wild once thought so highly of this offensive defenseman they traded a 3rd round pick to get him in the summer of 2008.  He was a smallish defenseman with good mobility and absolute rocket of a slap shot and Minnesota hoped he'd re-establish his offensive game.  And for the most part he did just that, registering 14 goals and 32 points and finishing the season a +5 in 72 games.  Not too shabby right?  But not good enough for the Wild brass to give Bergeron a small raise for his good season and so they let him walk that summer (they rather spend their money on Marek Zidlicky).  He'd go on to have another solid season in Montreal before bouncing between the Tampa Bay Lightning and the Carolina Hurricanes.  Neither of his last two stops allowed him to get comfortable and it showed on the stat sheet and ultimately he'd take his game to Switzerland where he played for the ZSC Lions in the Swiss National League.
Goaltenders
#31 Derek Gustafson (2001-03) – The Gresham, Oregon-native got in 5 games in the course of two pro seasons in the Wild organization.  He didn't do too bad either sporting a sub-2.50 goals against average but he was relegated to the minors and spent most of his time in the ECHL before retiring in 2008.  My partner in crime saw his lone NHL win in a road game against the Islanders back in 2001.
#31 Wade Dubielewicz (2009-10) – The former Denver University star was pressed into service due to a rush of injuries to goaltenders Josh Harding and Niklas Backstrom (go figure!).  'Doobie' had some NHL games prior to joining the Wild with the Islanders and Blue Jackets respectively.  He got a few starts, where he was not quite adequate but Minnesota had no alternatives.  Most of the time he occupied the bench, notice I didn't say sat on the bench as he's easily one of the most animated goaltenders from the bench I've ever seen as he leans over the boards to shout encouragement and assistance to his teammates.  After he left the Wild in 2010, he left to play in the Bundesliga in Germany where he had a disastrous campaign and as far as I can tell is out of hockey.