There is an old adage is that when at a neighbor's house you avoid talking about two things, religion and politics which really is a recognition just how divisive and potentially heated those subjects can be even in a simple conversation. Consider the major political event of this event of this evening, the President of the United States' annual State of the Union address. Or as I like to metaphorically describe it, the parent-teacher conference for the nation where you get a basic understanding of where we are headed as a country. Through all of the standing ovations, the occasional boo's, the cheers and quick shots of congressman shaking their head in disagreement or in applause but through it all; one thing is certain. We all see, hear and most importantly interpret what the President (and it doesn't matter who it is) says in our own way. We filter that message through our own set of values and we either like or dislike what is said. At certain points, someone will likely feel uncomfortable, perhaps even outraged while another may feel gratified or even humbled by praise. So do politics and hockey mix? Bruins goaltender Tim Thomas certainly expressed himself politically by not going to the White House with his teammates as is tradition for championship teams. Thomas was quoted by NHL.com in his official statement, "I believe the Federal government has grown out of control, threatening the Rights, Liberties, and Property of the People. This is being done at the Executive, Legislative, and Judicial level. This is in direct opposition to the Constitution and the Founding Fathers vision for the Federal government. Because I believe this, today I exercised my right as a Free Citizen, and did not visit the White House. This was not about politics or party, as in my opinion both parties are responsible for the situation we are in as a country. This was about a choice I had to make as an INDIVIDUAL." Interesting statement and bold, but equally obvious it was one made of sincere conviction. Yet to go back to the State of the Union, if I may as I bring it back to hockey. What would Wild General Manager Chuck Fletcher say about the Wild's state of affairs as of right now, January 24th, 2012?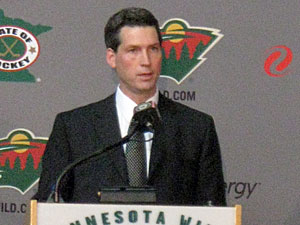 What would Chuck Fletcher's 'State of the Wild' address be?
Maybe it would go a little like this.
"Good evening Wild fans, all across the State of Hockey and beyond. We stand before you today as an organization which sat atop the NHL standings in early December now currently is in 9th place in the Western Conference, exactly 1 point behind tonight's opponent the Colorado Avalanche. Is it where we want to be? No. Is it where we feel we deserve to be? No. Injuries have helped derail a promising start but we feel as though there is hope in a more favorable home-dominated schedule throughout the month of February. The team is at least 2 weeks away from having its captain and top playmaker Mikko Koivu as he's out with a left shoulder injury (excuse me, I mean an upper body injury) and so the Wild will have to soldier on with the league's 2nd worst offense as well as the 24th best power play. Our goal is still the playoffs, but we will not mortgage our future to get there. We have been presented with many daunting challenges we're struggling with in the short-term, but the right path is to avoid the impulse of selling the future for immediate help. We must be vigilant for good offers that may come our way, and we pledge to consider those offers but not at the cost of our promising stable of prospects. With hard work from our players, coaches and scouting staff we believe we are on the right path to becoming a Stanley Cup contender. We believe we can do this, and with your support we have no doubt we will be successful!"
Just like the real State of the Union address I am sure a statement like this would earn mixed reviews and that's just fine. After all, like politics almost everyone has their own unique perspective. So will the Wild go into the All Star break with a winning feeling or will they stumble as they hope to just get out of the month of January with no further damage?
Click on "Read More" for the rest of the article…
1st Period Thoughts: Minnesota was moving well to start the game and they created a quick scoring chance off the rush as Kyle Brodziak fed a pass to Justin Falk for a shot that was steered wide by Jean-Sebastien Giguere. The Avalanche would counter with a great opportunity of their own as a heavy wrist shot by Jay McClement rang off the pipe. Colorado's top line would apply some significant pressure offensively as Paul Stastny was denied on a point-blank-range opportunity by Niklas Backstrom with Nate Prosser supporting his goaltender. The Avalanche continued to outwork Minnesota, and a defensive breakdown by Greg Zanon left a puck for T.J. Galiardi to pick up and he fired backhander by Backstrom to give Colorado a 1-0 lead. Minnesota would get a bit of a reprieve as rookie Gabriel Landeskog delivered a vicious hit from behind to Dany Heatley for an obvious boarding penalty. The Wild did absolutely nothing with it as Devin Setoguchi cancels out the man advantage with a stupid interference penalty. With the ice a bit more open 4-on-4, the Wild tried to go on the attack and as they attempted to create offense off the rush and even a blocked Cal Clutterbuck shot turned into a scoring chance as it was followed up by Falk who gunned a shot on goal forcing Giguere to make a big save. Minnesota's 4th line would use the whole offensive zone to move the puck which created a little space for Chad Rau, who fired a wrist shot that was stopped by Giguere and as he followed up his chance he was high sticked by Kyle Quincey. On the man advantage, the Wild moved the puck very well from down low and back out to the point where they had a few nice set plays. The first was one-timer that was blasted by Setoguchi that missed wide. Minnesota persisted and with quick passing, it was Setoguchi swinging a pass back to Falk who rifled a wrist shot by Giguere to tie the game at 1-1. It was a pretty goal on a power play that was very well executed. It was Falk's 1st NHL goal. The Wild kept applying pressure and a shot from the point by Nick Schultz was redirected on goal by Darroll Powe that Giguere was just able to direct wide. Former Holy Angels' star Erik Johnson was able to get the Avalanche crowd into the game on nice hit on Cal Clutterbuck that should've been tagged for interference since the puck had clearly gone beyond him. A few minutes later, the Wild had another fantastic chance as Setoguchi made a nice move to step around a Colorado defender before flinging a wrist shot that was knocked down by Giguere and as Minnesota poked away at the puck it squirted loose and went to the corner. The Wild were counter attacking well, and a long pass by Zanon found Kyle Brodziak who raced in and fired a slapper that was stopped by Giguere but Brodziak didn't give up on the play and he gathered up the rebound and passed it back to Heatley and Giggy couldn't stop the 2nd one as Heatley buried it, 2-1 Minnesota. The goal was a great example of the puck support that has been missing throughout most of January. Sensing a change in momentum, Avalanche Head Coach Joe Sacco called a time out to talk things over with his young club. The Avalanche tried to answer back but Peter Mueller was denied on his wrap around attempt, and Minnesota's hustle was starting to frustrate Colorado. Carson McMillan would bump into Giguere who was out playing a puck that sent him to the ice drawing a bunch of boo's from the home crowd. Tempers would flare as Kyle Quincey took exception to a hit near his bench by Darroll Powe, and a shoving match would ensue. Both players would get sent to the box and Minnesota had to be pleased going into the 1st intermission up 2-1. It was a nice little redemption period for the Wild who had a slow start only to rebound with the help of the power play and then earned its 2nd goal by playing the system the way its intended to be. Minnesota out shot Colorado 13-4! Not too shabby!
2nd Period Thoughts: Colorado was buzzing early in the 2nd as Erik Johnson gunned a shot on goal that was just pushed wide by Backstrom who still appeared to be fighting the puck a bit. Minnesota still had a lot of jump in its legs and their forecheck caused Colorado some issues as Matt Cullen nearly was able to tap a puck away from an Avalanche defender. Moments after that a botched pinch by the Avalanche defense turned into a 3-on-1 that was executed well as Matt Cullen pushed the puck up to Clutterbuck who dropped a pass back to a trailing Jared Spurgeon but he missed just high and wide as he attempt to pick the upper right corner behind Giguere. Backstrom was still suspect as Daniel Winnik fired a snap shot that Backstrom slowed down but the puck trickled through his pads and as he leaned backwards to cover it up it was tapped in by Chuck Kobasew to tie the game at 2-2. It was a very soft goal given up by Backstrom. The goal would energize the Avalanche and they continued to apply pressure as Peter Mueller helped set up the rush, as Paul Stastny directed a weak shot on goal that was smothered by Backstrom who didn't want to take any chances botching another routine save. A few moments later, Justin Falk hit Winnik from behind to no call that immediately drew boo's from the home crowd. I think it was a good non-call as Winnik turned into the boards at the last moment as he tried to draw a call and when it didn't come he went after Falk, slashing him and then dropping the gloves. Falk stood up for himself, using his superior reach to throw a few right handed punches early and for the most part was in control through most of the fight as the two exhausted players fell to the ice. Falk would get tagged with a fighting major but Winnik got that plus an extra two minutes for slashing giving Minnesota a power play. The Wild were unable to get much of anything going on the man advantage as the Avalanche were being aggressive and physical on the kill. Minnesota's best chance on this power play was from Kyle Brodziak that threaded its way on goal that Giguere fought off and the Wild came up empty on the man advantage. The Wild were counter attacking well, transitioning well off of turnovers they were making on their backcheck. Minnesota's 4th line would cause some havoc offensively as Chad Rau showed some shake-and-bake behind the Colorado goal and he'd put a few shots on goal. Moments after that, some more good work on the forecheck yielded a golden opportunity as a failed clearing opportunity went right to Carson McMillan who snapped off a quick shot from the slot that was absorbed by Giguere. The 2nd line would also cause Colorado some trouble as nice win along the boards by Setoguchi, who made a power move on goal that was stopped by Giguere and then had to sweat out a nice chance by Clutterbuck that glanced off a skate and wide at the last moment. Minnesota's forecheck was really making its presence felt no matter what line was on the ice. The Avalanche were a bit guilty of not moving their feet and the Wild were taking full advantage of it. Minnesota would earn another power play as Shane O'Brien rodeo-ed Clayton Stoner as he pursued a puck towards the dasher that sent him crashing into the boards for an obvious penalty. The Wild were cautious on their power play, not wanting to do anything that would give Colorado any momentum. Minnesota was able to create a few big shots from the point that didn't quite make it on goal and the game would remain tied at 2-2 going into the 3rd. The Wild more or less dominated most of the period, again out shooting Colorado 9-7. Minnesota still had 43 seconds of power play time to start the 3rd.
3rd Period Thoughts: Minnesota wasn't able to get much accomplished on the power play, but as it expired a nice rush initiated by Nate Prosser led to a scoring chance for Kyle Brodziak who fired a wrist shot that nearly trickled by Giguere who just had enough to direct the puck wide. The Wild's forecheck continued to create opportunities for Minnesota as their modified top line of Brodziak, Johnson and Heatley had a nice chance as Brodziak pulled the trigger on close-range shot. Minnesota's 3rd line would start laying down the lumber on the forecheck as Warren Peters and Carson McMillan stapled a few Avalanche skaters into the boards, but unfortunately they got a little too physical and McMillan would earn a seat in the penalty box for high sticking. The Wild's penalty kill was very aggressive, challenging the puck carrier and keeping Colorado to the perimeter. Minnesota's persistence would frustrate Colorado from getting a clean look at the net and they'd get the big kill. As the penalty expired and Minnesota had to really battle to clear the zone, Nick Schultz's lift of the puck into the neutral zone had Colorado wanting to go on the attack. Shane O'Brien was stripped of the puck by the hustle of McMillan and he raced down the ice on a 2-on-0 break away before beating Giguere with a little wrist shot 5-hole to give the Wild a 3-2 lead. The goal was sweet redemption for McMillan who had the original high sticking penalty that put the Wild a man down in the first place. The Wild would nearly add another as Kyle Brodziak dangled around a Colorado defender and the top line nearly connected on a tic-tac-toe play as he dished it to Heatley who passed it back but Brodziak's bid was directed wide at the last moment. Colorado tried to dig in for the equalizer, but Minnesota looked poised and focused on keeping the Avalanche to the perimeter. The Avalanche were taking more risks, and Jay McClement flung a wrister that didn't miss by much as he moved through the high slot. The Wild were content to force the Avalanche to bring up the puck the full length of the ice. Colorado tried to work for the ugly goal, as they stormed the Wild crease with a mess of bodies hacking and whacking for the puck for nearly 7-8 seconds before a whistle finally blew. Minnesota tired to counter attack and Nick Johnson nearly put the nail in Colorado's coffin as he made a nice power move and he nearly cashed in with a few good chances from in close. The Wild were being patient but opportunistic as Heatley nearly was able to move in on a break away but he was tracked down by 4 Avalanche defenders before he could get a shot off. Minnesota was out working and out hustling Colorado down the stretch and the Wild were able to keep Colorado to the outside, forcing them to settle for a blast form the point by rookie Stefan Elliott that Backstrom managed to snow angel around. With Giguere pulled and Colorado with an extra attacker they controlled the faceoff but Minnesota was able to again keep the Avalanche to the perimeter and Backstrom was able to come up with a huge stop. The Avs had one last big shot and Backstrom made the save and the Wild would prevail 3-2.
Niklas Backstrom was big down the stretch, making a number of saves with lots of traffic near his crease. Early on he was pretty shaky, and it could be argued the Wild were in their situation largely because of his struggles between the pipes. The 2nd goal especially was a pretty routine stop that he failed to make. Defensively, the Wild had a great night from the pairing of Nate Prosser and Justin Falk. Falk was exceptional; both in terms of his physical play as well as notching his 1st NHL goal this evening that really helped get the team going tonight. The Snowflake, Manitoba-native made nice safe plays with the puck but it was his willingness to shoot early on the game that also set him apart from his peers.
Offensively the Wild again had just enough depth in scoring as it got contributions from its 1st and 3rd lines as well as a rare tally from its blueline. Yet, its not just about the goals. Minnesota's forecheck is really what set up the Wild's offense all night long and what gave Colorado fits most of the evening. The Wild had a few occasions where they were attacking waves to use a term Wild Head Coach Mike Yeo loves, but you could see it in the way all of the lines were creating havoc on the forecheck and also putting their share of shots on goal. Minnesota out shot Colorado 34-26, and in the 1st period alone the Wild had out shot the Avs 13-4, when was the last time we saw that lopsided of a shooting advantage for the State of Hockey? Its been a while. I thought Devin Setoguchi was really flying around the ice tonight; he was very pesky on the forecheck and he was using his wheels to create space and shooting opportunities for himself. Kyle Brodziak also had a strong game, contributing two helpers in the victory but I felt he was an offensive catalyst helping give Minnesota two decent scoring lines. Chad Rau continues to impress me with his shiftiness and his overall assertiveness. Carson McMillan had memorable night, delivering the game winner but he was very fierce on the forecheck using his solid frame to dish out some punishment as well.
The team is playing with more tenacity and heart lately and the payoff is two wins. Tonight's win ends an 11-game road losing streak as well as allowing the Wild to leapfrog Colorado in the standings and taking over the 8th place spot in the Western Conference. Minnesota has also been (knock on wood) the beneficiary of clutch performances by some of its Houston call ups with the game winning goal scored by Rau on Saturday and McMillan tonight. Resilience was also present tonight as the team came back after giving up the 1st goal. This was the formula the Wild rode to the top of the league standings so hopefully its a sign of what it can do after the All Star break. Hopefully they rest up, and are ready for the big push to stay in the West's top 8.
Wild Notes:
~ Wild roster tonight was as follows: Dany Heatley, Devin Setoguchi, Kyle Brodziak, Matt Cullen, Cal Clutterbuck, Nick Johnson, Darroll Powe, Carson McMillan, Jed Ortmeyer, Chad Rau, Matt Kassian, Warren Peters, Nick Schultz, Greg Zanon, Clayton Stoner, Justin Falk, Nate Prosser and Jared Spurgeon. Josh Harding backed up Niklas Backstrom. Mike Lundin, Marek Zidlicky and Brad Staubitz were the healthy scratches.
~ The 3 Stars of the Game were: 1st Star Carson McMillan, 2nd Star Kyle Brodziak, 3rd Star Jean-Sebastien Giguere
~ Attendance was 16,291 at Pepsi Center.
Wild Prospect Report:
Saint John's Charlie Coyle
RW / C – Charlie Coyle (Saint John, QMJHL) ~ I must admit, hearing that Coyle was leaving Boston University mid-season didn't sound too good. In fact, it made me nervous. Coyle was joining an already loaded Sea Dogs squad and so far he's only adding to their impressive cache of offensive talent. The Weymouth, Massachusetts-native had a goal and an assist in Saint John's 5-2 win over a tough Acadie-Bathurst squad. Coyle is splitting time between playing center and wing where he was very strong on his draws going 13-for-21 (61.9%).
C – Zack Phillips (Saint John, QMJHL) ~ Phillips has been a workhorse for the Sea Dogs; especially as Jonathan Huberdeau battled injury but since his return along with the addition of fellow Wild prospect Charlie Coyle Saint John has kicked things into overdrive. The Fredericton, New Brunswick-native had 2 goals and a helper in the Sea Dogs 5-2 win over Acadie-Bathurst on Sunday.