I love the History Channel show Pawn Stars. The eclectic pawn shop located in Las Vegas, Nevada has turned into its own tourist destination and the according to Rick Harrison, the shop's owner, business has never been better. With a lagging economy I think just about everyone is thinking of other ways to try to supplement their income. I have no doubt that the show has had more than a few people to scrounge around their attics and basements for items they knew they once had with the hopes of scoring big on something they had long since discarded. Yet that's just half the show. The random variety of items that come through their shop from super bowl rings to obscure gadgets but either way its a fun way to learn more about history. Since I deal with history on a daily basis, I love the obscure factoids and the banter between Rick, Cory, the Old Man and Chumlee makes it funny and entertaining otherwise it would be just another version of PBS' Antiques Road Show. The wheeling and dealing has probably made everyone a tougher and more skeptical negotiator. I have to admit, watching them pass on the 1980 'Miracle on Ice' stick hurt a bit, but as they like to say they have a business to run not a museum.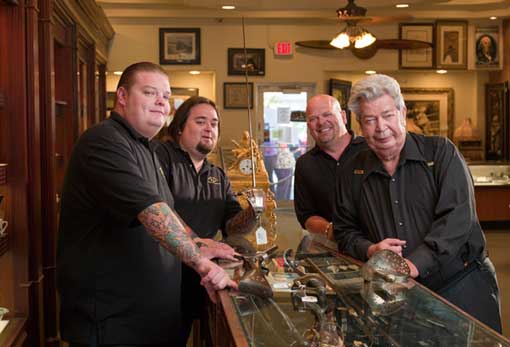 What Wild item would you bring to Pawn Stars?
So what Wild item would you bring to Pawn Stars? Perhaps the stick Marian Gaborik used to score 5 goals on the Rangers a few years back? Or perhaps the puck Darby Hendrickson scored with in the first regular season NHL game played in Minnesota since the North Stars left. Or maybe you bring a Goldy Goldthorpe game worn St. Paul Fighting Saints jersey. Either way, I doubt a lot of those items would command a lot of money, but it'd be fun to see the wheeling and dealing to occur. The Minnesota Wild are hoping continue to create some more buzz of their own as they try to create more success on this 5-game road trip. So will the Wild keep frenzy going or will it be feeding time for the Sharks?
Click on "Read More" for the rest of the article…
1st Period Thoughts: San Jose was exhibiting some intensity right from the drop of the puck as their 3rd line would come close to giving the Sharks an early lead as Jamie McGinn helped set up a chance near the crease by Michal Handzus that went off the side of the Wild goal. It was an omen of things to come as the Sharks would strike first as a faceoff win in the offensive zone by Joe Thornton turned into a point shot by Dan Boyle that failed to reach Josh Harding and as the puck sat in the slot it was Plover, Wisconsin's Joe Pavelski who spun and fired a shot that fooled the Wild goaltender to give San Jose a 1-0 lead. The Sharks were sensing a feeding frenzy early, and in a bizarre play Patrick Marleau tried to follow up a long range shot on goal he was being checked by Nick Schultz who would inadvertently hit Harding with his elbow that left the Wild goalie worse for the wear as he was attended to by the team's trainer Don Fuller. Harding was clearly not well, so he would leave for the locker room and this meant Matthew Hackett would go between the pipes for the Wild. Minnesota was really unable to get much going in the way of offense and so Matthew Hackett had a fair amount of activity in his end of the ice right away. Brent Burns would get the first quality shot that Hackett was forced to steer aside. The Sharks were attacking in waves, and a long range chance by Joe Thornton off the rush created a rather big rebound and it was a pinching Jim Vandermeer pushing a shot wide of the Wild goal. Minnesota finally got a few scoring chances thanks to the hard work of the 4th and 3rd lines; the first coming on a sneaky play by Darroll Powe who faked at looking to sweep around the net to instead try to stuff a shot but the puck would slide off his stick at the last moment. A few seconds ltaer, the Wild finally put their first shot on goal as they would steal a lazy clearing attempt by the Sharks which nearly turned into a goal as Kyle Brodziak skated right into a diving Antti Niemi who had skated way out of his crease. The 3rd line would quickly regroup and another great play after some good cycling down low by Nick Johnson and Cal Clutterbuck ended up on the stick of Johnson down low who fed it out front where Brodziak got off a quick shot that was snagged out of the air by Niemi. This shift sparked the team to work a little harder and play started to tilt towards the Sharks' end of the ice. Clutterbuck would one time a blast that was held onto by Niemi. Cody Almond would give San Jose a prolonged power play when his high stick drew blood on Joe Thornton. The Wild's penalty killers were giving San Jose the perimeter, and were in a very tight box in around Matthew Hackett. Minnesota's penalty killers, Darroll Powe and Cal Clutterbuck started to apply a bit more pressure on the puck carrier and this forced the Sharks to expedite their power play a little. When needed, Hackett was solid making some great close in saves. The Sharks set up one quality scoring chance late as Dan Boyle pinched down low into the slot and his quick shot was stonewalled by Hackett who was using his 6'2″ frame to his advantage. With the 4-minute power play killed off the Sharks put out their 3rd line which was pretty fresh and they nearly scored off the rush as White Bear Lake's Justin Braun joined the play and his close in chance was just pushed wide by the Minnesota goaltender. Minnesota's 3rd line continued to create scoring chances as Nick Johnson set up Kyle Brodziak for a quick shot from the slot that didn't miss by much. The good shift led to another as Casey Wellman made a nice play to hold the offensive zone as he pushed a puck up to Dany Heatley who looked to shoot and then dangled around a defender to move towards the slot and take a quick wrist shot that was stopped by Niemi but Mikko Koivu would jam home the rebound to tie the game at 1-1. The Wild followed up their goal with an excellent shift by the 3rd line as Nick Johnson and Kyle Brodziak would work their magic as Johnson again tried to set up Brodziak who was tripped up by Torrey Mitchell giving Minnesota its first power play of the game. The Wild didn't have a lot of time on the man advantage, but they'd make the league's worst penalty kill pay the price after some great puck movement by Mikko Koivu he'd thread a diagonal pass to Pierre-Marc Bouchard who would rifle a wrist shot by Niemi to give Minnesota a 2-1 lead going into the 2nd. It was another remarkable turn around in a period where the Sharks more or less dominated the Wild, out shooting Minnesota a ridiculous 23-10. It certainly was rope-a-dope early on as Minnesota adjusted to the Sharks' speed but after weathering the storm and the 4-minute power play they responded nicely with some quality pressure of its own all started by the 3rd line. Hackett stopped all (knock on wood) 15 shots he faced after replacing Harding.
2nd Period Thoughts: The Wild found themselves defending early in the period as a turnover in the neutral zone turned into a scoring chance for Thornton who wound up and he pounded a slap shot that was rather calmly gloved by Hackett. A few moments later the Sharks had another great chance as Martin Havlat tried to chip a shot by the Wild goaltender who got a blocker on the shot to direct it to the corner. Minnesota would start to skate better and San Jose wasn't able to create the pressure it was early, but the Wild were unable to create many scoring chances of their own. The Wild would show a few spurts of offensive dominance and they'd create a few quality chances spread out over the course of the period. The best one coming off a wicked shot by Pierre-Marc Bouchard that Niemi was just able to get a piece of. Over the next few minutes, the Wild and Sharks would spend their time trying to gain a territorial advantage. Late in the 2nd period, Dany Heatley would get tagged for a very weak cross-checking penalty to Marc-Edouard Vlasic who took a big dive, flailing his arms and legs as he fell to the ice and the officials fell for it hook, line and sinker. The Sharks would have a power play in the closing minute and a half but Minnesota's penalty killers were patient, staying in good position to deny shooting lanes and when San Jose did manage to work the puck near the crease they swept away the biscuit from causing any harm. You could sense the level of frustration in the home crowd building as they serenaded their team with a small cascade of boo's in the closing seconds of the period as their team still trailed 2-1. Another solid period for the Wild, still being out shot 10-6 but overall it was more respectable as Minnesota's hustle was driving the Sharks crazy.
3rd Period Thoughts: Minnesota's game plan was pretty simple as they seemed to want to work the puck deep and change, and the Sharks were trying to find the equalizer. Early in the period you could see some of the irratability between the two clubs as Clayton Stoner leveled Jamie McGinn as he tried to crash the Wild crease after a Hackett save. Torrey Mitchell didn't like the stop and he tried to shove Stoner back who wanted nothing of it but cooler heads would prevail. The physicality started to increase, as Cal Clutterbuck would be rattled by a check as he tried to work it out of the Wild zone. The loss of Clutterbuck seemed to put the Sharks on the attack and they would start to swarm in the Minnesota zone. San Jose nearly tied the game as Michal Handzus rang a snap shot off the right post and Minnesota's defense would collapse around the crease and after a few tense seconds, it was Mike Lundin escorting the puck out of the Sharks' zone. Minnesota's hustle was making the difference in winning the races to the pucks in their own zone, plus giving them a little bit of a counter punching posture but overall the Sharks were carrying the play. The Wild would get a little relief as Patrick Marleau would run Lundin into the boards that earned him a trip to the sin bin. Minnesota would look aggressive on the man advantage as Mikko Koivu raced into the Sharks' zone as he ripped a snap shot that was blocked away by the shoulder of Niemi. After the initial chance by the Wild, the San Jose penalty kill would step up their game and Minnesota never really threatened Niemi for the remainder of the man advantage. The Wild was playing a safe and patient game, content to work it deep and then change. Defensively they were quick to collapse and the Sharks were also keeping it simple as they'd just fling the puck towards the crease and hope for a fortunate bounce off a skate or a stick but Minnesota was fortunate. As the puck skittered through, Hackett would make the small stops when he needed to and his defenseman and forwards were supporting him well and taking the puck from the dangerous parts of the ice. Martin Havlat would make a pretty move to dangle around Clayton Stoner for a nice opportunity where Hackett was there to make the initial save and his defense was able to sweep the rebound away without incident. Minnesota started to apply some pressure of its own as Mikko Koivu had a few nice chances late in the period, but more importantly it was some time spent out of their zone. The Sharks would pull Niemi with a minute left, and then call a timeout to talk things over as they tried to press for the equalizer with 6 attackers on the ice. Minnesota would win the initial draw but the Sharks would reset and they had a few chances where again they worked the puck towards the crease but a nice stick by Clayton Stoner perhaps saved a goal.
Its a mix of good and bad. The good obviously was the excellent relief performance of Matthew Hackett who was perfect, stopping all 34 shots he faced. While I wouldn't always say his technique was razor sharp; as he made a lot of saves with his leg pads he seemed fairly calm and poised and wasn't flopping around like a nervous goaltender making his NHL debut. The Wild rallied around their backup goaltender, and provided great support in terms of sweeping away rebounds and even being a little angry near the crease. I thought Jared Spurgeon and Marco Scandella had a great game defensively, showing some good strength down low and using their body (even if it was tiny) to seal off opposing forwards along the wall. The bad news of course was the injury to Josh Harding who has been absolutely stellar so far this season. It will be interesting to see if he is out for any length of time or if he was sat out more as a precaution. Whether this means Niklas Backstrom will be back (who had practiced with the team) or if Minnesota brings up another goaltender from the minors remains to be seen.
Offensively the Wild didn't have much beyond some great chances late in the 1st period. I liked the efficient puck movement that set up Bouchard's back door shot as they found a way to strike. Minnesota's top line still found ways to be a threat even with Devin Setoguchi leaving the game early with an undisclosed injury. However, the continuing story to me was the offensive spark the 3rd line continues to bring. Tonight they didn't get on the scoreboard, but in the opening moments when Minnesota was really on the ropes it was the 3rd line that was finding ways to create some trouble offensively. Kyle Brodziak, Cal Clutterbuck and Nick Johnson work brilliantly together and they played very well at both ends of the ice doing the little things you need to win games. Casey Wellman also seems to be playing with some more confidence, his willingness to fire a few slap shots is good evidence of that and that can only be a good thing for Minnesota's 2nd line. Mikko Koivu also had a strong game in the offensive zone and I felt he looked hungry as he was regularly taking the initiative. That too is a great sign for Minnesota and with Heatley looking more and more comfortable as well.
I feel as though I keep saying this; but each night seems to bring out a new hero. This time it was Matt Hackett who gave us all a taste of what Houston Aeros fans already are familiar with. A calm, poised goaltender who is very efficient in his movements. The Wild continue to show remarkable resiliency and they stay atop the NHL standings. Minnesota now takes its game south for another tough one against the Los Angeles Kings, a team that embarrassed them the last time they were at Staples Center. We'll see if they can respond with a better effort this time around.
Wild Notes:
~ Wild lineup tonight was as follows: Mikko Koivu, Dany Heatley, Devin Setoguchi, Matt Cullen, Pierre-Marc Bouchard, Casey Wellman, Darroll Powe, Cody Almond, Brad Staubitz, Kyle Brodziak, Nick Johnson, Cal Clutterbuck, Nick Schultz, Greg Zanon, Clayton Stoner, Mike Lundin, Jared Spurgeon and Marco Scandella. Matthew Hackett and Josh Harding would share duties between the pipes. Niklas Backstrom, Colton Gillies and Nate Prosser were the healthy scratches.
~ The 3 Stars of the game were: 1st Star Matthew Hackett, 2nd Star Mikko Koivu, 3rd Star Joe Pavelski
~ Attendance was 17,496 at HP Pavillion.
~ The State of Hockey News would like to say congratulations to Minnesotan Phil Housely on the announcement that he will be inducted into the IIHF's Hall of Fame in May of 2012.
~ The Houston Aeros crushed in-state rival the San Antonio Rampage tonight, 6-1. Houston got things rolling early as Fridley's Jarod Palmer found the back of the net just past the 6-minute mark of the 1st. The Aeros' Warren Peters would add a shorthanded goal late in the period to give Houston a 2-0 lead, but Garrett Wilson would cut that advantage in half a few minutes later. Just 14 seconds after Wilson's tally, it was former Calgary Hitmen sniper Kris Foucault lighting the lamp on the power play to give the Aeros a 3-1 lead going into the 3rd. After that it was all Aeros as they'd add 3 more goals from Justin Fontaine, rookie Joey Martin, and Peters would score his 2nd of the game to give Houston the lopsided victory. Darcy Kuemper made 31 saves in the win.
High School Boys Hockey Report:
The Burnsville Blaze have battled their way onto Class AA rankings (#10) after a dominating 5-2 victory over the always tough Hill-Murray Pioneers on Saturday. This victory helped offset some of the pain of a 7-3 loss to the Minnetonka Skippers. Senior forward Cory Chapman is off to a red hot start scoring 3 goals and 5 points in 2 games thus far. The Blaze are a team that is loaded full of offensive firepower as Chapman is joined by Tyler Sheehy, Jake Senta and Nick Bohn. Between the pipes, junior goalie Chris Mallon is a big bodied (6'2″, 217lbs) goaltender that takes up a lot of net giving shooters little to look at and with a .931% save percentage they're obviously having trouble getting pucks by his NHL-sized frame. Head Coach Janne Kivihalme is primed to get the Blaze to win its first State title since 1986.