The deceased comment Rodney Dangerfield became an 1980's icon for his one liners, most notably his tagline of "no respect."  No one enjoys being disrespected whether its meant to be a punchline or not.  I wonder if Minnesota Wild feel if that is a little behind them after they surprised many (including yours truly) by advancing to the 2nd round.  Its interesting how things change from one series to the next.  The Wild beat Colorado and it was more or less broadcasts lauding the Avalanche's talent and you almost wondered if they were going to apologize over the fact Minnesota won.  Now after one game against Chicago, and suddenly those same broadcasters are giving Minnesota credit for its competitiveness, its speed and dare I say it its skill that basically went totally unnoticed in their previous series.  Maybe its just a network trying to create some buzz for the series or maybe its respect.  We'll see if these positive comments over the play of Wild continues over the course of the series.
Yet, if they Wild are pushed out in a short series will that disrespect continue?  Its very likely it could.  Avalanche fans certainly believe the Wild sort of just got lucky, and there is little doubt that many NHL experts were captivated by other series and just figured Minnesota sort of won their flip of the coin.  The Wild stayed close through 50 minutes of play before a goal by Patrick Kane opened up the floodgates.  Can Minnesota earn a road victory against a powerful Blackhawks squad or will Chicago take a decisive 2-0 series lead?
1st Period Thoughts:  The Wild had a bit shaky start for the Wild, as Minnesota's top line struggled against Chicago's top line as Jonathan Toews found Niklas Hjalmarsson wide open at the point for a big slap shot that was knocked down and covered up by Ilya Bryzgalov.  Chicago was swarming early as Jeremy Morin would take the puck to the net and his shot would be tipped up and into the air by Bryzgalov and then the puck would fall into the blue paint before Joakim Nordstrom could cash in and the Wild dodged a bullet.  Minnesota's issues continued as Clayton Stoner would get tagged for cross-checking Brandon Saad who was chirping a bit.  Saad would just smile as Stoner was sent to the box giving Chicago the first power play of the game.  Minnesota's penalty kill was outstanding, denying time and space by timely pressure on the puck carrier prevented Chicago from getting set up in the Wild zone through the first minute and a half on the man advantage.  Chicago would finally get set up in the closing seconds of the power play and they'd set up Brent Seabrook for a heavy slap shot that was redirected by Bryan Bickell that struck the top of the cross bar and up into the netting behind the goal.  It was a big kill for the Wild who had more or less been weathering the storm the first half of the period.  Minnesota was not able to get much of anything going offensively, but it wasn't due to a complete lack of effort.  The Wild clearly wanted to use its speed on the cycle down low, but whenever Minnesota was able to get the puck into Chicago's end, good active sticks by the Blackhawks thwarted scoring chances from materializing from their hard work.  Chicago was also looking to use long passes to quickly counter attack against Minnesota's aggressive efforts to work and keep the puck deep and that is how they managed to register their first goal.  Minnesota's attempted rush would be stopped and Bickell sent a long pass to Marian Hossa who was well behind the Wild defense and as he moved in using a backhand to forehand move he'd get Bryzgalov to drop and he'd swing a shot that Bryzgalov got a piece of to pop the puck up and into the air.  The improbable save appeared to be made but unfortunately Mikko Koivu was beat on the backcheck and Chicago's Jonathan Toews tapped home the loose biscuit to give the Blackhawks a 1-0 lead.  The Wild tried to claw their way back into the game but whenever they tried to pull the trigger the Blackhawks were taking away shooting lanes and blocking shots; even painfully as Jonas Brodin's slapper struck Hjalmarsson in the throat that left him worse for the wear.  Bad passes and mishandling of the puck also made it tough for the Wild to get anything going offensively.  Minnesota would finally get something going offensively as the 3rd line was able to create a little space as Haula dropped a pass back to Nino Niederreiter who rifled a shot that was stopped by Corey Crawford and the rebound he gave up nearly turned into a goal for Haula as he nearly was able to jam home only to be stopped by the right post.  Haula would gather it up and feed a pass from beneath the goal line to Marco Scandella in the high slot and he'd rip a shot that Crawford steered aside.  Minnesota would trail by one going into the 1st intermission, being outshot 7 to 2.  I thought Justin Fontaine had a great period defensively, pressuring 'Hawks puck carriers well and forcing turnovers.  Still the team has to raise its effort and its level of execution so it can sustain some offensive pressure because one good sequence per period isn't going to get it done.
2nd Period Thoughts:  The turnovers that plagued the Wild in the 1st period continued to start the 2nd period.  Chicago was content to play keep away.  Minnesota's 3rd line would spark an offensive flurry as Minnesota set up Kyle Brodziak after a nice little pass by Fontaine for a big shot that was blocked away by Crawford and then the puck was worked back out to Scandella who stepped into a slap shot that the Chicago goalie dismissed.  The Wild was playing more aggressively, and Nino Niederreiter would use his speed to get around a Chicago defender before unleashing a shot that was steered aside by Crawford but he would gather up the puck and then win a battle along the boards for the biscuit setting up Cody McCormick for a quick shot that was partially blocked.  The Blackhawks would go on the attack and work the puck down low and get Minnesota chasing around its own end.  Marian Hossa would try to take the puck to the goal where bodies were diving all around the Wild crease before the puck squirted out to the corner thanks to an alert play by Clayton Stoner.  Minnesota was also raising their physical game as Stoner and McCormick were throwing their weight around as the aforementioned tough guy stapled Ben Smith into the boards near the Wild bench.  The Blackhawks were not happy with McCormick's hit and Nick Leddy decided to hit Dany Heatley in the face with his stick giving Minnesota its first power play of the game.  On the man advantage the Wild wanted to work the puck to the half wall and then look to thread a pass to the backside as Jason Pominville was taking his chances to sneak in.  The Wild looked as though they had a golden chance to score the game-tying goal as a puck sat on the stick of Heatley in the blue paint but he'd push his shot just wide of what was an open net.  Minnesota was not able to capitalize on the man advantage.  A few minutes after the failed power play the Wild would have another solid flurry of chances all sparked by a long stretch pass to Niederreiter who skated down the puck and he'd send the puck down back behind the Chicago goal where Pominville would pass the puck out to Brodin for a quick shot that was stopped by Crawford and then nearly jammed in by Parise but Minnesota couldn't light the lamp.  The Wild would take a late penalty in the period as Fontaine got caught up with Patrick Kane as he was falling (a bit questionable IMO) at center ice giving Chicago its 2nd power play of the game.  Chicago came dangerously close to adding to its lead as a long shot by Duncan Keith was directed on goal by Toews that was stopped by Bryzgalov and then he helped steer aside his rebound bid.  Minnesota would kill off the power play but Chicago kept attacking and Brandon Saad would skate the puck into the slot where he'd fire a laser of a wrist shot that may have ramped off the stick of Zach Parise and over the shoulder of Bryzgalov to give the Blackhawks a 2-0 lead with just under a minute left to play in the period.  It was a devastating goal for a team that was struggling mightily to create scoring chances of its own and they'd carry their two-goal deficit into the 2nd intermission.  I like how some of the Wild's lesser skaters like Niederreiter, Haula, and Fontaine are playing but they need a lot more out of its top 6 who have all been very quiet tonight.  The Wild outshot Chicago 13 to 8 but still haven't managed to really threaten the Blackhawks all that much offensively.
3rd Period Thoughts:  The Wild would strike early as Erik Haula picked up the puck in the neutral zone and he'd fly into the Chicago end before stopping and turning and swinging a pass back to Clayton Stoner who showed remarkable patience as he dished it over to Cody McCormick who beat Crawford stick side.  2-1 now, after Haula's speed helped set up the goal.  Minnesota kept attacking and Zach Parise found a little space in the slot as he initially fanned on the shot before hammering a heavy shot that was blocked up into the air by Crawford who then flailed and hit the puck out of the air with his paddle and onto the top of the goal.  The Wild had another great chance as Mikael Granlund set up Jason Pominville near the doorstep but he didn't get a good stick on it and the puck would slide harmlessly through the blue paint.  Minnesota was pinching, and looking to create turnovers on the forecheck as Scandella stole a pass in the Chicago zone and as he skated into the slot his scoring chance was thwarted by the stick of Duncan Keith who dove to make the play.  The Blackhawks was content to play keep away, as Minnesota was chipping and chasing which led to some easy turnovers which Chicago was all too happy to skate out to mid-ice dump it deep and force the Wild to come up the full length of the ice.  Chicago was also going take some chances to counter attack as a long pass made for a 2-on-1 between Hossa and Kane and Kane's little dangle and shot was knocked down by Bryzgalov and covered up for a whistle.  As time steadily evaporated from the clock the Wild just was not getting a lot of jump from its top 6, and thus Chicago was able to keep Minnesota at bey without much difficulty.  It was uncanny how whenever the 3rd line got a shift, the Wild were able to go on the attack.  Chicago kept pressing for the dagger as Toews set up Bickell for a one-timer that rang off the crossbar and out.  After a failed Wild bid where Parise passed a puck into the skates of Ryan Suter, the Blackhawks counter attacked with Hossa and Bickell and this time Bickell didn't miss as he blistered a slap shot by Bryzgalov high glove side to give Chicago a 3-1 lead.  Minnesota would pull Bryzgalov with about 2 minutes left, but it wouldn't matter as Minnesota couldn't get a shot on goal and Saad would out leg Jared Spurgeon for a loose puck for an easy empty netter to seal a 4-1 victory.
I've seen the tweets, and I'm not buying the Ilya Brzgalov hatred.  Bryzgalov stopped 18 shots in the loss.  He is getting let out to dry by bad turnovers and some questionable backchecking by his forwards.  I think Bryzgalov did a decent job even though he'll be an easy scapegoat for some, undeservedly so in my opinion.  The first goal was a great example of that.  He made some great saves for the Wild to keep the game close.  Defensively I thought Clayton Stoner and Marco Scandella had great games.  Ryan Suter, Jared Spurgeon not so much.  Jonas Brodin was a little better but still they need more from him.   Minnesota's penalty kill was much improved in Game 2, stopping both power plays.
Offensively you have to hope the team's top 6 takes a long look in the mirror.  Zach Parise, Mikko Koivu, Jason Pominville, and Mikael Granlund were a total non-factor in this game.  While you have to give Chicago's defense some credit for this; but that can't matter.  This team needs to generate at least some pressure from its top 6.  Right now, the Wild's only able to generate pressure from its bottom 6.  Erik Haula has been the team's best forward at both ends of the ice and his speed is a big reason for it.  Cody McCormick, Kyle Brodziak, Justin Fontaine and Nino Niederreiter also had a reasonably good game.  While I am glad to see this group working, and I hope it continues the top 6 have to be the best guys on the ice for the Wild; they just do.  They have the talent and skill and they need to figure out a way to create time and space for themselves and at least cause some havoc for the Blackhawks.  Right now they are making it way too easy for Chicago in their own end.
The Wild are now down 0-2 in the series.  Chicago is finishing like you would expect from the defending Stanley Cup Champions.  They get a window of opportunity and they've generally have managed to light the lamp.  The Wild had some missed chances; and with Chicago you won't get many of them so you have to bury them when they arrive.  Wild Head Coach Mike Yeo sort of ripped his team after Game 1; a game where I felt the Wild had a higher energy level for the length of the game and where I felt we carried most of the play.  This game; Minnesota was limited to just a handful of quality opportunities offensively and defensively the team was still suspect.  Minnesota now returns to the Xcel Energy Center to face a confident Blackhawks team; no one is going to feel sorry for this club.  Its time the team stop playing like its sorry for itself on the road; they certainly cannot afford a woe-is-me attitude at home.
Wild Notes:
~ The Wild roster included the following: Mikael Granlund, Jason Pominville, Zach Parise, Mikko Koivu, Matt Moulson, Charlie Coyle, Dany Heatley, Erik Haula, Nino Niederreiter, Cody McCormick, Justin Fontaine, Kyle Brodziak, Ryan Suter, Jared Spurgeon, Jonas Brodin, Marco Scandella, Clayton Stoner and Nate Prosser.  John Curry backed up Ilya Bryzgalov.  Mike Rupp, Stephane Veilleux, Keith Ballard, Carson McMillan, Jake Dowell, Tyler Graovac, Zack Phillips, Raphael Bussieres, Jon Landry, Josh Harding, Steven Kampfer and Jonathon Blum were the scratches.  Matt Cooke served the 6th game of his 7-game NHL suspension.
~ Attendance was 22,018 at United Center.
~ The 3 Stars of the Game as selected by Brian Hedger were: 1st Star Bryan Bickell, 2nd Star Marian Hossa, 3rd Star Brandon Saad
Wild Prospect Report: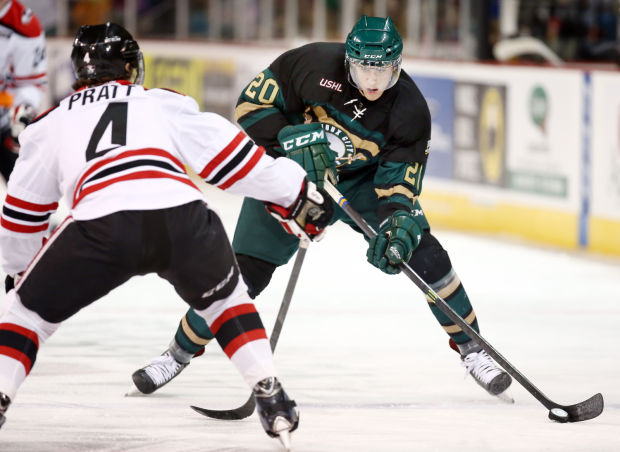 RW – Zack Mitchell (Guelph, OHL) ~ In Game 2 of the OHL Finals, the North Bay Battalion rallied late and then scored in overtime to win 4-3, tying the series at 1 game apiece.  Even in the loss the Wild prospect continues to be a force on the scoresheet, chipping in 2 assists as well as being a +1 on the night.  Mitchell set up both of Robby Fabbri's goals, and now has 11 goals, 26 points and is a collective +18 through 17 playoff games.  The right handed shooting winger is still the OHL's leading playoff scorer thus far.
F – Avery Peterson (Sioux City, USHL) ~ Peterson may be a long-term project for the Wild, but he's performing at a high level in the USHL semifinals and Minnesota might be wondering if they drafted a steal in the 6th round (167th Overall).  The reigning "Mr. Hockey" scored a goal and an assist in the Musketeers' 4-3 win over the Waterloo Blackhawks Friday night.  Peterson scored just a little under a point per game after joining Sioux City at the conclusion of his senior hockey season with the Thunderhawks and in the post-season he's at over a point per game.  The 6'2″, 201lbs power forward has 5 goals, 9 points and is a +6 in 7 playoff games.
D – Mathew Dumba (Portland, WHL) ~ The Portland Winterhawks jumped out to a 1-0 series lead as they look to defend their WHL Championship from a season ago after defeating the Edmonton Oil Kings 5-2 in Game 1 on Saturday night.  Dumba did his part to help Portland's cause, blasting home a power play goal as well as going a +2 in the victory.  The Calgary-native has 4 goals, 13 points and is a +22 in 15 playoff games this season.