Smile, Tim.
We've been bitching about the Bruins a lot for the last few days, so time to turn to something a bit more positive.
The Boston Bruins spread some holiday cheer this week, going holiday shopping for hospitalized children and then delivering the gifts to the sick kids. It's been an annual event for the team for godknowshowlong.
Here's video of the Bruins going holiday shopping.
Some funny moments included:
McQuaid "getting the hang" of Christmas shopping. He says he saw the other guys baskets were full and he had barely anything. Either McQuaid never got gifts as a child or he didn't realize he was supposed to be picking out gifts for little kids.
Any these pics: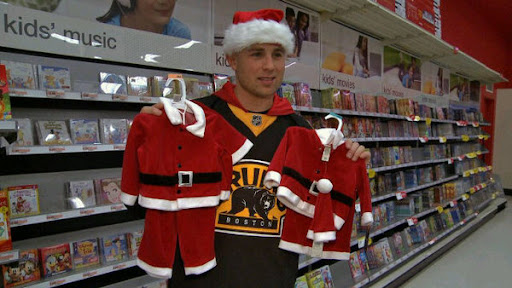 After the jump… more pics and the Bruins deliver the gifts.
Boychuk going with the two-hat look
This is bad news
That… that… hat
Video of the Bruins delivering the gifts:
Marchand interview… that hat.
It's always good to see professional athletes gives back to the community. We're sure the kids enjoyed having the Bruins hand out gifts to them and maybe the event was two-fold in letting the Bruins relax just enough before tonight's game.