With the NHL opener tonight and the Boston Bruins home opener days away, I think this is the perfect time to remind everyone that the Bruins are in a new division this year. Yeah, yeah, I'm sure you all remembered but it's okay to give a little refresher.
RIP Northeast Division

With the new re-alignment in the NHL, we finally say goodbye to the Northeast Division that began in 1993. The Northeast Division ended with Montreal, Boston, Buffalo, Toronto and Ottawa fighting it out for one of three spots in the playoffs. Since it's inception, the Boston Bruins have won the most Northeast Division titles with 5.
| | | |
| --- | --- | --- |
| Team | Number of NE Division Titles | Last Year Won |
| Boston Bruins | 5 | 2012 |
| Ottawa Senators | 4 | 2006 |
| Pittsburgh Penguins | 3 | 1998 |
| Montreal Canadiens | 2 | 2013 |
| Quebec Nordiques | 1 | 1995 |
| Toronto Maple Leafs | 1 | 2000 |
| Hartford Whalers | 0 | – |
With the end of the Northeast Division, the NHL finally shut up the people of Detroit and brought them to the Eastern Conference. Unfortunately the Florida teams are included as well – which fully makes up the Atlantic Division.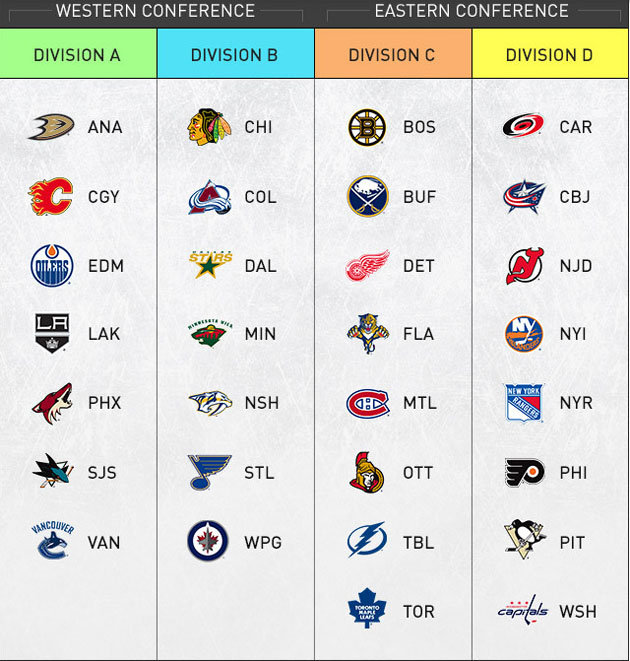 With a re-alignment also comes a new playoff format. The top three teams in each division are in the playoffs. To fill the last two spots, each conference is given two wild card teams which is the two teams with the highest point totals among non playoff teams.
So you could realistically have:
Atlantic Division Playoffs:
(1) Boston Bruins vs (WC) New York Islanders
(2) Montreal Canadiens vs (3) Ottawa Senators
Metropolitan Division Playoffs:
(1) Pittsburgh Penguins vs (WC) New York Rangers
(2) Philadelphia Flyers vs (3) Washington Capitals
Round 2 takes place between the two winners within each division and round 3 is the Conference Final. Later on today we will have our predictions on who wins the Atlantic and the rest of the NHL.