It's so hard not to think ahead, but I refrain from even a fleeting thought about the Stanley Cup Finals. This series isn't over. Despite what the graphic above this says, this series is far from over. Seriously, go back and watch Game 3. It took Tuukka Rask playing the game of his life to keep the Pens at bay, who were flying around for once this series.
Luckily the Penguins can't get out of their own way on a power play because Boston seemed to hand them out like it was a Dunkin Donuts sponsored free penalty kill day.
But hey, Boston is up 3-0. Seriously, I can't even be positive when the Bruins are up 3-0 because the Penguins are still a dangerous team. While this team is so skilled, they're mentally fragile. They don't have a guy in their locker room who can get them together and say "Hey, get your minds right". Their captain isn't a guy who does that.

Sticktap to QueenCrash for making this
Bill Guerin isn't walking through that door.
Well he might, since he works with the Penguins organization but you know what I mean.
Seriously though, the Penguins will come to play tonight. As defeating as losing 2-1 in double OT can be, they're going to be desperate. Their season is on the line tonight and will be going forward. As mentally soft as these guys can be, I don't think they just lay down tonight.
The first goal is crucial. Plain and simple. It doesn't matter how Boston scores it, it's crucial. It doesn't matter if it goes off of a skate, if Letang boots it in or if Dan Bylsma does his thousand yard stare and the puck jumps in.
It literally doesn't matter.
Score the first goal and you can break whatever fight the Pens have in them. It has the potential to be a back breaking goal.
But Boston also needs to be discplined. Yes, the refs are going to be fucking terrible, welcome to the NHL playoffs. That doesn't give Boston a pass for committing 9 penalties in the game. One would think that the law of averages is going to eventually go in Pittsburgh's favor when it come to special teams. 0 for 12 on the power play this series (I believe).
Also, can we stop with the Gregory Campbell is the shining beacon of hope and praise and should be sewn on the Massachusetts state flag bullshit? Look, what he did was probably the second toughest thing I've ever seen in my lifetime, second to watching my wife pop a baby out of her, but it's not like it's the only time it's ever happened. Andrew Ference did the same thing a few years ago when he blocked a Markov slapper and broke his leg.
I've also seen people comparing Campbell's toughness to the marathon bombings and Boston Strong and all that shit. Stop.
They aren't even comparable.
While we're at it, lets compare Nazi's to apple sauce.
TIME TO EAT SOME PENGUINS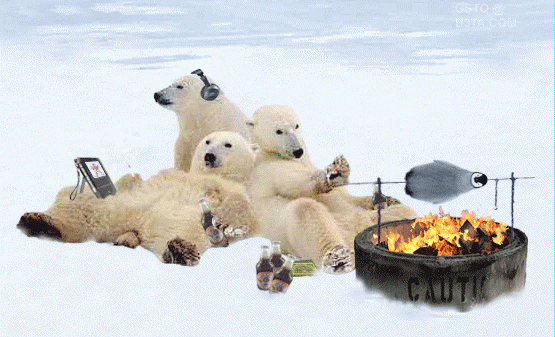 After the jump, FINISH IT…THE PREVIEW I MEAN…
---
Bruins Projected Lines
Milan Lucic – David Krejci – Nathan Horton
Jaromir Jagr – Patrice Bergeron – Brad Marchand
Kaspars Daugavins – Rich Peverley – Tyler Seguin
Shawn Thornton – Chris Kelly – Dan Paille
Zdeno Chara – Johnny Boychuk
Andrew Ference – Dennis Seidenberg
Adam McQuaid – Torey Krug
Tuukka Rask
Anton Khudobin
---
Media
TV: NBCSN, CBC, RDS
Radio: 98.5 The Sports Hub
Online Feeds: HERE
BRUINS ARE 5-0 WITH DICKGUIRE!
---
Gameday Image/Video