People are going to talk about Game 2. People are going to make a big deal about Game 2. Guess what:
Game 2 doesn't mean a fucking thing anymore.
I'm glad the Bruins won, but if they rest of their laurels because of a Game 2 can of whoop ass they opened all over Pittsburgh, the Penguins are going to destory them. I dont care how the Penguins have looked in the first two games, there's going to be a point where it clicks. There has to be. This team is too good and too deep to get swept, I really believe that.
Boston has to keep pushing. They need to keep frustrating the Penguins. Brad Marchand needs to continue to be the pest he's been the past two games without taking shitty penalties. The Bruins need to keep killing penalties.
They have a chance to tighten their grip in the series and choke the life out of the Penguins by doing what they did in the first two games. It starts with faceoffs. Boston has won 41% of the faceoffs through two games, with 66% success in Game 1. Pittsburgh was better in Game 2, but they haven't been able to solve Patrice Bergeron, who has won 64% of faceoffs he's taken in both games.
Rich Peverley is currently 80% successful on taking a faceoff.
Chris Kelly? 70% success in two games
The only one who is really lacking is David Krejci, who was awful in Game 2 (5/19, 26%) and is 40% in the series.
But this is where it starts. It's starts with the Bruins having the confidence to ice the puck and then know they will win a faceoff. In their defensive zone, Boston is 22/35 in two games – basically 63% successful at winning the puck. That's a huge, HUGE advantage when playing a team like Pittsburgh.
I know we've ripped on Vokoun with the Vokounamatata stuff, but it's not even his fault. His defense is garbage. Go back and watch Kris Letang in Game 2. He was atrocious. Straight up garbage and then you realize that he's a fucking Norris Trophy nominee.
Which further proves that the Norris Trophy is just for the best offensive defenseman in the NHL. If the NHL had a brain they would split up the trophy into two different defensive trophies based on offensive and defensive capabilities. That's for a different day.
I'm getting off-topic here.
It's funny to see people on Facebook and Twitter talk about the series like it's over. Yes, it is pretty grand that the Bruins went into Pittsburgh and rightfully won two games, but a series is over when a team wins four games – not two.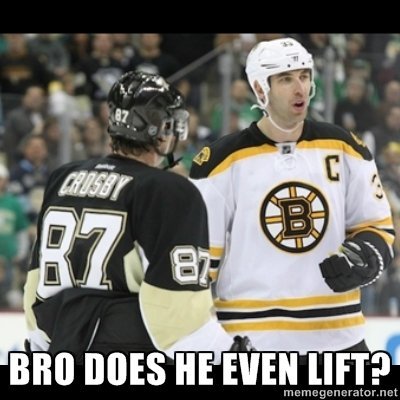 Boston just needs to utilize what has been working. Take a read at this post from our buddy Jesse Marshall at Faceoff Factor. He has a great breaksdown how the Bruins 2-3 neutral zone trap is killing the Penguins.
I'm sure Pittsburgh will adjust.
They have to. If they don't they're dead in the water.
---
Bruins Projected Lines
I think Claude runs with the same D pairings even with last change unless Disco Dan puts malkin and Crosby together.
Milan Lucic – David Krejci – Nathan Horton
Brad Marchand – Patrice Bergeron – Jaromir Jagr
Rich Peverley – Chris Kelly – Tyler Seguin
Shawn Thornton – Greg Campbell – Dan Paille
Zdeno Chara – Johnny Boychuk
Andrew Ference – Dennis Seidenberg
Adam McQuaid – Torey Krug
Tuukka Rask
Anton Khudobin
---
BEST. GIF. EVER.
LOL get fucked Cooke, you scrub.
---
Media
TV: NBCSN, CBC, RDS
Radio: 98.5 The Sports Hub
Online Feeds: HERE
---
Game Day Video/Image