BOS leads the series 3-1
Tuukka Rask has been an absolutely monster in this series. For some reason, there's a contingent of Bruins fans who believe that Tuukka Rask sucks. I know, I'm shocked too but it is out there man. They believe Tuukka Rask is made by the defense in front of him. They believe that Julien's system made Tuukka Rask. You can find it everywhere. Twitter, Facebook and whatever other social media you belong to.
It's horseshit and it is that type of fuckerry that really bring my piss to a boil. Look – This series should be tied 2-2. Rask kept Boston in that game on Thursday – let's call a spade a spade shall we? I don't even know why I have to write this – the guy is a Vezina Trophy Finalist!
Oh god if there's someone to get on this series it is Brad Marchand. Marchand what is going on in your head right now? First you take that fall or dive or embellishment or whatever the tadpoles in Montreal are calling it and then you whiff on two open nets. This was the worst of the two:
LOOK AT THAT.
I know this is why I'm on Twitter and not in the NHL, but this goal is so make-able a mentally disabled monkey laying on his back and pissing into his mouth could have tapped that fucking thing in.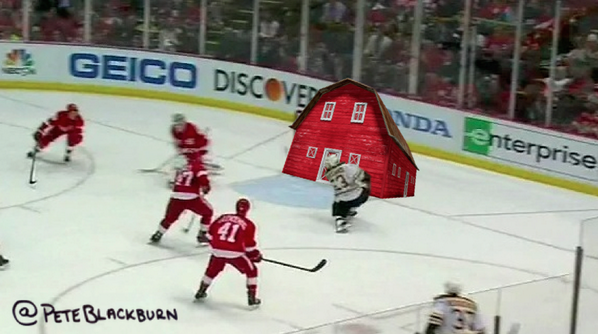 Fucking Christ.
Other than that – it is nice that there isn't anything to really bitch about.
That doesn't mean this series is over. Not by a long shot. Detroit could have (should have) won that game last night. They were the better team on the ice, they seemingly outplayed Boston in almost ever facet of the game and just couldn't weather the Bruins storm. I don't know if I'm ready to write off Detroit yet. Yeah they're down 3-1, but it's not like a team has never clawed their way back from down 3-1.
I just don't believe Detroit is ready to go home. I don't think they'll give up.
Either way, I think Boston takes this. Originally I had Bruins in 6, but I think it's over – especially if Jimmy Howard can't go today. So there's a rumor out there that Jimmy Howard doesn't have the flu but instead he has a concussion. This image has been passed around like Jon's mom:
It looks like Franzen is pushing Söderberg who then knees Jimmy Howard in the noggin. There's rumors Jimmy Howard wasn't even in the building Thursday but that cancels out people saying he was pulled after warmups. I mean there's a chance he could have a concussion. Like I said, we'll find out today. Friday there was a rumor that Howard was already ruled out.
Who the fuck knows.
The Detroit goalie situation is a mess.
Hello sir do you have a minute to speak about your lord and savior jesus christ?!
---
Media
Okay so I've read some people are having issues with this. Here's easy step by step instructions.
1. Download VLC
3. Click the bear. Feels good doesn't it baby? Oh yeah.
4. Click on any X's you see and your stream will load. Don't click on any ads.
5. Enjoy.
Click the image and bookmark the page.
Puck Drop: 3:00pm EST
TV: NBC
Radio: 98.5 The Sports Hub
---
Projected Lines
Dan Paille participated in an optional skate on Friday. Still not sure if he's going to be playing or not.
Milan Lucic – David Krejci – Jarome Iginla
Brad Marchand – Patrice Bergeron – Reilly Smith
Justin Florek – Carl Soderberg – Loui Eriksson
Shawn Thornton – Greg Campbell – Jordan Caron
Dougie Hamilton – Zdeno Chara
Matt Bartkowski – Johnny Boychuk
Kevan Miller – Torey Krug
Tuukka Rask
---
Know The Enemy
---
Gameday Image/Video