SERIES TIED 1-1
Fucking LeBoo Centre.
People often tell me that I'm going to hell (or helle as it is probably spelled in Montreal) and while I don't disagree with them based on my past indiscretions, I can only picture what my personal hell looks like:
Bingo.
As I enter the gates of hell, I can only predict that boos will rain down on my head like the showers of April. Expect to hear that tonight. You guys should know what we're all expecting going into this, right? A Montreal Canadiens player trips and it is fucking boo-city. Guy gets sneezed on? Boo-city. Honestly, I wouldn't be surprised if there were people outside of Carey Price's house right now booing the gate where his dogs got out.
It's a ridiculous amount of ref baiting – but we're not here to play Wheel of Excuses are we?
Because that's clever.
That joke is so old it voted for William Howard Taft.
If the Bruins are going to beat the Canadiens they have to stay out of the penalty box. Period.
I know it is a pretty worn out narrative, but the Bruins are getting smoked on their specialty teams. For a team that was lauded in the regular season for having a fantastic power player (3rd in the NHL) and the 8th overall penalty kill in the league, they're getting a swizzle stick in the peehole from the Canadiens. Ryan Lambert crushed it on this post in "What We Learned" from yesterday:
Montreal has scored seven goals in this series, and four of them were on the power play. The Bruins, on their five man advantages, have scored none of their eight goals (one of which, to be fair, was into an empty net). That tells you everything you need to know about these two games so far: It's not so much that the Canadiens are diving — they aren't — it's that special teams have been a nightmare for the Bruins. Just 5 for 9 on the PK and 0 for 5 on the power play.

There have been a little more than 114 minutes of 5-on-5 hockey in this series, and during that time Montreal has been outscored by the Bruins 7-3, a 70 percent goal share, which breaks down to 3.68-1.58 per 60 minutes. That's equivalent to a blowout. The possession battle doesn't break down favorably for the Canadiens either, as corsi in the series is 130-77 (62.8 percent) in Boston's favor. They are, flatly, dominating even strength play in this series…
So while we like to talk about Montreal diving and all this bullshit, the real issue is that the Bruins specialty teams went from being special to being dumbest person on the short bus special in two games. It is unbelievable. Most of that credit can go to Carey Price, who has a horseshoe shoved so far up his brown eye he sneezes aluminum. Close behind him is the pipes because those things are taking such a beating you'd think they were dating Semyon Varlamov.
Yet 5v5 the Bruins are absolutely crushing the Montreal Canadiens and this led Michele Therrien to speak out yesterday. Here's some clips from his press conference:
Basically to sum it up: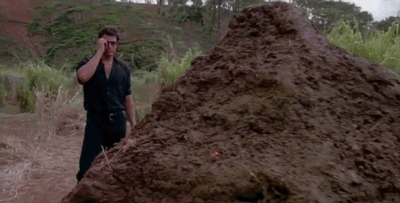 I'm not really surprised that Therrien says that there were some calls the Bruins got away with. Therrien and Julien are both leaning on the refs, unfortunately Claude does it during the game and gets penalties for it. Chalk that one up to Claude being an idiot more than anything – save your vitriol for your press conference where the worst that can happen is a fine.
Therrien also looks like the kind of asshole that bottles up his own farts to smell them at a later date because he is that smug. Chip said it best in his Game 2 recap:
"Michel Therrien just looks like he smells."
And he's right – Michel Therrien looks like he fucking stinks of cheap scotch and cigarettes. He more or less smells like the leftovers of a Saint Catherine Street gloryhole, which isn't a problem until you can feel the mustache from the other side.
But hey Michel Therrien can bitch and moan about the refereeing all he wants because he's going back to his building where he will have 21,273 referees.
The boo birds man, I fucking hate them. I actually hate the booing more than I do the ole bullshit. Ole doesn't bother me – it could be that I'm immune to it or it could be that I just don't care what those freaks up north chant. It's the entitled booing that pisses me off, like these twatsnots like hockey enough to know what a penalty is. They don't, they just don't have anything else to do? The last professional sports team other than the Canadiens said deuces to Montreal and headed to Washington DC to play stick ball.
Which is why Youppi is now the Canadiens mascot because Washington took one look at that oversized, gingerish Hodor looking fuckbag and said "No thanks, we have enough clowns in this city we don't need another" and send him packing.
Alright, like a Montreal stripper's penis let's tuck this preview away.
---
Media
Okay so I've read some people are having issues with this. Here's easy step by step instructions.
1. Download VLC
2. Click the bear. Feels good doesn't it baby? Oh yeah.
3. Click on any X's you see and your stream will load. Don't click on any ads, just the X's.
4. Enjoy.
Click the image and bookmark the page.
---
Puck Drop: 7:00pm EST
TV: NBCSN, CBC, RDS
Radio: 98.5 The Sports Hub
---
Projected Lines
Milan Lucic – David Krejci – Jarome Iginla
Brad Marchand – Patrice Bergeron – Reilly Smith
Justin Florek – Carl Söderberg – Loui Eriksson
Shawn Thornton – Greg Campbell – Dan Paille
Zdeno Chara – Dougie Hamilton
Andrej Meszaros – Johnny Boychuk
Torey Krug – Kevan Miller
Tuukka Rask
---
Know the Enemy
---
Gameday Image/Video
Clip of Therrien's press conference talking about the refs