Whelp, folks. After months and months of waiting for the NHL and the NHLPA to get their shit together and sit down and settle things, NHL hockey returns to Boston.
Seriously. Hockey is back. And for those who still think the Bruins are locked out, Jeremy Jacbos splurged on a new banner to welcome fans return.
Speaking of Jacobs, he's holding a press conference for who knows what reason this evening before the game. Guy has a lot of balls or is that out of touch to show his face on the Bruins home opener after he led the NHL Lockout charge this fall/early-winter. If no one asks Jacobs if the lockout was worth it and how he can justify it to fans than the reporters there will have let us all down.
But enough of that asshole. We don't want him ruining our good fun.
Today the Bruins take on the NY Rangers which is the equivalent of being tossed into the deep end of the pool. The Rangers were first in the East last year, seven points ahead of the Bruins. They're always in the hunt for the Stanley Cup come spring but that's easy to do when your goalie is wearing pads the size of the Stay-Puft Marshmellow Man.
Trolololol. Man it feels good to be back.
More after the jump…
Henrik Lundqvist has had great stats against Boston — 1.53 GAA, .947SV%. Tuukka's numbers against New York are equally as impressive — 1.83 GAA and .939 SV%. So we're expect today be an 11-9 shitshow, just to really screw with the stat lovers out there.
Rick Nash will play on the first line with Marian Gaborik and Brad RIchards, so the Bruins defense will need to be solid to keep that line in check.
The season for the Bruins will hinge on Tuukka Rask. Rask won't have the safety net or extra motivation of having Tim Thomas in the locker room to help push him or pick him up when he stumbles. Rask has shown great flashes of brilliance in net and now fans get to see if he can keep that up for a whole season. Luckily for Tuukka that whole season is half a season.
We'll also get to see more fruit from the Phil Kessel trade. Dougie Hamilton is here to stay, at least for now. We expect Chia to let Dougie go the distance before deciding if he should keep him in the NHL or send him back to the juniors for the rest of the year. He's in a similar situation as Seguin was in which he might not quite be 100% NHL ready but going back to the OHL wouldn't do him much good either. D-men take longer to mature, too, so let's keep this all in mind when evaluating how the kid is doing. Luckily he's paired with Seidenberg so he has great support to his left.
But man, won't Toronto be fuming when they see this roll into town soon enough:
Also keep an eye out on Lucic. He's notoriously a slow starter and the long off-season has kinda kicked his conditioning in the face. But he's a new daddy so maybe that'll put a lttle extra spring in his strides.
Fans at today's game are all getting free t-shirts.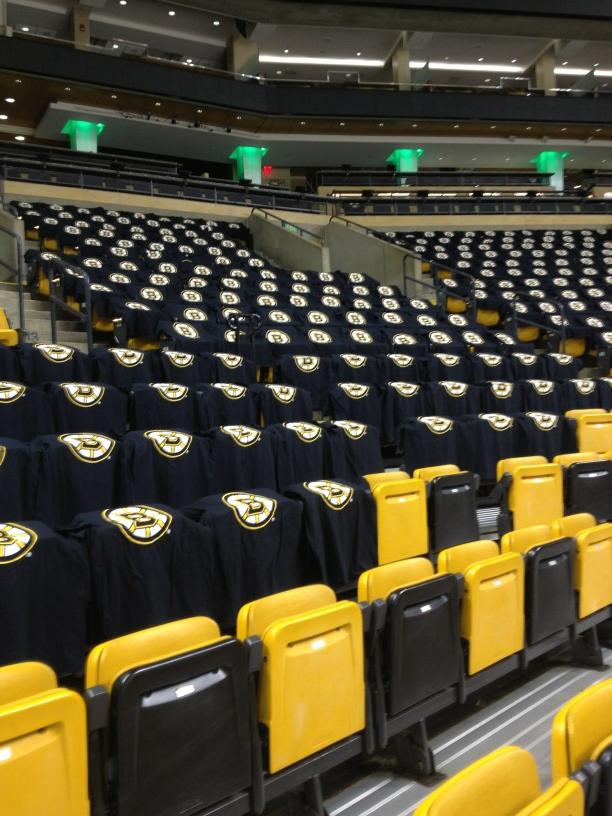 What the B's aren't telling you is that those "free" t-shirts on all the seats are just leftover Joe Corvo & Tomas Kaberle name/number t's.

— Dan Ryan (@bruinshockeynow) January 19, 2013
//platform.twitter.com/widgets.js
Fans will also get vouchers for free concessions and 25% off items in the Pro-Shop.
---
Media

TV: NESN, NHLN

Radio: 98.5 The Sports Hub



Online Feeds: Here
---
Projected Lines:

Brad Marchand-Patrice Bergeron-Tyler Seguin
Milan Lucic-David Krejci-Nathan Horton
Chris Bourque-Chris Kelly-Rich Peverley
Daniel Paille-Gregory Campbell-Shawn Thornton
Zdeno Chara-Johnny Boychuk
Dennis Seidenberg-Dougie Hamilton
Andrew Ference-Adam McQuaid
Tuukka Rask
Anton Khudobin
---
Game Day Links:
– If you're looking for a NY Rangers fan point of view, we recommend the NY Rangers Blog.
– Haggs is getting a lot of shit on the Internet for his NHL Predictions Column
– The Crashing the Net's blog take on the Bruins… in like PowerPoint slide style.
– In case you missed it, we finally got the Q&A with Shawn Thornton from Hockey Resurrection uploaded
– Our buddy over at the Royal Half is now writing game previews for the LA Kings team site. We're all sorts of jealous.
– From SCoC: Bruins need more from Lucic
---
Game Day Video/Picture:
Time to Go!