Last game of 2010 for the Boston Bruins. It's had its ups and downs. Team is finally righting the ship, so we're excited to see the Bruins in 2011.
First off: We need to apologize to one Mr. Tuukka Rask. We thought he would've started the other night since the Bruins played back-to-back games but Julien rode Thomas. This is the second straight back-to-back games Thomas has started both.
Anyways, clearly we jinx Tuukka and feel bad for it. We'd like to say we're confident in him starting tonight but who knows what Julien has up his sleeve. Still, Thomas has been quoted as saying he felt "fatigued" at the end of the Lightning game. Could mean, JC will give him a rest for Tuukka.
Again, last time 2Us-2Ks-2Points started a game it was December 15th. It has now been over a fortnight since Tuukka has done anything but open the bench door for his teammates. His arms must be getting huge from all that opening and closing.
So we all remember what happened last Thursday when the Bs and Trashers played each other.
Still awesome.
Expect all 20 of the present Thrashers fans to be ready to jump on the Bs, especially Lucic, when they hit the ice tonight.
After the jump…. where has the top line gone?… projected roster… game day links…. game day video…
Tooting our own horn
Bruins are 3-0 since Patrice Purrgeron risked life & limb to find the Bruins Heart.
Now if only he could find Horton's confidence.
Also, still time to vote for us for "Sports Blog of the Year"
Where as the top line gone?
Horton had 0 shots against Tampa and Lucic had 1. That's 0.5 shots per player in that game.
And Julien did something out of the ordinary… he actually benched some players.
Both Seguin and Horton rode the pine for most of the third. This is something Julien never does for whatever reason but something we've been hoping he'd do for quite a while now (not specifically against Hort, but in general).
Milbury said on WEEI that Horton needs "size 12 [boot] up the derriere."
Maybe like the one Milbury beat a guy with.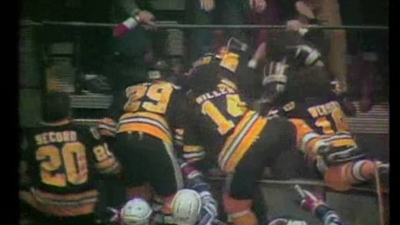 Horton said he wanted to get more physical with the Bruins. Maybe now's the time to do that to help get his mojo back.
Projected Roster:

Milan Lucic-Marc Savard-Nathan Horton
Mark Recchi-Patrice Bergeron-Tyler Seguin
Blake Wheeler-David Krejci-Michael Ryder
Brad Marchand-Gregory Campbell-Shawn Thornton
Zdeno Chara-Johnny Boychuk
Dennis Seidenberg-Steven Kampfer
Andrew Ference-Adam McQuaid
Tuukka Rask (???????)
Tim Thomas
Game Day Links:
Game Day Video:
Time to Go!