We still don't know what the hell happened. When the Bruins went down 4-1 we wanted to grab a box of kittens and punch each one in the face. (PURRGERON NOTE: I hope Jon loses both of his testicles for that comment)
The Bruins we had seen for the last month of the regular season and through much of this series could not, and according to their attitude on the ice, would not come back from this. Even when they made it 4-2, you just thought yeah great I saw this in Games 5 and 6 too. Too little too late guys.
Then something happened. Maybe Toronto's incompetence out weighed Boston's earlier incompetence. Maybe the Bruins finally realized Reimer gives up rebounds like Justin gives out handies to dudes at steam punk festivals.
Maybe Julien finally realized he was being badly outcoached by a guy that was giving Colton Orr WAY too much ice time. Whatever happened, the Bruins finally found a spark. Everyone that was slumping on the team was suddenly unstoppable.
Bergeron finally showed up. Lucic finally showed up. Horton finally showed up. The defense finally showed up (much to Tuukka "I'M SUPER FUCKING AWESOME" Rask's delight). Something finally, FINALLY clicked and for ten unbelievable minutes we all saw the Bruins we were waiting for.
And what happened, then? Well, in Boston they say… the Bruins small hearts grew three sizes that game. And then…the true meaning of the playoffs came through, and each Bruin found the strength of TEN Bruins… plus two!
Whatever happened, we're glad it did. And we're glad we were wrong. If any of you try to sit there and say you know the Bruins would pull it off after they went down 4-1 you're either a liar or the biggest homer ever. Not with the way they had been playing. Now we just have to hope they can keep that intensity against the Rangers. Whoever comes out of that series is going to beat up BAD.
Isn't it crazy how similar these pictures are? (Stick tap to Michael Hurley)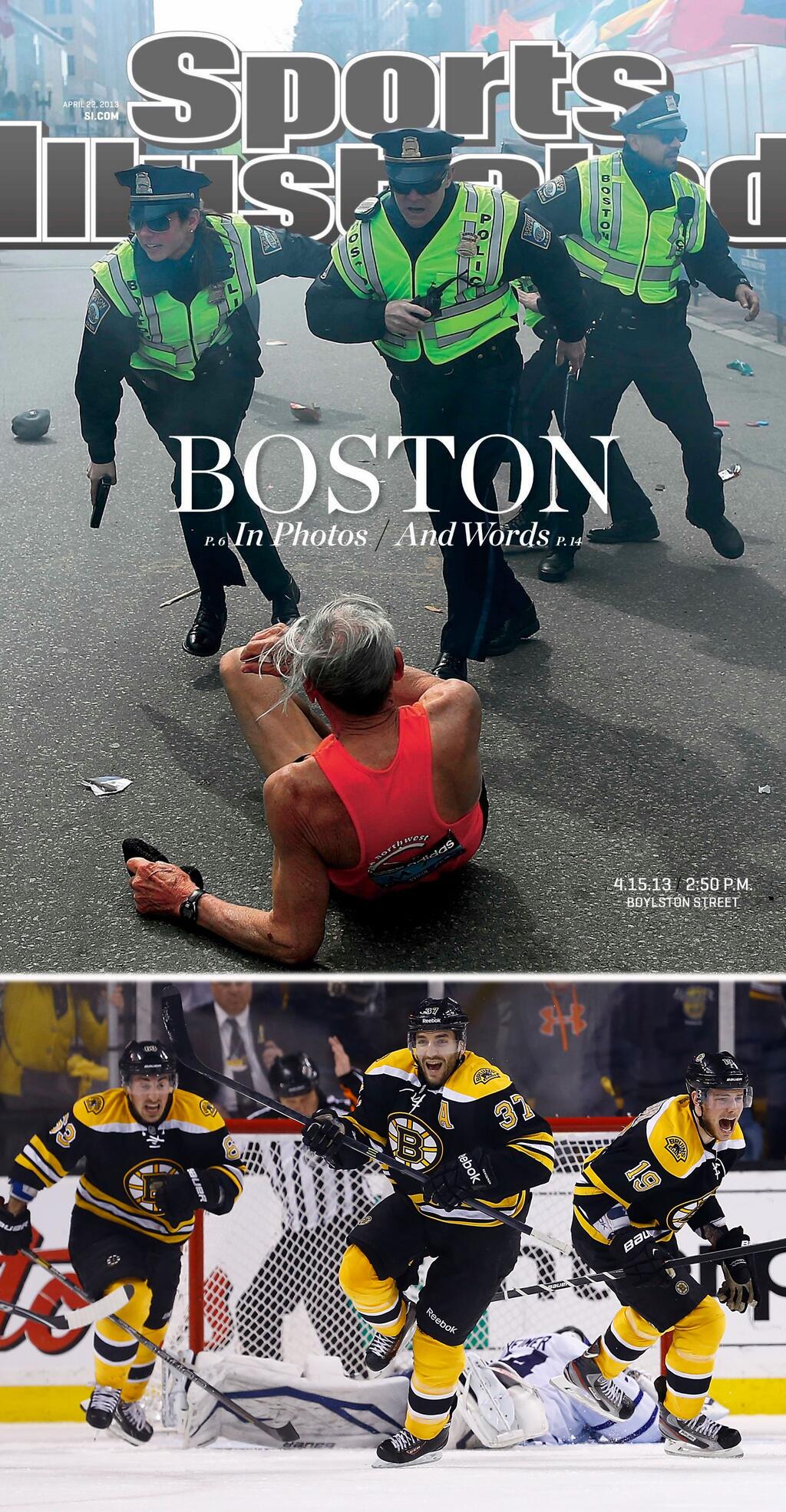 After the jump…AND WE DON'T MEAN OFF THE TOBIN!!!
---
– What a fucking animal Milan Lucic was last night. Holy shit. The guy was everywhere – including on the score sheet.
This is the type of game you expect from a guy who is going to be your highest paid forward next season. He had 2 SOG, 7 hits and was moving his feet. It's amazing to see how different of a player he is when he's dialed up and focused. Unreal last night.
Also it seems Lucic gave Dion Phaneuf some nut love last night during the handshake line.
//platform.vine.co/static/scripts/embed.js
Big ups to Steve for showing this to us. What a fucking troll Lucic is.
– Bergeron went from potential goat of the series to series hero in about 10 minutes last night. As good as Bergeron is, that whole line has been ghastly this series. yes, Bergy scored a PPG earlier in the series, but outside of winning faceoffs they haven't done much. Until last night. Here's his game tying goal:
Seriously. Wat. What was that? What the fuck happened? Is this real life?
These are things that went through my mind as I muffled a scream. Then…it happened.
Oh man.
Just mother fucking elation pouring out of every body part. Just fucking madness man. They did it! It was something that I never saw coming. I was tweeting Leafs fans saying good series enjoy round 2.
I still can't believe it.
– Rask was good. He wasn't great, but he was good especially when you consider they were down Dennis Seidenberg and Andrew Ference. He made some timely saves (but isn't ever save timely?). When you think about Matt Bartkowski and Dougie Hamilton on the ice for 20+ minutes in a crucial game 7, both Chara and Rask were huge last night.
Just unreal play from both of them.
– If you've watched Matt Bartkowski post-Iginla trade, you have to be happy it never happened. This kid is maturing before our eyes and making a bid to be in the lineup full-time next season. He was stellar last night. He also logged 24+ minutes due to the Seidenberg injury and didn't bat an eye.
He also scored his first NHL playoff goal last night.
Unreal. Stick tap to this kid.
– The (hopeful) death of the "Thank You Kessel" chant. I fucking hate this and he crushed the Bruins in this series. Hopefully people realize he can actually play and we end that dumb chant. Seriously, he pissed all over the Bruins in this series.
– Jon and I being wrong. We both had the Leafs winning and then went to Facebook when they were up 4-1 and smugly stuffed it in everyone's faces. You think this is the first time I've had to eat humble pie? I'll gladly do it if it means the Bruins go to round 2.
– The power play is embarrassing. A straight up cluster fuck of "hockey". Fucking dreadful.
– Much better game for Seguin. Hopefully this wakes him up. I just wanted to show this off, honestly.
– How many girls did Seguin and Marchand feed the tube steak last night?
– Does David Krejci need new equipment after he burned through his first round stuff because he's so on fire?
– Did someone ask Reimer how Bergeron's nuts tasted after he effectively tea bagged the shit out of him?
– Is Elisha Cuthbert still eye rolling?