The Days of Y'Orr crew traveld up to Lowell to see Lucic and friends play some softball… or try to anyway! The game was certainly entertaining. Game was supposed to go 6 innings, they did 9. Thornton, Lucic and RBI machine James Murphy helped Team Looch rally to win the game. Shawn Thornton doesn't lose!
DOY camera man Robb took the above picture. For some more awesome pictures you should check out Something's Bruin. The Days of Y'Orr crew and Something's Bruin got together last night for some good old Bruins talk. Good times.
Lucic, Thornton and Tim Thomas were happy to be signing autographs between innings. Solid guys as usual. Thomas didn't play (presumably because of his hip) but it was good to see the man. Hope he's still here in September (Thomas and Rick Middleton via Something's Bruin)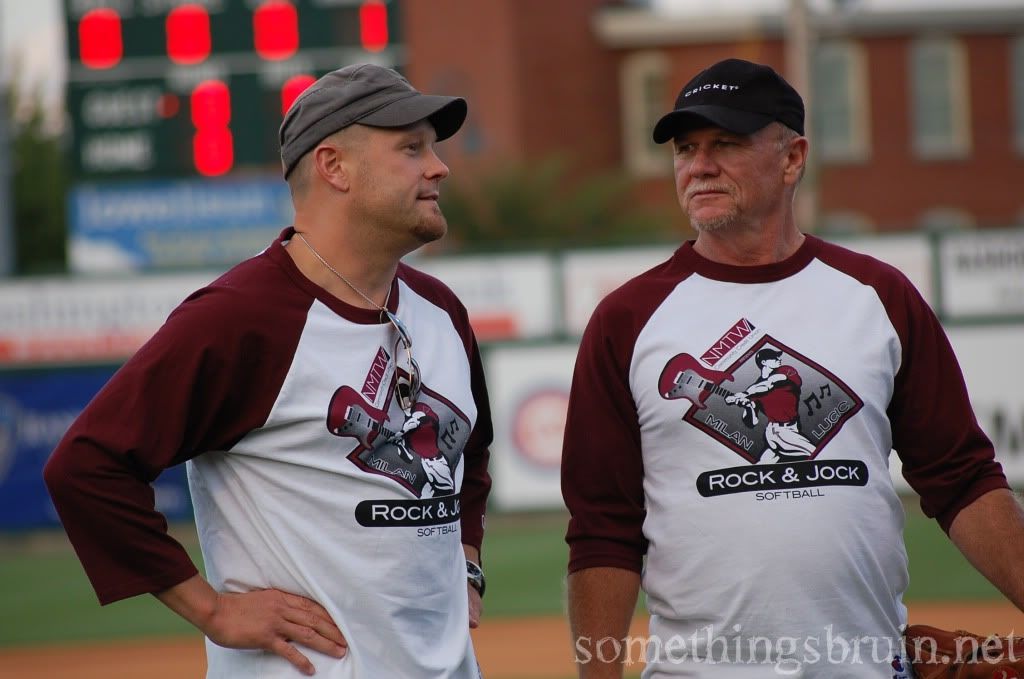 After the jump, cameraman Robb has some video footage.
It's always a good day when you get to see Rick Middleton. Unfortunately "Nifty" doesn't quite have the wheelers anymore.
Bruins writer and expert story breaker James Murphy was on team Lucic. We were lucky enough to meet Murph after the game. Great guy. Seriously. He also loves to intimidate first basemen into making errors. Murph gets it done.
Murphy totally got robbed of game MVP. He taught Looch how to swing:
Days of Y'Orr favorite Shaw Thornton was a softball stud. We took the time to inform him he is the 3rd greatest player in NHL history. He enjoyed that. Thornton hits it deep then trips all over his own awesomeness.
He took pity on the opposing team and decided to purposely get out to give the other team a chance. People still chanted his name.
And much like in the Flyers series, Lucic came to play and try to bail out his teammates. Game 7. A softball game. Doesn't matter. Lucic brings it.
Oh, and there was a super awesome dog. The end.