Editorial Note: This is the first of many posts coming thanks to a $50 donation from you for our Movember campaign. If you have no idea what the fuck I'm talk about, you can read about our cause to raise awareness and the (hopeful) eventual prevention of prostate and testicular cancer here. You can visit our 'Mission In Movember" here and help us kick cancer in the balls. Today's topic was given to me by Greg.
Sports are a magical thing man. Through the power of being a fan, you can bring people together who have never met each other. Go on Twitter and start tweeting around your favorite team – you'll be able to connect with fans in another state, country or continent and talk about things you love and dislike. The idea that a sport, a logo, a player's name can bring people together is a powerful tool.
When you're engaged in cheering for your team, there is no greater feeling. Watching your team winning something special like the World Series or Stanley Cup, especially after a long drought, is a feeling that can rarely be replaced. Seriously – experiencing the Boston Bruins win their first Stanley Cup since I've been alive was a feeling I will never forget. But there's an ugly side to being a sports fan and that is that most people take them way to fucking seriously. You know, when Boston lost in the Stanley Cup Finals to the Chicago Blackhawks in the way they did, the reactions were unreal. You would have thought that people watched their loved one get their throat slit in front of them.
When a player chooses another city instead of your in free agency – a system that was created to allow players the choice of playing wherever they want – the Internet turns into a bubbling cauldron of tears and hate.
But I get that. I get the overreactions on things like this because you pour your heart and soul into something and expect that something to turn out grand. You expect Player A to love your city because you love your city and when that player is spiteful, you get upset.
I get all this.
But I can not get behind the thuggery and ultimate idiocy some people bring. In 2011 when Vancouver lost the Stanley Cup to the Bruins, the people of Vancouver rioted and set shit on fire. Boston chastised Seattle North and three years later did the same when the Red Sox won the World Series.
Yeah, they flipped cars over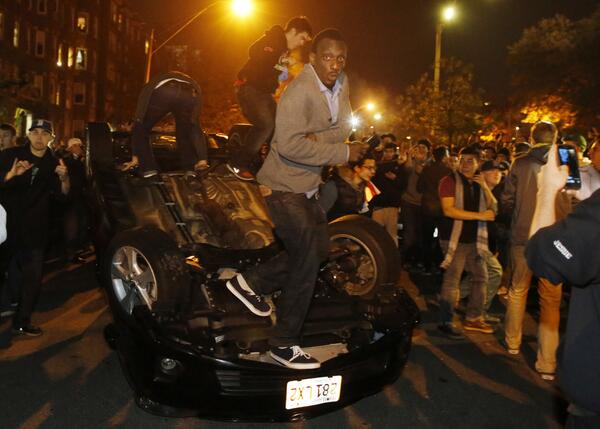 And that's not the only one. What what point do you celebrate something by destroying property? When my child was born, I didn't grab the lamp they put babies under and flip it while hooting and hollering like a baboon. Even when the Bruins won the Stanley Cup and I was in the heart of downtown Boston, but the TD Garden, there was no threats of violence. There was hugs and high fives.
This year? Fights, flipped cars and curb stomps. Yeah a fucking curb stomp.
What's the point of this post?
Relax you morons. It's fucking sports. In the scope of life, if the Red Sox/Bruins/Patriots/Celtics losing is the worst thing to ever happen to you – you're in pretty good shape. With the hardships going on in the world today, in your city or town today and possibly under your roof – enjoy the moment that sport brings you but don't be a fucking idiot over it.